SingaporeMotherhood | Family Fun
November 2019
November & December School Holidays 2019: 35 Fab Events and Activities not to be missed!
It's the most wonderful time of the year; the year-end school holidays are here! Six weeks of holidays means six weeks of non-stop fun for the kids. There's so much to do in Singapore, from outdoor playgrounds to free indoor playgrounds, and even educational playgrounds where kids can learn though play. And if that's not enough to keep the kids occupied, well, all these activities below should help. We'll be adding to it as more activities come along so do check back regularly!
:: New :: Be A Bubble Milk Tea Barista with Milksha
Have a bubble tea fanatic? Sign them up for Milksha (迷客夏)'s Little Barista Programme to learn how to concoct the perfect cup of bubble tea. Suitable for kids aged five to ten, Milksha (迷客夏)'s Little Barista Programme will let your little ones gain full hands-on experience on operating a bubble tea outlet, from cashiering, order-taking, mashing of taro, mixing of pearls,  measuring of toppings, to brewing their very own cup of drink. Your little one will get a total of three drinks throughout the programme, and receive a Milksha Barista certificate and a goodie bag too!
When 2, 4, 9, 11 December, 3-5pm
Where Suntec City, 3 Temasek Blvd, #02-375/376
Cost $38 (1 parent + 1 child) 
Registration https://forms.gle/pYjoXeNbvm5GhG9s8
:: New :: Be A Celebrity At buds X ShuShu & Sassy Christmas Holiday Workshop
Step into the world of K-beauty at buds by Shangri-La. This unique four-hour hands-on workshop is specially designed for mothers and children, in collaboration with Korean kids' lifestyle and culture brand – ShuShu & Sassy. Learn to style that picture perfect snapshot with ex-MTV veejay May Wan (@missmaywan), get hands on with eco-friendly lifestyle products, hone your passion for dance at the K-Pop Dance Choreography class, and make your own bath bomb! What's more, you get to bring home an exclusive ShuShu & Sassy Shangri-La travel bag as well. Recommended for young ones aged five to 12 years old.
When 7 & 8 Dec, 2pm – 6pm
Where Lotus Room, Tower Wing, Shangri-La Hotel, Singapore
Cost $200 per adult-child pair (includes ShuShu & Sassy Shangri-La exclusive travel bag, K-Pop Dance Class, Bath Bomb Making session, buds return voucher and refreshments)
Web https://www.buys.asia/sg/shangri-la
:: New :: Goldilocks and the Three Bears
Revisit this beloved tale through an interactive storytelling and puppetry workshop by Lagom Kids. As the audience, you will be led by puppeteer Madhuri Kale and children's entertainer Mervyn Goh to become part of the show through interactive storytelling and shadow puppetry. Kids will get to exercise their creative muscles as they find an alternative ending for this classic tale. Through it all, they'll be engaged in fun confidence-building activities that empower them to voice their own opinions. Recommended for children aged three to eight years.
When 7 & 8 Dec, 10am – 12pm and 3pm – 5pm
Where Playeum, Children's Centre for Creativity @ Gillman Barracks
Cost $35 per child, $10 per accompanying adult
Web https://goldilocksbylagomkidsplayeum.peatix.com/
:: New :: Join Disney Tsum Tsum at the River Safari
Traverse the eight great rivers of the world with the cutest Disney Tsum Tsum dressed up in animal costumes! Pose with them at eight unique photo points; from Mickey and Minnie Tsum in giant panda costumes, to Tigger Tsum as a jaguar. Share your photos on Instagram with #DisneyTsumTsum #DisneyTsumTsumFestival #BandaiNamco #RiverSafari for a chance to win Disney Tsum Tsum merchandise, or take part in River Escapade Bingo and complete challenges to redeem exclusive Disney Tsum Tsum bag tags.
When 16 Nov to 29 Dec, 10am – 7pm
Where River Safari
Cost $34 (adult), $23 (child)
Web www.riversafari.com.sg/disneytsumtsum
:: New :: Meet the King at Jurong Bird Park
The majestic Philippine Eagle, the national bird of the Philippines, is flying over to the Jurong Bird Park and we're all invited to pay homage to this magnificent and rare (there are only 400 left in the wild) raptor. Apart from the Philippine Eagle, you can also see other winged predators — such as the hooded vulture, Harris' hawk, and the white-bellied sea eagle — demonstrate their skills at the daily Kings of the Skies show. Then feast on delectable Filipino cuisine (from renowned Jollibee, Leslie's Restaurant and more), groove to traditional songs and dances from the Philippines, and join in the exclusive first-ever Pinkfong Baby Shark concert at the park!
When 16 Nov to 29 Dec (The King's Fiesta); Various dates (Pink Fong Baby Shark Jungle Adventures), 8.30am – 6pm
Where Jurong Bird Park
Cost $30 (adult), $20 (child) (Local residents and Filipino residents enjoy 50 per cent off a pair of full-priced admission tickets during this event period)
Web https://www.wrs.com.sg/en/jurong-bird-park (The King's Fiesta); https://www.wrs.com.sg/en/jurong-bird-park/whats-on/pink-fong.html (Pink Fong Baby Shark Jungle Adventures)
1. Be a Boba Bae at The Bubble Tea Factory
Bubble tea lovers can be one with their favourite brew at this multi-sensory exhibition which boasts 10 immersive experiences — all bubble tea themed. You can 'swim' in a pool of lavender bubble tea balls, take a sip on a bubble tea 'flight', pose for a bubble tea IV drip, and more. Babies up to three years old can enter free, but proof of age is required.
When 19 Oct to 18 Dec, 10am – 10pm
Where *Scape, 2 Orchard Link, Singapore 237978
Cost $24 (weekdays), $28 (weekends)
Web https://www.thebubbleteafactory.co/
2. Feast @ Boutique Fairs 2019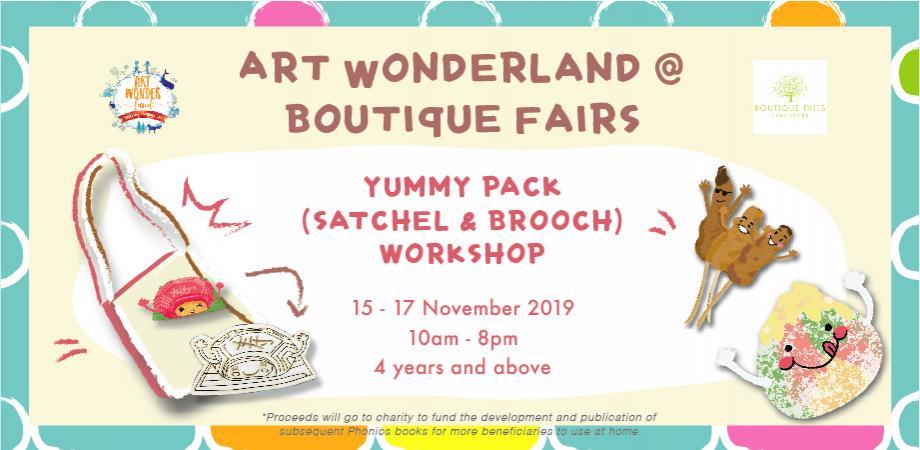 Learn phonics while 'enjoying' food at Let's Eat!, an installation where kids can interact with various local food sculptures while being immersed in the world of letter sounds! This larger-than-life "Singaporean Kitchen" created to celebrate the launch of the book ABCs Of Singapore, and all proceeds go towards sponsoring free phonics classes for children from less privileged backgrounds. There will also be free activities, storytelling and a Yummy Pack sewing workshop. Suitable for families with children aged four and above.
When 15, 16, and 17 November, 10am, 11am, 3pm, and 5pm
Where 1 Republic Blvd, Singapore 038975
Cost $35 for the ticketed workshop
Web https://yummypack.peatix.com
3. Experience Artbox Singapore 2019: Eden
Artbox is back and this time there are lots of fun family-friendly activities to take part in at the first of-its kind experiential art playground! Titled 'The Garden of Creation', this 12,000-square-foot space will feature workshops such as mimi pottery making, temporary tattoos, 3D jewellery making and more.
When 15 to 17 November & 22 to 24 November, 3 – 11 pm
Where The Grounds@Kranji (carpark B at Singapore Turf Club)
Cost Free entry
Web https://www.facebook.com/artboxsg/
4. Encounter Oddballs at The Night Safari
For the first time at the Night Safari, meet the southern three-banded armadillo at Fishing Cat Trail. It joins the Night Safari's resident oddball, the Sunda pangolin, at Twilight Encounters, this year end. If your older kids are up for a challenge, embark on an Oddballs Odyssey, the first ever Lockdown Singapore escape game in Night Safari to find 'missing' baby Asian elephant Neha. You could also treat yourself with a Safari Adventure Tour – Twilight Encounters Edition — to discover Night Safari's best kept secrets. Then complete your night with Rainforest Lumina where you can take a multimedia night walk on the wild side!
When 15 November to 28 December, 7.15pm – 12am
Where Night Safari
Cost $55 (adults); $39 (children aged 3-12 years)
Web https://www.wrs.com.sg
(See also: Rainforest Lumina 2019 – Season 2)
5. Appreciate Art at Goodman: B-Sides
Go east to the Goodman Arts Centre (GAC), Singapore's largest arts enclave, as it turns itself into a chilled-out garden of creativity where parents and children alike are invite to wander and get 'lost' in the arts. Join an unguided trail around GAC's many nooks, or pop by an artist's studio and see where the magic happens. There will also be art workshops, pop-up performances, a lifestyle market, food and beverages, and more. Check the website for more details.
When 16 November, 12 – 7pm
Where Goodman Arts Centre
Cost Free admission
Web https://www.goodmanartscentre.sg
6. Go on a Nature Adventure with Coco the Malayan Colugo
A new collab between Nparks and HSBC, Coco and Friends is a parent-accompanied program for children five to eight years old that brings kids on a learning journey about animals and plants through a guided outdoor walk around the Bukit Timah Nature Reserve Exhibition Hall and Hindhede Nature Park. Kids can learn about plants that are useful to both man and animals, and complete a series of embossing stations during the nature walk.
When 16 November, 10.30am – 12 pm
Where Bukit Timah Nature Reserve, Seminar Room
Cost $10 per child, including a nature journal, crayons, and a sling bag
Web https://www.nparks.gov.sg/
7. Gallop Kranji Farm Family Carnival
The first Family Carnival organised by Gallop Kranji Farm Resort promises to be lots of fun! Go on pony rides ($2/ride), visit a bird's nest museum ($2/entry on Carnival Day), visit the farm animals, check out a herbal farm, catch some longkang fish, and enjoy free activities like Kampong Telematch and a Kampong Treasure Hunt within the farm village. There will be a flea market selling eco-friendly merchandises, greens plants, Kranji countryside produces and many more interesting items. There's a free shuttle bus from Kranji MRT to Gallop Kranji Farm Resort from 9am to 7pm.
When 16 November, 9.30am – 6pm
Where Gallop Kranji Farm Resort, 10 Neo Tiew Lane 2
Cost Free admission, some paid activities
Web https://www.facebook.com/events/530891690816755/
8. Dream with Une Petite Nuit Au Lit
Voilah! France Singapore Festival goes to Arts in Your Neighbourhood with this surreal performance by Cie Cahin-Caha. It's all about sleep and dreams and everything in between, and it doesn't matter whether you speak French or not. This is a great opportunity to let the kids experience arts up close, and be inspired!
When 6 & 17 November 2019, 4pm and 7pm
Where Our Tampines Hub (16 November), HDB Hub (17 November)
Admission Free
Web https://www.voilah.sg/
9. Meet Mr Dragon at the Asian Civilisations Museum
It's Children's Season at the ACM and kids aged three to 10 years (and the young at heart of course) are invited to be swept away by the magic of stories and adventure! Embark on a quest to free Mr Dragon, solve stimulating puzzles, and meet fantastical creatures through an immersive installation, interactive story trail, and a series of free engaging weekly programmes at ACM.
When 16 November to 29 December, 10am – 7pm (9pm on Fridays)
Where Asian Civilisations Museum
Cost Admission to installation is free; General admission charges apply.
Web https://www.acm.org.sg/
10. Meet the Mammoths at the Singapore Zoo
Go back in time to the prehistoric days and follow mammoth calf, Momo, on a self-guided trail through the Valley of Giants in search of her mother. As you meander through animatronic replicas of extinct megafauna with lifelike movements and sounds, look out for the sabre-toothed-cat stalking its prey and other prehistoric giants. Complete all the activities to redeem prizes! P/S: Dress the kids as 'CaveKids' in a caveman-inspired outfit, and the first 100 CaveKids will enjoy free admission on 23 and 24 November in Singapore Zoo before 1.00pm!
When 16 November to 29 December, 8.30am – 6pm
Where Singapore Zoo
Cost Admission charges apply. Local residents enjoy 15% off admission when you purchase your tickets online!
Web https://www.wrs.com.sg/
11. Hug a Teddy Bear and more
Who doesn't love teddy bears? Adults and children are welcome at the Singapore Teddy & Friends Show 2019 — whether to reminisce about the good old days or to appreciate the making of a bear. Crafting workshops for adults and kids are available as well!
When 16 November (workshops), 17 November (public display)
Where Our Tampines Hub
Cost $6 entry for one
Web https://sgteddyandfriendsshow.com
12. See the Boat Parade at Sentosa Cove
As part of the Island Lights, the annual Sentosa Cove Holiday Market is here again. It has the signature lighted boats display, festive food, children's rides and game stalls and more. The boat light parade can be viewed from Harbourfront, VivoCity, Sentosa Boardwalk and RWS Waterfront, too.
When 16, 17 November, 4 – 10 pm
Where ONE 15 Marina Sentosa Cove Central Precinct
Cost Free
Web https://one15marina.com/
13. Camp with the Family
Passion Wave Sembawang has two exciting family camps this holidays. The Family Superheroes Camp will expose you orienteering, outdoor cooking, and help young ones acquire skillsets such as responsibility, recognising consequences, making moral decisions and more. The Family Eco Camp includes kayaking and nature appreciation, and will teach your kids all about outdoor ethics, waste reduction, marine litter and more! Suitable for families with children aged three to 12 years. Do note that participants need to be at least 10 years old to participate in water activities.
When 16 to 17 November, 9 am – 12 pm the next day (Family Superheroes Camp); 23 to 24 November, 9 am – 12 pm the next day (Family Eco Camp)
Where Passion Wave Sembawang
Cost $85 (public)/$70 (PA member) per adult, $65 (public)/$50 (PA member) per child, including meals and shuttle bus services.
Registration Family Superheroes Camp; Family Eco Camp
14. Bounce and Throw and Fly!
The SuperDay Camp at SuperPark SG is designed to make kids MOVE and it looks like lots of fun, doesn't it? In three half days, kids get to do activities like conquering the ninja track, street futsal, flying fox, trampoline, skate and more. Best for kids aged four to 10 years old, and who are ready to get active! Light refreshments and a camp goodie bag are provided for every camper. Children below 8 must be accompanied by a paying adult.
When Multiple dates from 18 November to 18 December, 9am – 12pm (morning camp) or 2 – 5pm (afternoon camp)
Where Suntec City
Cost $268 per child
Web https://www.superpark.com.sg
15. Code and Print Pokemon and Minecraft games
If your child is a Pokemon or a Minecraft lover, this will definitely be right up his or her alley! This one-day learning camp by Empire Code and Tinkermind teaches campers to code a game in the morning, and then use Tinkercad in the afternoon to watch their favourite characters "come-alive". Suitable for children 7 to 19 years old. No coding skills are required.
When 21 November (Minecraft), 22 November (Pokemon), 5 December (Minecraft), and 6 December (Pokemon), 9.30am – 4pm
Where Tinkermind, 451 Joo Chiat Road, #02-13, or Empire Code, 19 Tanglin Road, #04-15
Cost $210 per child including lunch. Laptop rentals are available at $40
Web https://www.eventbrite.sg/
16. Join Princess Dora in The Three Feathers
Join Princess Dora in the Asian premiere of The Three Feathers, a chamber opera based on a tale by the Brothers Grimm. A magic feather leads the shy princess to an enchanted Underworld ruled by a giant Frog King. Here she plucks up her courage to face a series of adventures and complete her quest to save her father's kingdom.
When 21, 22, 23, 24 November, 7.30 pm on weekdays, 3pm and 7.30 pm on Saturday, 3 pm on Sunday
Where Aliwal Arts Centre
Cost From $33
Web https://thethreefeathers.peatix.com/
17. Go Green as a Family
Come to Families Go Green! to find out how you can minimise your carbon footprint while having fun! This year's 'Upcycling' edition shows how we can repurpose everyday household waste creatively into useful items and even toys. Browse the flea market, let the kids go on the Green Warrior! obstacle course, take part in epicycle workshops, play carnival games, and enjoy yummy bites from the food trucks. What to bring? Reusable bags, reusable food containers, water bottle, cash, your friends and family!
When 23 November, 10am – 3pm
Where Marina Barrage/ Sustainable Singapore Gallery
Cost Free entry
Web http://www.terra.sg/fgg
18. Watch Airavata and His Mammoth Task
Part of the Esplanade's Kalaa Utsavam – Indian Festival of Arts, this delightful show sees the king of elephants, Airavata, the brave and loyal vahana (vehicle) of Lord Indra, accompany his master on all sorts of adventures—from bringing rain to earth and battling the powerful forces of Ravana, to facing off against the evil Vritra. Performed in English with music and dance, this entertaining show is suitable for families with children from four years old and above. Do note that the show is 45-minutes long with no intermission.
When 23, 24 November, 11am & 2pm
Where Esplanade Recital Studio
Cost $20. Children from one year old have to have their own tickets.
Web https://www.esplanade.com
19. See the future at 2219: Futures Imagined
How will our world change over the next 200 years? Find ideas in this immersive exhibition developed by ArtScience Museum, as you walk into scenarios that explore how our future lives may be impacted by climate change and loss of the planet's biodiversity. Imagined by over two dozen artists, architects, filmmakers, writers and theatre companies from Singapore and around the world, this invites us to contemplate the global context that Singapore is part of, and how larger environmental forces will impact our home.
When 23 November 2019 to 5 April 2020, 10am – 7pm (last entry at 6pm)
Where ArtScience Museum
Cost From $16 per adult and $12 per child (Singapore Citizen and PR)
Web https://www.marinabaysands.com/
20. Go on An Amazing Journey at the Blossom Children Holiday Camp
Blossom World regularly conducts bilingual (Mandarin and English) children's camps which teaches Di Zi Gui (The Standards for Being a Good Student and Child) moral values. Though treasure hunting games, campers will learn and improve both languages while learning to be mindful and trustworthy. Suitable for kids aged eight to 10 years old. Note that it is compulsory for parents to participate on the second day of the camp, from 1.30pm – 5pm.
When 23 to 24 November, 9 am – 5 pm
Where Kallang Community Club
Cost $180
Web https://www.blossomworld.sg/
21. Do Frozen Ballet and more
Frozen fans, rejoice! All That Jazz is hosting a five-day ballet programme where aspiring dancers can channel their inner Elsa and Anna through dance. There are also include workshops where kids can unleash their creativity by crafting Frozen characters with different materials. For kids aged two (parent-accompanied) to seven (drop-off for other ages).
When Various dates from 25 November
Where Forum The Shopping Mall, 583 Orchard Road, #02-05 or 10 Winstedt Road, #01-08
Cost $267.50, including GST
Web https://allthatjazz.com.sg/
22. Play Ping Pong like a Pro
Did you know that playing table tennis is good for developing motor functions, strategy, and even long-term memory? Give your child a head start in the sport with the Singapore Table Tennis Association's (STTA) training camps for beginners. This two-day camp is suitable for children aged five to 12. Note: registration must be done by 12pm on 5 November, 2019.
When 25 to 26 November, 9 am – 4 pm (Clementi) or 2 to 3 December, 9 am – 4 pm (Hougang)
Where Clementi Sports Hall, 518 Clementi Avenue 3, or Hougang Training Hall, Blk 810 Hougang Central, #02-216
Cost $160.50, including lunch, snacks, goodie bag and GST
Registration https://stta.org.sg
23. Do Calligraphy at Dreamseeds Art Fest
This free calligraphy workshop by Leah Design is a part of the annual Dreamseeds Arts Fest, a week-long event showcasing artistic achievements of Club Rainbow's beneficiaries. This year's festival highlights visual arts exhibition, performing arts concert, mini arts market, experiential activities as well as guided workshops such as this one on Copperplate Calligraphy Made Easy. Suitable for children aged seven years and above.
When 27, 28 November, 3.30 – 5pm
Where *SCAPE Level 5 Media Hub
Cost Free
Web https://dsaf2019copperplatecalligraphy.peatix.com/
24. Start your own Kitchen Garden
Little avid gardeners will love this. Let's Dig, Sow and Grow is an urban gardening programme designed to help your child start their own kitchen garden. This holiday, they will learn how to create good soil, compost, work with worms, and plant herbs to take home and nurture. Lessons are conducted in two sessions over two Saturdays. Suitable for children five to 12 years old, but five-year-olds have to be accompanied by an adult.
When 30 November and 7 December, 4 – 5.30pm
Where The Good Garden at The Artground, 90 Goodman Road, Block J, #01-40
Cost $35 per child per session
Web https://ldsg-nov-dec.peatix.com/
25. Build Olaf and more
At The Little Executive's Winter Wonderland Camp, young ones are part of Elsa's Escape Challenge. They need to work as a team to unlock the Frozen Magical Door, work on icy experiments, and improve social sills as they learn to be thoughtful towards others.
When 4 to 5 December, 9am – 1pm
Where 138 Bukit Timah Road, Singapore 229839
Cost $320
Web https://www.thelittleexecutive.asia/holiday-camps
:: New :: Camp KidZania is back!
This December, Camp KidZania will have your kids aged seven to 15 years going Mad About Tech as they learn about how the city works, take on an outdoor science trail, and attempt to design an archery bow! This edition of Camp KidZania is held in collaboration with High Achievers. Limited slots are available. Please email the completed Camp KidZania booking form to [email protected] by 24 November 2019, 11:59pm.
When 9am on 6 Dec to 12pm on 7 Dec
Where KidZania Singapore
Cost $239 (for Public), $219 (for B•KidZanian CitiZens and Annual Pass holders only)
Web https://kidzania.com.sg
26. Experience it all with Imaginique
This new children's festival makes its debut this year and we're really excited about it! Designed for all kids – and even babies! – it is an immersive melting pot of theatre, dance, circus, street performance art, and sculptural artistry that promises to excite the imagination and incite curiosity in children. Check the website for details of each performance.
When 13 – 22 December
Where Various locations
Cost From $40 per person
Web https://imaginique.sg/
(See also: 13 Places to Bring Baby for Fun and Brain-Boosting Activities)
27. Dance Your Way to Christmas
Kids become Santa's little helpers at this Christmas Camp by Dance at the Difference! The four-day camp will have dancing, dressing-up, face painting, arts and craft, games, storytelling and more – everything to put little ones in the mood for Christmas. Campers will also put up a performance for family and friends on the final day. Suitable for children three to seven years old.
When 16 to 19 December, 9am – 12pm
Where 203A Thomson Road, Goldhill Centre, Singapore 307638
Cost $300 per child
Web http://danceatthedifference.com/Christmas-camp/
28. Listen to Christmas tunes
Celebrate christmas with the young musicians from kidsphilharmonic@sg! This year's concert features entertaining and beautiful works such as Toy Symphony by Franz Joseph Haydn, Nutcracker Suite and Symphony No.5 by Pyotr Ilyich Tchaikovsky. Both stall and circle seats are free seating at $30.
When 22 December, 7.30 – 9.30 pm
Where Victoria Concert Hall
Cost $30
Web https://kpoxmas.peatix.com/
29. Enjoy Anime at the EOY J-Culture Festival
Be transported to the world of anime and cosplay at this annual community event. The largest of its kind in Singapore, it celebrates Japanese pop-culture through non-stop performances and over 100 exhibitors and merchandisers. It will be a unique and eye-opening experience for both the young and the young-at-heart!
When 28 to 29 December, 12pm – 8pm
Where Suntec Singapore Convention & Exhibition, Centre Hall 403
Cost From $11.90
Web https://www.eventbrite.sg/e/eoy-j-culture-festival-2019
30. Art Jam with the Grands on Grandparents Day
Join sketch journal artist Tham Pui San as he brings grandparents and grandkids through An Old New World exhibition to explore what Singapore used to be like before 1819. Together, you will use oil pastels to paint scenes inspired by the landscapes and objects of this period in history. Suitable for children aged seven years and above, with a grandparent.
When 23 November, 2.45 – 4.45 pm
Where National Museum of Singapore
Cost $8 per grandparent-child pair or $15 for parent-child pair, $5 for an additional family member
Web https://artjamming191123.peatix.com/
31. Sing your way home
As part as the Esplanade's Voice – Festival of Song 2019, composer and conductor Albert Tay is hosting a singing workshop using the Kodaly method. This, based on the philosophy of Hungarian composer and music educator Zoltan Kodaly, aims to make music and singing learning a joyful experience, one that we're sure the kids will enjoy. The 45-minute workshop is suitable for families with children aged six to 12 years.
When 7 December, 4.15 pm
Where Esplanade Recital Studio
Cost $3 per person, sold in pairs or 3's
Web https://www.esplanade.com/
32. Bask in Curated Pop-Culture
The Singapore Toy, Game & Comic Convention is back as the Singapore Comic Con (SGCC) this year, and it's looking bigger, better, and even more exciting – yes, even for kids. Watch hardcore Pokemon fans battle it out at the Comic Con Pokémon Championship Series Special Event, discover unique creations at Artist Alley, meet famous YouTube gamers, toy designers like New York based sculptor and toy designer, Jason Freeny, check out Star Wars merch, rare posters, and more!
When 7 to 8 December, 10am – 8pm (show floor), 12 – 8 pm (main stage)
Where Marina Bay Sands – Sands Expo and Convention Centre, Level 1, Halls A, B, C
Cost From $15 for youth, $21 for adult
Web https://www.singaporecomiccon.com
33. Work Towards a Green Planet
What will the world be like in 2030? What is our current energy landscape? If these are questions that your eco-warriors have pondered about, sign them up for Explorer Junior's two-day STEAM workshop where they'll create a water wheel and building a solar car, gain awareness of the world's current energy landscape. For four to six year olds.
When 12 to 13 December, 9am – 1pm
Where Trehaus @ Funan
Cost $198 per child, including all materials.
Web https://www.explorerjunior.com
34. Meet The Snowman
What would you do if your snowman came alive on Christmas Eve? Go on an adventure and meet Father Christmas, dancing penguins, reindeer, and more, of course. But can you escape Jack Frost and be home in time for Christmas? Based on Raymond Brigg's well-loved book, this KidsFest show will bring the magic of the season to kids and parents alike. Best for children aged three years and above. The show is one hour and 45 minutes long, with one interval.
When 12, 13 December, 7pm, and 14, 15 December, 11am, 3pm, and 7pm
Where Esplanade Theatre
Cost Standard tickets from $58 per person, excluding booking fee.
Web https://www.kidsfest.com.sg/
:: New:: Code and Create a Lightsaber
This two-day, one-night, fun-filled, code-tastic camp is held at High Achiever's new, clean and secure camp suites at KidZania Singapore, Sentosa, where kids will learn essential life-skills, including problem-solving, computational thinking, and create their very own lightsaber using the C programming language on Arduino! Kids will be grouped by age: five to eight years, and nine to 12 years. The camp cost includes: Coding Notes, Camp Journal and Arduino LightSaber worth S$80, and meals: 1 breakfast, 2 lunches, 1 dinner. All meals are Halal, with vegetarian options available.
When 17 December, 9am to 18 December, 1pm
Where KidZania Singapore
Cost $280 ($260 early bird rate for the first 20 students who register)
Web https://www.eventbrite.sg/e/empire-code-camp
35. Browse a French-inspired Farmer's market
The Le Petit Marche is a traditional market and a treasure trove of premium foods from all over the world. Check out freshwater fish, seafood, meat, cheeses, bread and baguettes and more to stock up for your Christmas parties, and soak in the festive atmosphere too!
When 21 December, 9am – 3pm
Where The Salvation Army, 356 Tanglin Road, Singapore 247674
Cost $1 donation per person for The Salvation Army
Web https://www.petitmarchesg.com/
:: New :: Surround yourself with the Magic of Disney Animation
Who isn't a Disney fan? Uncover the magic behind your most beloved animated movies from Walt Disney Animation Studios', and be the first to see original artworks from Frozen 2, which make their exhibition debut here! You'll get a rare opportunity to experience over 90 magical years of Disney animation, from Steamboat Willie (1928), the first Disney cartoon with a synchronised soundtrack, to classic films including Snow White and the Seven Dwarfs (1937). Don't forget the well-loved ones such as The Lion King (1994), as well as blockbusters such as Frozen (2013), Zootopia (2016) and Moana (2016).
When Till 29 March, 2020, 10am – 7pm
Where ArtScience Museum
Cost $19 (adult); $14 (student)
Web https://www.marinabaysands.com/museum/disney-magic-of-animation.html
:: New :: The Great Circus of Europe presented by Uncle Ringo
If you're still humming tunes from The Greatest Showman, step right up to Marina Bay this December for The Great Circus of Europe by Uncle Ringo! For the first time, the circus is presented with Uncle Ringo's family-friendly carnival games, thrilling rides, and delectable food delights. The 90-minute circus is a spectacle of jaw-dropping international acts: get ready for trapeze dancers, stunt motorbikers, contortionists, clowns, and daredevil acts that'll have you gripping the edge of your seat.
What's more, The Great Circus of Europe will be part of the Marina Bay Singapore Countdown 2020 celebrations, featuring an exclusive New Year's Eve performance with specially curated acts that promise to thrill and awe!
P/S: Book your tickets ASAP to enjoy the early bird promotion. The 20% early bird discount applies to all categories except all shows on 31 Dec 2019. Apply the promo code "EBIRD20" upon checkout to qualify for the early bird discount.
When 20 December 2019 – 1 January 2020, 1.30pm onwards
Where Bayfront Event Space (next to Marina Bay Sands), 12A Bayfront Ave
Tickets From $70 – $150 at http://bit.ly/ringo-sg (get 20% off till 15 Nov)
Web www.uncleringo.com/circus
All content from this article, including images, cannot be reproduced without credits or written permission from SingaporeMotherhood.
Follow us on Facebook, Instagram, and Telegram for the latest article and promotion updates.