SingaporeMotherhood | Family Fun
July 2023
National Day 2023: Family-Friendly NDP Fun & Activities for Everyone!
As we gear up to celebrate Singapore's 58th birthday, you might be wondering about how you can maximise the public holiday. After all, National Day 2023 falls smack in the middle of the week — on a Wednesday, no less. This means you'll have to take two days of leave on either side of the day itself in order to enjoy a long weekend. (By the way, parents, Thursday, 10 August, is a school holiday). No leave to clear? Don't worry. This year's National Day celebrations do not start and stop on the day itself. In fact, the fun goes on for almost the whole month of August, and even beyond in some cases. So get ready for a whole lot of red and white fun this August, and do check back as we update this list with new events and activities in the days to come.
(See also: NATIONAL DAY FIREWORKS 2023: 36 PRIME VIEWS & SPARKLY STAYCATIONS)
Enter the Bunnyverse at Resorts World Sentosa
See the 38 bunnies at Ave8 in red and white together with a National Day themed visor, at Resorts World Sentosa (RWS)! These red and white themed bunnies are on display together with a five-metre-tall bunny decked in similar National Day themed 'fit. Furthermore, stand a chance to win a 2D1N stay in a deluxe room for two at a hotel in RWS. Simply snap some selfies or take videos with the colourful bunnies in the Bunnyverse. Share your creations on Instagram, TikTok or Xiao Hong Shu 小红书 and hashtag #RWSBunnyverse and tag @RWSentosa to participate! Terms and conditions apply.
Till 31 Aug, at Ave8, Resorts World Sentosa
Play ParaDash and win Cash!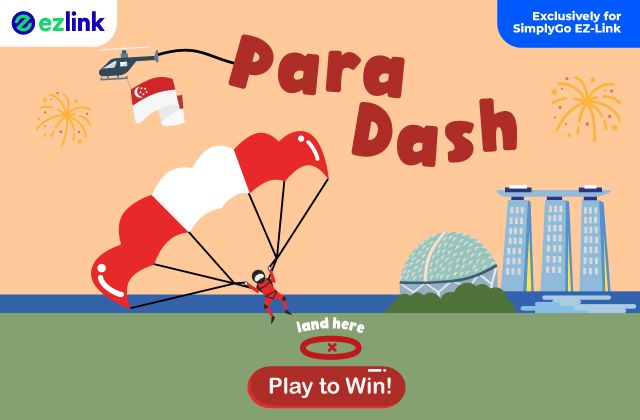 So you can't be a Red Lion, but guess what? You can ParaDash! In this fun in-app game inspired by the Red Lions, players can watch thrilling free-fall displays by these elite parachutists at NDP 2023, try to land a parachutist virtually, and win cashback amounting up to $258. All you need is a SimplyGo EZ-Link card to play the game in the EZ-Link App. The more you use your card, the more game play chances you'll get!
From 1 August 2023, in the EZ-Link App.
Celebrate with Makan at City Square Mall
Since we are a foodie nation, what better way to say "Happy Birthday!" to Singapore than with events and activities about food? Savour them all at City Square Mall, where you can learn more about heritage food ingredients at the Singapore Chinese Cultural Centre (SCCC) pop-up exhibition (till 22 Aug), bring home traditional kuehs and fresh bakes from the Sedap Singapura Food Fair (till 6 Aug), and cool down with ice cream and mochi at the White Rabbit Pop-Up Booth (till 13 Aug). Enjoy shiok rewards when you shop too!
28 July to 27 August, at City Square Mall. Get more details here.
(Ballot for tickets to) Fly with the RSAF
Take flight on the A330 multi-role tanker transport or CH-47SD Chinook helicopter. These two military aircraft are in this year's National Day celebrations and as part of its 55th anniversary celebrations, the Republic of Singapore Air Force (RSAF) is giving away tickets to ride in them over the skies of Singapore during the RSAF55 Open House (9 and 10 Sept at Paya Lebar Air Base). Around 2,500 tickets available; good luck!
Ballot for tickets here from noon today (20 July 2023) till 12pm on 22 August 2023.
View NDP Celebration and Fireworks at Pororo Park
Pororo Park has a secret private outdoor terrace that's the perfect place to view the NDP fireworks… and you're invited! Watch the NDP aerial display and fireworks here, as well as the livestream of the actual parade. In addition, there'll also be a Pororo and Friends meet-and-greet session, airbrush tattoo and balloon sculpting, and goodie bags for every child. The Pororo Express Train and all the play areas will be open too!
9 August, 6–9pm, Pororo Park. Get tickets at $65 (1 Child + 1 Adult), $118 (2 Children + 2 Adults) here.
Celebrate NDP 2023 at Marina Barrage
Pro-tip: come early! Even before you settle down to watch the live screening of the NDP at the Marina Barrage Green Roof, there are tons of activities for the family to enjoy here. Shop at the Green Bazaar, a sustainability marketplace, play fun games, and learn how to transform disused items into practical products through upcycling. Sign up here to join the Eco Jalan sustainable adventure trail as well. After you complete all three activities, you get to win an Eco Bundle!
9 August, 12–6pm, Marina Barrage. Admission is free. Get more details here.
(See also: 10 WAYS TO BE AN ECO-CONSCIOUS PARENT IN SINGAPORE)
Sing your heart out at the Gardens by the Bay and Mediacorp National Day Concert
Raise hearts and voices together with homegrown music legends like Kit Chan, Mavis Hee, and Joanna Dong in this concert extravaganza hosted by Vernetta Lopez and Pesta Perdana 2023's "Best Host – Info-Ed" winner Fauzie Laily. Along with them, watch a multi-cultural performance featuring traditional musical instruments, as well as Suthasini Rajendran's viral Tamil National Day song Nam Singapore. Not to forget performances by inclusive choir Voices of Singapore, and pre-event fun including a carnival, a pet's walk, and FREE ice cream created by MasterChef Singapore Season 4 contestants too!
5 August, 7.30–9pm at The Meadow, Gardens by the Bay. The concert will also air on mewatch, Channel 5 and Mediacorp Entertainment on YouTube on 12 August, 7.30–9pm.
Be part of a History Textbook
What dilemmas and decisions did our founding leaders face when nation-building from the 1950s to the 1970s in Singapore? Learn about these and more at Semangat yang Baru: Forging a New Singapore Spirit, a pilot exhibition by the Founders' Memorial, where kids can get to recite speeches at a Merdeka rally; raise the Singapore flag at the UN headquarters, and pen a note for Lee Kuan Yew's iconic red box. Tip #1: Parents, look out for the Special Family Captions at exhibition highlights to help you interact with your little ones over the exhibition content. Tip #2: Start the journey even before you get to the museum, on an interactive bus tour with role-playing tour guides and immersive storytelling!
Till 13 November 2023, at the National Museum of Singapore. Admission is free for all Singaporeans and Permanent Residents.
Go ARRRRR with the NDP Digital Play Pack
IMDA has launched the First-Ever NDP Digital Play Pack which lets you celebrate Singapore's 58th National Day by enabling Singaporeans to experience a digital side of the National Day Parade (NDP). The mobile application uses Augmented Reality (AR) to bring the fun digitally as you "dress up" and take digital photos, "visit" and even "redesign" iconic locations from the past. You can even enjoy a digitally enhanced parade from the comfort of home!
Take a Seat at the Civic District
See the Civic District anew with Benchmarks, a new public art trail commissioned by the Civic District Alliance (CDA) which features six public art benches by Singapore-based artists. Curated by local multi-disciplinary artist Justin Loke, the artwork benches are inspired by the concept of punctuation marks! More than just public rest stops, the benches form a visual narrative to tell the rich histories of the district. See if you can find all of them!
2 August 2023 until 31 July 2026, various locations around the Civic District.
Embark on a DIY Heritage and ART Tour at Raffles Place
That iconic statue stands here, and the Singapore River runs through it. But how much do you really know about Raffles Place? Take a deep dive into the area through two new (and free!) audio tours. The Heritage Tour introduces monuments and explores how the precinct has changed since the 1800s, while the ART Tour offers insights into 11 art and sculpture masterpieces around the 'Place. Sounds like a fun family activity? We think so too. Start from Raffles Place Park with the Heritage tour, then continue with the ART tour. Bring a hat, pack some water, and slop on the sunscreen. Then plug in your headphones, scan the QR codes here, and get going!
Uncover Hidden Heritage with My Community Festival 2023
Visit a sleepy boatel in Changi, decorate common shared spaces, learn about lesser-known religions in Singapore and more through over 100 events at this festival. The fourth and biggest, this year's My Community Festival highlights the heritage within Chinatown Complex. It also features possibly the last tour of Senoko Fishery Port, which has been slated for permanent closure. What's new in this edition, themed 'Love My Neighbour', is a day tour to Malaysia to learn about the farms that supply 42% of Singapore's imported vegetables.
4 to 20 August, various times and locations. Get programme details and sign up here.
Watch the Temasek Foundation SSO National Day Concert 2023
Witness the world premieres of new music by Singaporean composers commissioned by the SSO, and hear musical treasures from Singapore's pioneer composers revived for today's audiences at this two-hour concert. The concert will be streamed live on the Singapore Symphony YouTube Channel as well, so if you can't be here in person, join in online!
13 August, 4pm, at the Esplanade Concert Hall. Tickets from $15 available here.
Celebrate the Best Value with FairPrice
FairPrice Group (FPG) is back with block parties in Ang Mo Kio and Jurong West to celebrate National Day! Both events feature carnival-like game booths and complimentary F&B stalls showcasing FPG's own brands and Made-in-Singapore products, such as FairPrice potato chips, coconut water, and mixed nuts. Spend above $10 at the FairPrice on Wheels truck and receive a limited edition FPG 50th Anniversary tote bag. There'll also be time-limited promotions at FairPrice supermarkets from 3 to 16 August, with deals on selected house brand products, and in-store offers.
5 August 2023 @ Blk 424A Pavilion at Ang Mo Kio Ave 3 Singapore 560424, from 12–2pm; and @ Blk 442 (covered plaza) Jurong West Ave 1 Singapore 640442, from 5–7pm
Sigi Skin x Fieldnotes National Day Pop-Up
Give your skin a feast, inside and out, at Fieldnotes this National Day. This specially curated dessert set is inspired by Sigi Skin's superfood ingredients, and features a Matcha Kinako Cake, Brown Rice Peanut Tea Cake, and Strawberry Matcha Oat. What's cool is that they are all infused with Sigi Skin's superfood ingredients! Spin the Wheel to win prizes, or indulge in retail therapy at the Sigi Skin vending machine. You'll get to purchase Sigi Skin's Idyllic Fields Daytime Moisturiser with a new limited-edition packaging too.
$21.90 (before GST and service charge) per set, from 25 July to 3 September, at Fieldnotes, 41 Neil Rd.
Stay, Savour, and Celebrate at Hotel G
Celebrate the nation's 58th at Hotel G with a staycay that's uniquely Singapore. The Toasty Shell-ebration package includes a night's stay in Good Room Queen, and one Kim's Duet Local Coffee Variety Box. In addition, you'll get to enjoy two Soft Shell Chilli Crab Burgers and a Kaya Toast Milkshake Set from 25 Degrees Burger & Liquor Bar too. Key in the promo code "SGLOCAL" to enjoy!
From $158++, for stays from 20 July 2023. Terms and conditions apply. Book your stay here.
(See also: HOTEL G SINGAPORE — 8 WAYS WE LOVE THIS SMALL BUT SWELL STAYCATION SPOT)
Jump Aboard Get Hooked SG's Boat Expedition
For a different kind of adventure weekend, set sail towards the Northern Islands and have a go at reeling in a big catch from the teeming seas around us. Will it be a grouper or a snapper? What's more, in celebration of National Day, Get Hooked is offering a discount of $58 off all tour packages from 19 July till 9 August 2023. It's a unique family bonding activity that the kids will surely be talking about for years to come.
9am to 5pm, Punggol Marina Country Club 11 Northshore Drive, Singapore 828670 Pier 3 Gate. Book via Whatsapp @ 9166 6965 or through @gethookedsg on Instagram
Featured image: Rogan Yeoh on Unsplash
All content from this article, including images, cannot be reproduced without credits or written permission from SingaporeMotherhood.
Follow us on Facebook, Instagram, and Telegram for the latest article and promotion updates.