SingaporeMotherhood | Family Fun
July 2019
Crowne Plaza Changi Airport — Stay, Shop, Play! Package is Staycation Perfection (Review)
If you haven't brought your kids to explore Singapore's newest shopping mammoth yet, book a Stay, Shop, Play! staycation at the Crowne Plaza Changi Airport right now. We were invited to try out this package which includes (among other freebies) complimentary passes to Jewel's Canopy Park, discounts at selected Jewel shops, and a host of other perks cleverly conceived to satiate every Singaporean desire. But first, food.
Eat: Fabulously Crab-ulous Buffet
From now till 31 August 2019, hotel restaurant Azur has a Simply Crab-ulous Dinner Buffet where you can feast on all of Singapore's favourite crab dishes — Chilli Crab, Pepper Crab, Salted Egg Yolk Crab, Ginger Onion Crab — served on a rotational basis. On the night we are there Chilli Crab, Soft Shell Crab, and Kam Cheong Crab are on the menu. Crab scissors and pincer crackers are provided, and there is a mini mountain of 'man tou' to mop up every drop of delicious gravy.
Azur's hidden talent is in ensuring that its local dishes retain a rich, tantalising, 'tze char' flavour instead of tasting like bland buffet regulars. The Drunken Prawn in Herbal Wine Stock calls for repeat tastings, and the Whole Seabass in Soy Sauce is steamed to the exact point of sweet, tangy, and melt-in-the-mouth perfection. This buffet is worth making a journey to the east for.
(See also: 10 New Hotels for Family (and Couple) Staycations in 2019)
Stay: Room With A View
Crowne Plaza Changi Airport has received the World's Best Airport Hotel award by Skytrax every year since 2015. The highly popular Runway view rooms probably contribute a part to these. Unfortunately, said rooms are fully occupied so we are allocated a Pool view room instead. (In hindsight this is probably a blessing in disguise as my plane-spotter kids would have refused to venture out if we had a room overlooking the runway.)
Our 36 sqm space feels like luxury. It's larger than average rooms of similarly-starred properties and thoughtfully designed. The long bench below the TV is absolute genius, allowing for multiple luggage bags to be open at the same time for ease of packing. The hotel has provided games (Scrabble and Twister), books and colouring pencils for kids, as well as passes which allow each child one scoop of ice cream at the hotel's Lobby Lounge (eat-in only) per day of stay.
From the room we have an amazing view of the airport control tower, Jewel, and the hotel pool. Here, canopy seating, umbrella shades that undulate like hula grass skirts in the breeze, palm trees, and wooden decking give the area a five-star resort vibe. Who'd have expected such a lush, green, space in an airport?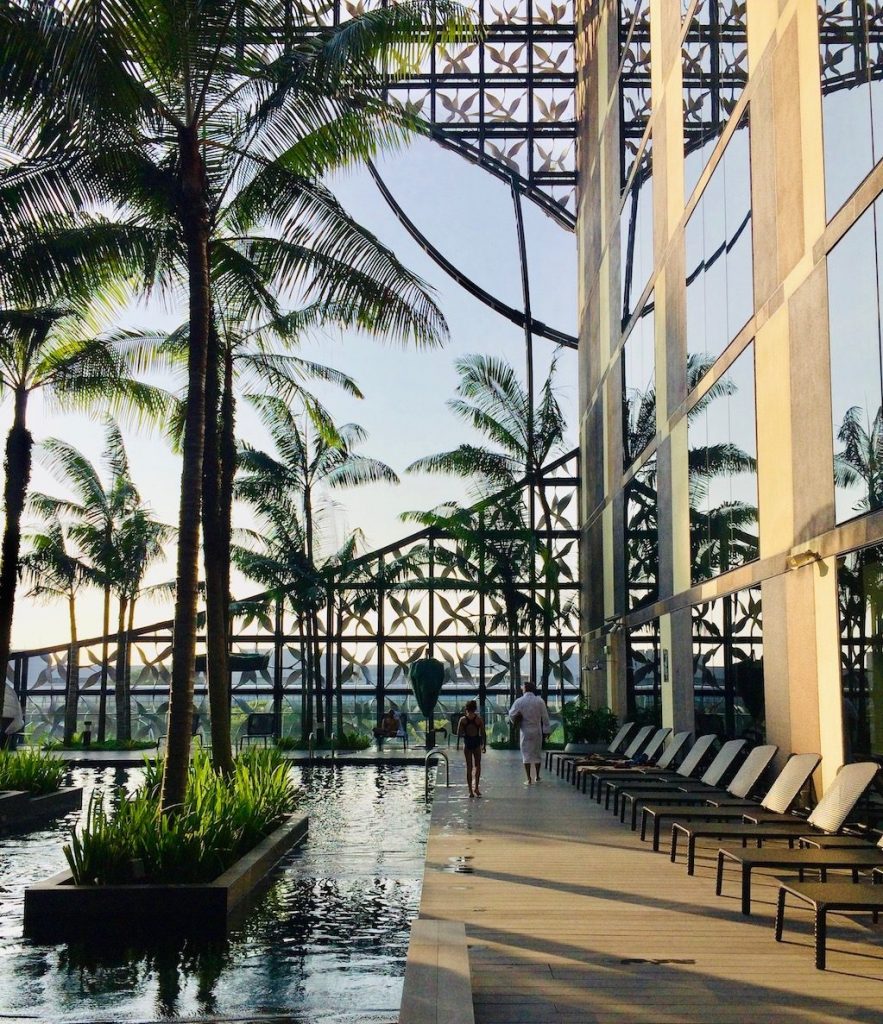 (See also: 10 Best Family-Friendly Airlines Flying from Changi)
Shop: Discounts at Jewel
Staycation-ers on the Stay, Shop, Play! package enjoy discounts at selected shops in Jewel Changi Airport. These include Ducks & Crafts (where kids can do hands-on activities), Ning Foot & Back Spa, Supermama, and luxury Swiss chocolatier Läderach. It's tempting to go out and spend, spend, spend. After all, the T3 to Jewel link is just next to the hotel entrance.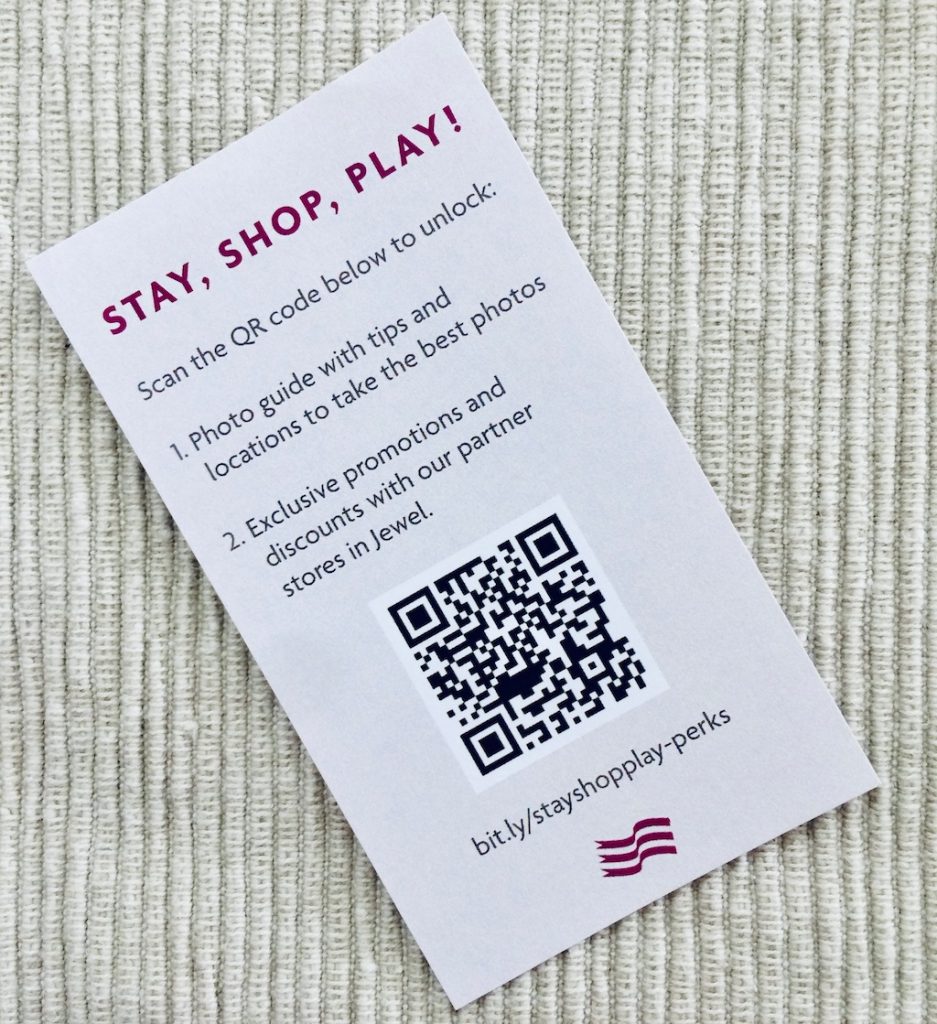 You'll be given a card with a QR code. This is all you need to find your Stay, Shop, Play! package perks. Just flash your (room) card to get the discount.
Play: Canopy Park, Jewel Changi Airport
The Stay, Shop, Play! package includes tickets for two adults and one child to Canopy Park at Jewel Changi Airport. Canopy Park closes at 1am (Fri, Sat, & PH eve | 12 midnight Sun – Thurs) so you can hang out till the wee hours without worrying about missing the last bus and train, or incurring hefty taxi surcharges. Win liao.
If you've been there already during the day, Canopy Park is worth a night visit. The spot-lit Discovery Slides area resembles an otherworldly alien landscape, the Topiary Walk and Petal Garden seem enchanted, and the Foggy Bowls take on a dreamlike quality.
It's close to midnight now, and I am surrounded by four-feet tall daredevils waiting to launch themselves over the top of a 90-degree steep slide. Shouldn't they be at home and in bed, the Asian mum in me can't help wondering. Oh well, at least they're well protected as they hurtle down.
(See also: Jewel Changi Airport Shopping & Eating Guide)
Crowne Plaza Changi Airport Staycation Tips:
Buffet breakfast at Azur starts at 6 am – perfect for early risers (read: babies, toddlers, and mums). This is the only place we've seen that serves Masala Tea at breakfast. Try it, it's good.
Upgrade to a Club room for Club Lounge access – including private buffet breakfast, evening drinks and canapés, and all-day drinks and cookies. Very useful, especially when the kids get peckish in the middle of meal-times.
Bring gear and shoes to sneak in a workout at the superbly-equipped 24-hour fitness centre. It's newly upgraded and the equipment is top-notch.
Forgot your workout gear? Sweat it out on hydrobikes in the pool!
Stay, Shop, Play! at Crowne Plaza Changi Airport
The Stay, Shop, Play! room package includes
Daily buffet breakfast at Azur for 2 adults and 1 child below 6 years old. (Breakfast charge for child between 7 – 12 years is S$10++)
Canopy Park tickets for 2 adults and 1 child (per room per stay)
Complimentary 24-hour parking at Changi Airport Terminal 3B Car Park (single entry parking per stay)
Late check-out till 4pm (subject to availability)
Complimentary WIFI
Complimentary local calls and IDD calls to 11 countries
For reservations or enquiries, call +65-6823-5388, email [email protected] or book online
Note:
Price is subject to 10% service charge and prevailing government taxes, unless otherwise stated
Optional: Extra bed request is subject to availability with a charge of S$60++
Child between 3 – 12 years old
Minimum height requirement at Canopy Park slides is 110 cm. Children below 140cm in height must be accompanied by an adult
All content from this article, including images, cannot be reproduced without credits or written permission from SingaporeMotherhood.
Follow us on Facebook, Instagram, and Telegram for the latest article and promotion updates.