SingaporeMotherhood | Family Fun
June 2019
YOTEL Singapore: Review and Staycation Giveaway of the Best Stay in Orchard Road
At a cosy 16 square metres, it takes less than half a minute to suss out our Premium Queen with Bunk cabin at YOTEL Singapore. As the kid says, our YOTEL Singapore cabin is the Chinese idiom 麻雀虽小,五脏俱全 — meaning small but complete in every detail — come to life. A hotel room that inspires my child to (voluntarily) speak a Chinese idiom? I love it already!
It's in the (little) details at YOTEL Singapore
An architecture friend from abroad once described housing board flats as having "space efficiency". Our ergonomically designed Premium Queen with Bunk 'cabin' (YOTEL speak for bedroom) at YOTEL Singapore is perfect example of this as well.
Inspired by First Class travel, YOTEL rooms are smartly designed 'cabins' which have 'everything you need and nothing you don't'.
First, the SmartBeds™. The cabin size does not accommodate a seating area so the bed doubles up as a sofa by folding up. Just press the up and down buttons – impressively silent mechanism all the way – to find your perfect couch potato angle.
Second, the bathroom. This is located where the floor to ceiling windows are, at the end of the room. The toilet bowl and the shower face each other from either end. The sink sits next to the bed, outside this rectangle. The bathroom partition glass is not frosted all the way so you can almost see right into it from the top bunk — something to note if you're shy. And yes, there are blinds that you can lower so you can perform your ablutions without an audience.
Finally, everything else is hidden in plain sight, and a treat to discover. We feel like we're unwrapping a multi-wrapper present with surprises on every layer. Flat walls open up to reveal amenities like bottled water, an ironing board, a torch, and an umbrella. Hanging pegs fold out from the wall.
Just below the TV, a panel opens out to serve as a tabletop, with power and USB points. In addition, there's storage space beneath the bed for luggage, plus a safari-style chair, and a tiny pull-out table under the bedside cabinet.
"Domo Arigato Mr Roboto"
YOTEL Singapore is a tech-friendly hotel. Airline style self-service kiosks make check-in a breeze. The kids even get to create their own room cards! On the way up to our room, we meet Yolanda, one of the hotel's resident robots. She entertains us with Harry Potter quotes and flashing eyelashes as we wait for the lift.
Later, Yoshi delivers our request for more bottles of water, telling us "May the Force be with you" before he leaves. The kids are head-over-heels in love, and completely charmed. "So cute!" they can't stop exclaiming. Judging by the number of people who pose for photos with the robots at reception, they're not the only ones who think so!
(See also: Genting Dream Cruise Review 2019: Good Times for Families and Kids)
Stay, Eat, Play at YOTEL Singapore
Like its cabins, public spaces at YOTEL Singapore are compact, yet thoughtfully designed. On level 'TEN' is a light-filled co-working space — WiFi and plug sockets included. Outdoor areas are similarly well-executed. There's a good-sized lap pool surrounded by greenery, as well as al fresco dining areas.
A small gym is being well-utilised when we take a peek at it after breakfast.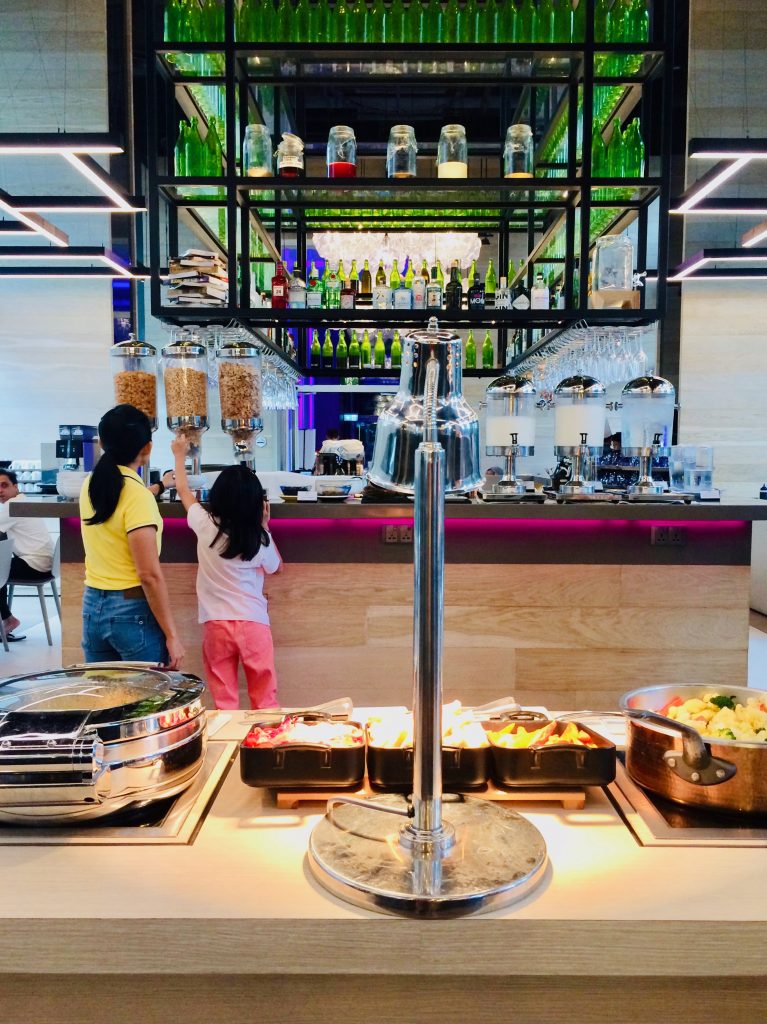 Breakfast at KOMYUNITI (also on level 'TEN') is surprisingly good, with a variety that satisfies even my fussy eaters. Think dim sum, prata, curry, and even braised chicken (really yummy) on top of the usual cereals, cold cuts, and salads.
The egg station uncle deserves extra praise. While waiting for my order, a man approaches the table. The egg station uncle greets him jovially, then asks how he wants his eggs.
The guest gives him a puzzled look, and starts to walk away. Immediately, egg station uncle repeats his question in flawless Mandarin. The guest, smiling in relief, makes his order. When I compliment the egg station uncle on his spontaneous language switch, he smiles and says, "You learn to read faces and see what the guests want."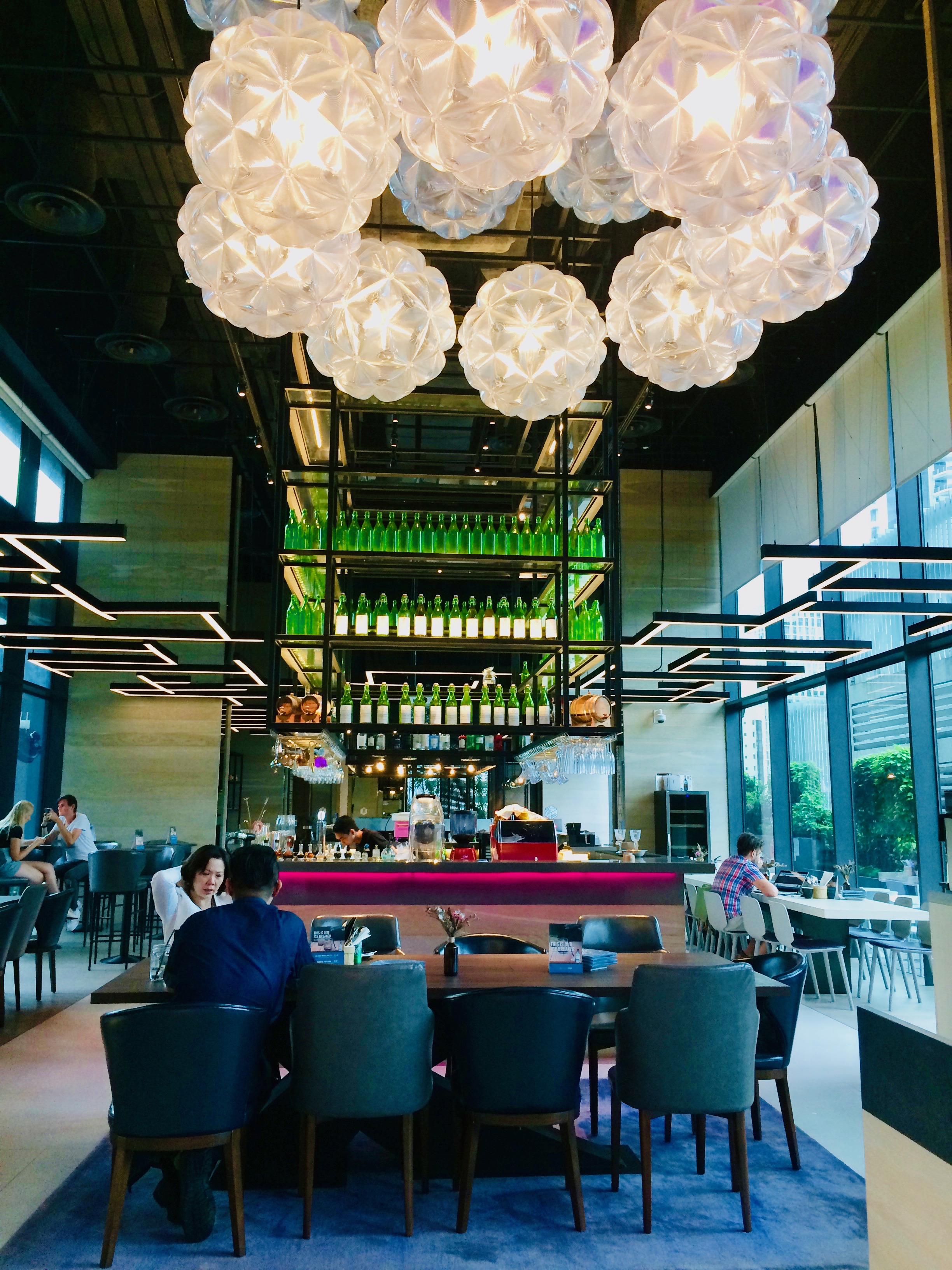 :: FYI :: YOTEL Singapore is offering all guests FREE BREAKFAST as long as you make your booking directly on YOTEL Singapore's website before 30 June 2019. This is applicable even if your stay is taking place after the promotion period. Do it; it's a great deal!
Location, Location, Location
But by far the best thing about YOTEL Singapore is its location. Though just a five-minute walk from Orchard MRT station, the hotel is behind the main stretch and offers welcome retreat from the hustle and bustle. Pro: it's easy to bring the little ones back for their afternoon nap in between expeditions. Con: We can't think of any, can you?
(See also: 11 Fun and Unique Staycations for the Family in Singapore)
:: GIVEAWAY ::
We have a 2D1N stay at YOTEL Singapore in a Premium Queen with Bunk (with breakfast) to give away!
How to win:
Like and Share this article on Facebook with the hashtag #YotelSG (make sure your share is set to 'public')
Comment to let us know
Sit back and relax. We'll be in touch if you've won!
Terms and conditions:
Stay voucher is valid for 6 months from date of issue and expiry date is non-extendable
Blackout dates apply, and advanced reservation is required
Stay vouchers are non-replaceable, non-refundable and not redeemable for cash
Proof of identity may be required at check-in
Closing date: 12 noon, 28 June 2019
All content from this article, including images, cannot be reproduced without credits or written permission from SingaporeMotherhood.
Follow us on Facebook, Instagram, and Telegram for the latest article and promotion updates.