SingaporeMotherhood | Family Fun
April 2016
Giveaway: Tickets to All On A Summer's Day by ACT 3 International with Vicky Ireland
If, like me, you grew up during the 80s, ACT 3 International may have been your first introduction to theatre. The company has grown from strength to strength through the decades, and this year, pioneers the ACT 3i Festival for Children dedicated to children aged two to 12 years old.
[banner][/banner]
Hanà e Momò by Principe Attivo Teatro, Italy
The theatre performances will include original works from Singapore, Italy, Sweden, Argentina, the U.K. and Canada, an artfully curated visual arts programme, as well as Conviviality Sessions led by Children's Theatre artists, bringing arts enrichment and learning to parents and children alike.
Even the littlest ones can be involved. Marmalade (see feature image) by the Claire Parsons Company, Sweden, is a poetic movement act between two dance performers who use circus skills and visuals to interact with the audience. This is created specially for children aged two to six years. There's also Sweet, a visual-arts sense-ability exhibition, workshop, and storytelling session for young ones from four to eight years, which is inspired by Roald Dahl's Charlie and The Chocolate Factory. Sounds yummy doesn't it?
Ruby Lim-Yang, Artistic Director of ACT 3 International, tells us more.
"The ACT 3i Festival for Children is a completely new festival, with new productions and programmes such as the Conviviality Sessions, which are workshops led by the artistes of these productions.
Awake LOVE Orchestra from Sweden & the U.K.
In the past 10 years the Children's Theatre and Arts scene has burst open to a level where there are just so many choices, from free to paid. Today, we have a generation of parents who KNOW what the Arts is about, who have been themselves positively exposed to the Arts when they were children. Today, we have better informed, better travelled, better educated parents who see and understand and appreciate the value and impact of the Arts on their children. What better time to bring together great quality work to their doorstep?
I believe people are more open to new ideas, new possibilities and new ways of engaging their children, and the hunger is there for better, different and more. But exactly what, it is really not easy to tell. So as artists, producers, presenters and advocates of Theatre for Children, we work at harnessing the different, the potential of impacting children with great Theatre.
The Steadfast Tin Soldier by Omar Alvarez Titeres, Argentina
There is an assortment out there of what people consider "kids' shows" and I am in no position to debunk what comes under the big umbrella of 'Children's Theatre', nor should I, as I have heaps of respect and admiration for my industry colleagues who have been at this business for as long as I have.
What I do know deep down is my personal and professional desire to always give a wonderful experience to the child who sits in the audience, an experience of a lifetime, to create the moment for that child in the journey of the imagined world.
I feel I owe it to the child who is there, open and ready to come along with me on my adventures of imagination, to offer something that is worthy of his or her time with us in the theatre, with something that is worth doing, and done well.
Children are a unique audience. They are at the brink of discovering everything, accepting everything, and open to suspending disbelief. Because they are open and receptive, work created on stage for them has to be sensitive to these innate traits of their learning.
The theatre is live. The interaction is moment to moment as theatre has the possibility of taking us on a journey, connecting us through our senses, emotions, and our intellect.
Snow White by the DuffleBag Theatre, Canada
Theatre does have its part to play and needs to be subtle, clever, and inventive, leaving room for the imagination to fill the "gaps" as it were, for it is those very gaps that make the difference between live experiences and technology. Is one replaceable by the other? There is place for both. Technology has its way to enthuse and interest, while theatre enlivens and empowers.
Good theatre for young people continues to engage its audience as it taps into the imagination. This means opportunities for playing (in the mind), conjuring ideas, making connections with personal experiences and learning about others and the outside world through the mental and emotional connections. We hope that the productions of ACT 3i Festival for Children will do just that."
:: Giveaway ::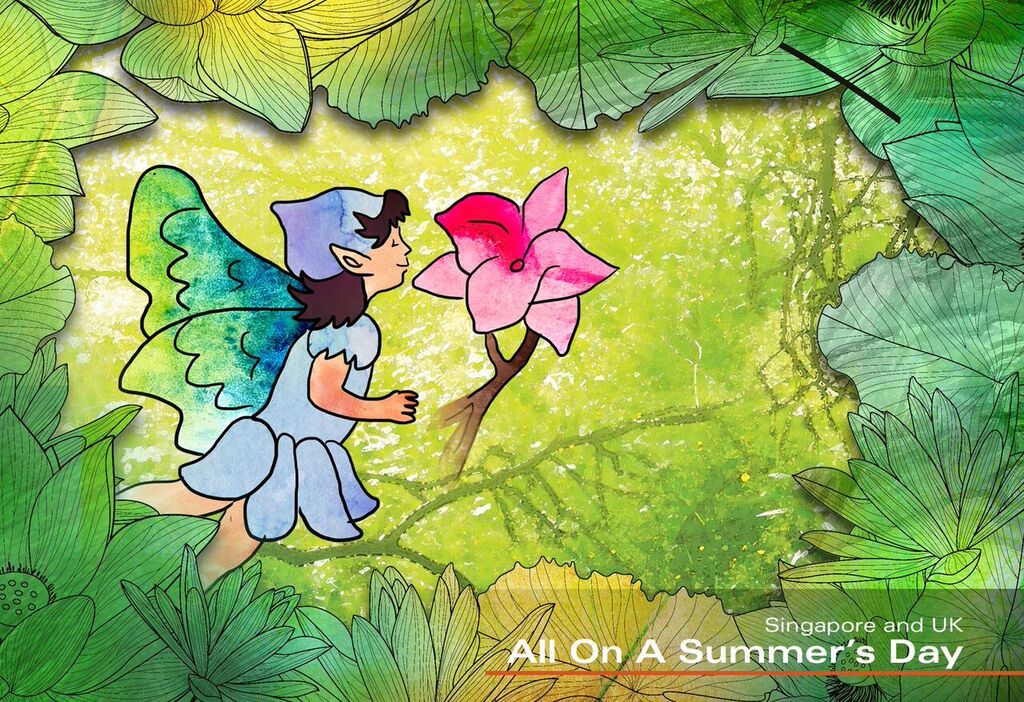 We have 20 tickets (5 winners x 4 tickets each) to All On A Summer's Day by ACT 3 International with Vicky Ireland, to give away. Described as "a companion piece to Shakespeare's 'fairytale', A Midsummer Night's Dream", this production gives younger audiences a taste of the Bard in an easy, accessible way. The story tells of a Little Indian Prince, all grown up, and what happens to him when he meets the Shoemaker's daughter, Phoebe. Follow them into a world of Fairies and Elves with Carrot and Compost, who are on a mission for the Fairy Queen, Titania, and with Oberon's fairies, led by Puck, who are hot on their heels to thwart the mission. Who saves the day in the end?
Date of show:      28 May, Saturday
Time of show:     10.30 am
Duration:              1 hour
Venue:                    Drama Centre Theatre
Best for:                 7 to 12 year olds
How to win:
1. Like and share this article.
2. Leave a comment here telling us that you've done it.
3. Sit back, relax, and wait for us to get in touch with you if you're one of the winners!
Terms & Conditions:
• Tickets are non-transferable, non-exchangeable and non-refundable.
• Collection will be at the box office of Drama Centre, Level 3, 30 minutes before show time.
• Winners will need to produce their IC to claim their tickets.
• Giveaway applicable in Singapore only.
• Giveaway closing date: Thursday 5 May 2016.
Festival information:
The ACT 3i Festival for Children In celebration of the arts, play and experience,  is happening from 24 May to 5 June 2016 at the Drama Centre. See http://act3international.com.sg/act3ifestival/ for information on all the shows and activities available.
All images: ACT 3 International
All content from this article, including images, cannot be reproduced without credits or written permission from SingaporeMotherhood.
Follow us on Facebook, Instagram, and Telegram for the latest article and promotion updates.