SingaporeMotherhood | Family Fun
April 2016
Ashneil's Cars-themed First Birthday Party at Happy Willow
A first birthday party is always special, isn't it? It's even more special when the party has been meticulously planned and executed by a loving mother. We see the spectacular results of mum's expert party planning in Ashneil's Cars-themed party at Happy Willow indoor playground.
[banner][/banner]
Mrs Deepa Nanwani Singh, 33, an educator, and Mr Ravin Singh, 33, a Senior Prison Officer, describe Ashneil as their "jubilee star". Born on 15 January 2015, this affectionate and fun-loving toddler never fails to put a smile on his parent's faces. Ashneil has an older brother, Ashvin Singh, who is four.
What's your favourite parenting moment with Ashneil?
My favourite parenting moments are in giving him the freedom to run, explore and take in the fresh air by the beach. At this age, giving my toddler the freedom to scoot in search of new adventures and to assert his independence in a safe environment is important.  In this way, I feel, I am helping my child really grow, grow in many different domains: emotionally, socially, and physically.
Why did you choose Happy Willow as a party venue?
I found Happy Willow to be very conveniently located at One KM mall in the East. It is a very vibrantly-decorated indoor playground with a distinct, separate area for the older children (Kid's Den) from the younger children (Toddlers' Turf). With two boys aged one and four, this was perfect! I also found the staff very pleasant and forthcoming, this made me very comfortable while sharing my ideas with them.
What was the set-up?
I wanted a unique, inspirational set-up, something different from the usual two-dimensional backdrops. So we had a three-dimensional backdrop with Ashneil's name and cars, toy traffic lights, a walk-in aisle made to look like a road, many road signs, balloons, and other traffic props. The decorations were prepared by WishMaster Party Planner while balloons were arranged by One Party Store. The set-up was done by the staff at Happy Willow.
What was the party planning process with Happy Willow like?
The party planning process was very smooth and enjoyable. We had a total of three face-to-face meetings with more queries exchanged via e-mail and phone. Staff like Mary & July were so pleasant and friendly right from the beginning. They patiently attended to all my queries and even provided some great ideas. This positive attitude and disposition was consistent all through right to the actual birthday. The staff worked well together to setup everything really well.
All in all, I am very pleased and satisfied with Happy Willow, and am looking forward to future play dates there. A BIG thank you again to all the staff (Mary, July, Yuki) who made Ashneil's first birthday a very special one.
Did you have the entire space to yourself?
No, we just had the room to ourselves. We shared the play area with the public. The party was from 4 to 6 pm.
How many children were there?
37 children, from three months to about seven years old. Happy Willow catered to the different age groups with a good range of activities as well as the indoor playground, specially designed and separated for toddlers (Toddlers' Turf) and older kids (Kids' Den).
What was the theme for this party?
It was a Cars-themed party. Having a theme for a party contributes to it being memorable and unique. A theme is also very helpful as I personally find it helps with the rest of the event planning. Menu selections, decor, games can all be planned to reflect the theme itself.
Is there a story behind this theme?
Ashneil started walking early, at nine months. By 11 months, he was racing from one end of our hallway to another with his older brother; Ashvin. He enjoys playing with cars, so we thought it would be appropriate to have a Cars-themed party.
For my older son Ashvin, we had already done a dinosaur-themed first birthday at an indoor playground, a Planes-themed second birthday at a resort, a Batman-themed third birthday at Gardens by the Bay, and a fourth birthday party at MacDonalds'. I took into account the themes that we had already explored for my older son's birthday parties, as well as my older son's interests. This theme seemed to work well, with exciting ideas for decor, activities for the children, and the cake.
What kinds of games and activities did the children take part in?
The children played "Dance & Freeze" and took part in a "Treasure Hunt". They were also able to enjoy the lovely play areas at Happy Willow. Fringe activities included face-painting and glitter tattooing.
The children responded very positively to these activities. They were exclaiming "Fun! Fun! Fun!" Both my sons, together with their friends are musically inclined and they love to dance, hence, "Dance & Freeze" was very well received. At the end of the games and activities, the children were given medals and trophies to give them a sense of accomplishment!
Tell us about the cake.
It was a spectacular two-tier cake of a very rich chocolate flavour made by Diamond Chefs (you can find them on Facebook). I was very clear about the colour scheme that I wanted — red and black — to match the other aspects of the party. I also requested for a concept that was simple, yet striking.
What made this party memorable?
What made this party memorable was how the theme brought the various aspects of the party together. I received beautiful messages from fellow mums who found the party amazing, with specific mention of the decor, set-up and both Ashvin and Ashneil's Cars-themed jumpsuits. Everyone also appreciated the personalised photo momentos taken during the party.
Did you give out goody bags?
Yes, Disney-Cars themed goody bags were given out, with personalised gifts for the different children, depending on their age group. The younger kids were given Disney Cars-themed books, the older ones were given toy cars. All the children received treats like sweets, jellies and chocolates. What's a goody bag without real goodies?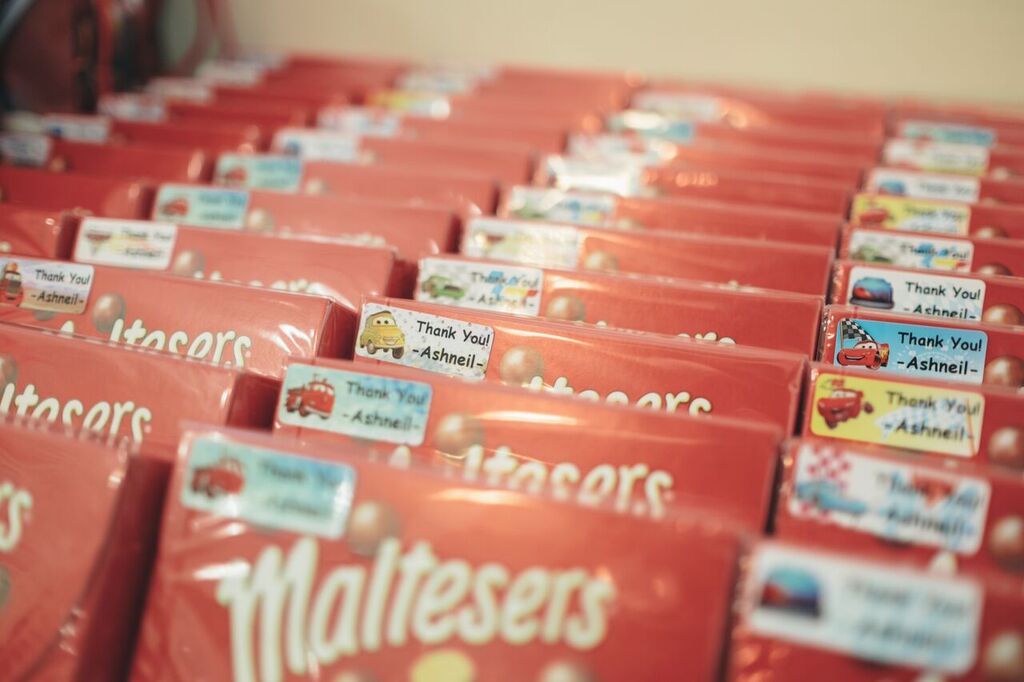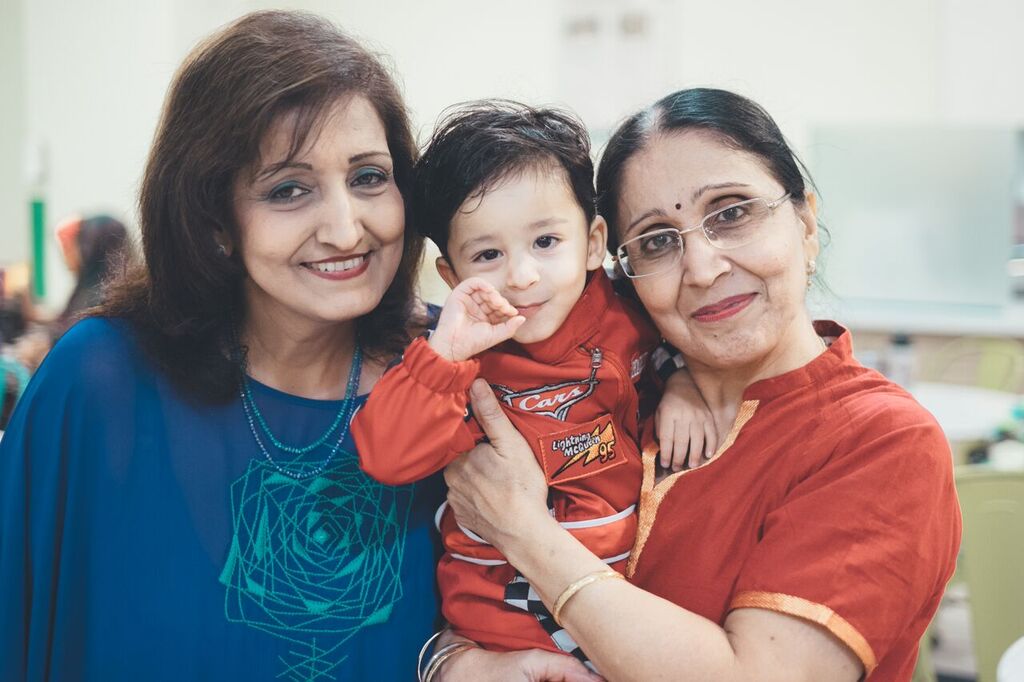 The birthday boy with his grandmothers
Your top birthday party planning tip for other parents?
Have FUN! Children are very sensitive to how their parents feel. So as adults, there's no harm having fun while doing this. I find immense joy in planning my childrens' parties. Those who know me well, know that I take a lot of pride in it. When the children see their parents enjoying the various stages of putting the party together, it hypes them up and creates much excitement as it draws closer and closer to the party. At the party itself, delegate duties to the staff or other helpful assistants, so that you can be a good host and attend to the guests.
Party details:
Venue: Happy Willow
Food: SCORE Catering Services
Cake: Diamond Chefs (FB)
Decor: WishMaster Party Planner (FB) / One Party Store
Planning: Ashneil's Mummy, Mrs Deepa Nanwani Singh
Invitations: Ashneil's Mummy, Mrs Deepa Nanwani Singh
Goody bags/Party Favors: One Party Store
Photography: Toni Cuhadi
Birthday child's outfit: Sonia Lee's Costume Central (FB)
Want to see your celebration in SingaporeMotherhood too? Submit it here!
All content from this article, including images, cannot be reproduced without credits or written permission from SingaporeMotherhood.
Follow us on Facebook, Instagram, and Telegram for the latest article and promotion updates.