SingaporeMotherhood | Family Fun
December 2019
CNY 2020: 'Huat' to Do to Have an Eco-friendly, Sustainable, Zero Waste CNY in the Year of the Metal Rat
Chinese New Year is often a massive affair for those who celebrate it. We love the feasting, the gatherings, and the traditions that go with it. But as we eat, drink, and celebrate we are unconsciously contributing to excessive waste. What if it was possible to reduce all that and have a more sustainable Lunar New Year? Even if you are not ready to have a fully zero waste CNY this upcoming Rat year, you can start with small changes for a more environmentally-friendly one!
[banner]
Buy Sustainable Seafood
Seafood is an integral part of the festive celebrations. Can you imagine your reunion dinner without any? But much of the seafood we consume is being over-fished, and some are at the risk of going extinct.
What to do instead Check the WWF's seafood guide. It points out which seafood is over-exploited and which is not as sustainable to purchase. You can use this to find substitutes. For instance, you can replace silver pomfret and 'ang zho' fish with cod or Chilean seabass. Bring your own containers when you get your ingredients from the local wet market. Many of the sellers will be more than happy to accommodate.
Make Goodies From Scratch
Who doesn't love pineapple tarts, even though they are a mouthful of calories? A 2019 WWF article points out that most pineapple tarts are baked with margarine, which is 100 per cent palm oil. Palm oil and its derivatives are found in almost every product we use because of their low cost and versatility. However our over-reliance on then contributes hugely to climate change. Every year, more than two million hectares of land is cleared for palm oil plantations. This results in air pollution and haze, which Singaporeans are all too familiar with.
What to do instead Why not bake your own pineapple tarts this CNY, using cleaner ingredients ? Try this Pineapple Tart recipe, which uses fewer added preservatives, and no refined sugars.
(See also: Easy CNY Cookies to Make with your Kids)
Re-use Packaging for a Zero Waste CNY
Excessive packaging comes in all forms; whether as snacks sold at the supermarket, or as hampers we get gifted during CNY. We cannot escape it, but we can still use these and have a more zero waste CNY.
What to do instead If you are cooking, baking, or putting out snacks, combat waste by reusing old food packaging. If you have no more excess packaging to reuse (woohoo!), consider buying glass containers to use. Those can be repurposed for storage, or as parts of gifts.
Curb Excessive Food Waste
Excessive packaging often goes hand in hand with excessive food waste. While baking and making snacks and food is the best way to curb food waste, don't fret if you're not ready to start handmaking every single snack item. There are other ways to have a zero waste CNY.
What to do instead Instead of buying packaged dried snacks, take your own container to a bulk grocery store to purchase them (dried cranberries, raisins, and seeds). Start with places like Unpackt, Scoop Whole Foods, The Source Bulk Foods, and The Zero Ways. The NTUC Fairprice Xtra at Vivocity also has scoop and buy stands where you can purchase dried goods by weight.
By buying items and amounts your family and friends will definitely eat, you help curb food waste by ensuring that whatever gets bought, gets eaten. An added bonus is that you can also pick up other packaging-lite household and kitchen items like beeswax wraps (to replace cling film) and storage jars that will help you on your zero waste CNY journey!
Give Food and Home Items a Second Life
While we celebrate with friends and family, there are many across our little island who do not have the same opportunity. Let's share what we have with those who are in need of it most this coming CNY.
Support the Humanitarian Organisation of Migrant Economics (HOME) While we get to spend the first few days visiting and meeting up with old friends and family, many working abroad do not have that opportunity. HOME celebrates, empowers and protects a migrant worker's dignity and rights. You can drop off items such as women's clothing, unopened food, and toiletries for them. For more information about how to help, check out their website.
Support Textile Recycling with H&M At H&M stores across Singapore, you can drop off clothes and textiles from any brand, in any condition. They will be repurposed and upcycled as part of H&M's sustainability goals to make their carbon footprint less damaging to the environment and their consumers.
Support Packaging Recycling with The Body Shop To try and combat our "use and throw" culture and to reduce plastic pollution, recycle your Body Shop empties at stores across Singapore. Working with Sembcorp as recycling partners, the collected items are recycled or repurposed into new items like park benches and playgrounds. However, do note that this is only limited to recycling Body Shop products.

Donate Excess Items to the Elderly
To support the aged, check out the Lions Home for the Elders' website for a list of items that the organisation is in need of. Aside from groceries such as canned foods and biscuits, items such as men's shorts, bed sheets and pyjamas are also wanted. Do ensure that food donated is well before the expiry date, and that clothing items are in good condition!
DIY Household Cleaners for Spring Cleaning
Many cleaning products have chemicals and pollutants which can be detrimental to kids (and grown-ups) with sensitive skin and allergies.
What to do instead Why not DIY your own non-toxic household cleaner like this or these? (Note: check whether the cleaners are safe for marble, granite, and hardwood surfaces before using them). If you're not keen on DIY-ing, you can buy environmentally conscious ones such as Method All Purpose Cleaner.
(See also: 5 Ways to Live a Zero-Waste Lifestyle in Singapore now)

Buy Second-hand Clothing Items
Singaporeans love shopping. Have you ever stopped to consider how much this contributes to climate change and an unsustainable environment?
Fast fashion is the second most polluting industry. It takes 2,700l of water just to make one cotton T-shirt. In addition, we consume almost 80 billion pieces of clothing every year. This is just the tip of the iceberg. There is a hidden human cost when it comes to fast fashion. Often our money goes to companies that engage in practices such as child labour and worker exploitation.
What to do instead Buy second-hand or go thrift shopping! In Singapore, services like Refash let us do that with ease. Alternatively, take part in a clothing swap event with Fashion Pulpit or Swapaholic.
Buy Sustainable Clothes
The more traditional may prefer to have new clothes for the new year. If you are set on buying new clothes for CNY, try to get them from sustainable sources. Aside from the obvious environmental concerns, buying sustainably also means we are supporting businesses that have clean, fair business practices, that treat their workers and environments with respect. You can also support local businesses and make Singaporean entrepreneurship sustainable!
Zerrin is a Singapore-based webstore which helps to promote responsible fashion brands and jewellery. Alternatively, brands such as Catch or Esse the Label are Singaporean brands that are working hard to be sustainable.
Reuse, Reduce & Repurpose Red Packets
Red packets are the most festive part of the celebrations! However, ang pows are rarely recycled or reused.
What to do instead Reuse the red packets that are still in good condition. If you're purchasing them, opt for slot in, instead of glue on ones, so they can be reused with ease. Buy red packets with non-specific designs, and choose better quality materials so they can be kept and reused. Some stores that offer customisable ang pow options are Craftwerkz, Switts, and Affinity.
(See also: CNY Ang Pow Guide: How much to Give?)
Craft your CNY Decorations
Speaking of repurposing red packets, your child will probably have made red packet lanterns, or used red packets for other crafts in school. These are great ways to repurpose them. You can also try turning past-year red packets into an ang pow basket (we like this one from Secondsguru) which can be used as both a piece of home décor. If it is sturdy enough, it may even double up as a mandarin orange carrier!
What to do instead For those less craft-inclined, reuse old decorations from previous years, or source for decorations from second-hand sources like Freecycling groups on Facebook. If you do buy anything new, give it away on second-hand groups after you're done with them, or store them for next year's use.
(See also: DIY Red Packet Flower Ball Lantern Craft)
Recycle Red Packets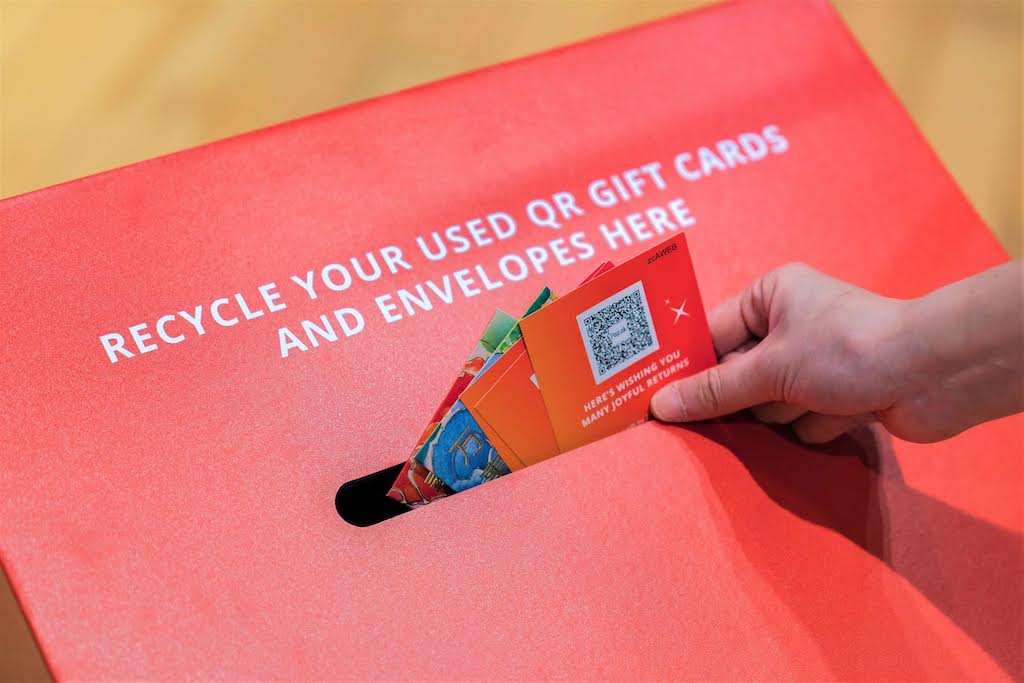 What happens to all the used ang pows once the money has been removed from them? Do you keep them to do crafts with the kids the next CNY? Or just throw them all away? Don't do that!
What to do instead Recycle the ang pows. Red Packet Recycling Bins, which DBS introduced during CNY last year, will be back this year. From 28 January 2020, you can drop off used red packets and DBS QR Gifts at all DBS/POSB full-service branches.
You can have a Zero Waste CNY 2020!
Being eco-friendly and is more than just being environmentally conscious and thinking green. Going zero waste is a journey. We can take small, simple steps by relying less on plastic packaging, engaging in a clothing swap, and trying our hand at crafting or making hand-made goods. In this upcoming Year of the Rat, let's make our world (and our celebration) slightly more sustainable!
Header and Featured images: Created by freepik – www.freepik.com
All content from this article, including images, cannot be reproduced without credits or written permission from SingaporeMotherhood.
Follow us on Facebook, Instagram, and Telegram for the latest article and promotion updates.