SingaporeMotherhood | Parenting
January 2022
She Birthed 3 Babies, 2 Tuition Centres, & 1 Master's Degree… in 5 Years!
At just 31 years of age, Mrs Eileen Toh has accomplished quite a bit. The ex-MOE teacher is a well-regarded mathematics tutor and founder and principal of Genius Plus Academy, which currently has two centres specialising in primary and secondary maths. She develops their own in-house curriculum and has over 60 textbooks and workbooks produced or in development to date. She is also the proud mother of three boys aged two to five and believes that having children teaches her to be a better teacher.
Becoming a Teacher
"I thoroughly enjoyed my schooling years in Singapore, from primary to junior college. Every single stage was fun; I made many good friends and had many good teachers. So fresh out of JC and unsure what to do with my life, I applied for a relief teaching position. After a few months interacting with students daily, I found it as rewarding and satisfying as I had hoped. It was a no-brainer for me to sign up for a teaching degree at NIE.
It was extra meaningful to return as a teacher to the same primary school I had grown up in. My first day of school — I was excited and nervous at the same time. There were many things I wanted to do, and to try. My former teachers were now my colleagues. They advised me to find a balance between being firm with my class and developing rapport with the students, getting them to be engaged in my lessons.
Teaching in a school environment is something I still miss. I got to see the connection that I built with students growing on a daily basis, as a form teacher. As a tutor, I typically only get to see the students I teach once a week. It was also nice to have colleagues and superiors who were supportive and fun to work with.
(See also: 10 Inspirational Teachers We Can All Learn Something From)
Becoming a Wife
Eugene and I actually ROM-ed before I even graduated. Some may have speculated that it was a shotgun marriage but we only had our first child four years afterwards. Marriage just felt like a natural progression. After four years of dating, we both knew that we wanted to spend our lives together. Plus, we both had steady jobs already; he tutors JC economics and founded Economics at TuitionGenius.
During the first couple of years of marriage, we hardly saw each other due to conflicting working hours. On weekdays, I went to work at 7am and usually came home after 7pm. By the time I got home, he was at work. Weekends are when he's busiest, so I didn't see him at all. But we used to take long, enriching year-end holidays abroad together. It was only after I left the teaching service that we could regain more time together on a regular basis.
As a married couple, we influence and complement each other in many ways. We are polar opposites on many levels, so we help each other to become more moderate in character and views.
(See also: First 1,000 Days of a Child's Life – Fathers, It's Your Time to Step Up)
Becoming a Mother
Our first pregnancy ended up in a miscarriage — I first found out I was pregnant sometime in April 2015. Eugene and I were so excited that we spent nights up discussing names, how we would rearrange our rooms, whether it would be a boy or girl. We were really happy.
At six weeks, I had spotting. I went to the emergency department and found out that we lost the baby. The doctor didn't take the time to explain what was happening or why. We were devastated. It felt like the world came crashing down on us. All the happiness and hopes went away.
(See also: Dealing With Miscarriage)
But a few weeks later, I found myself pregnant again. The entire first trimester was rough on two counts. I had severe morning sickness and could not keep any food down. Only a small intake of foods such as a cracker and a few sips of hot milo sustained me — I lost a few kilos!
Even worse, the doctor found a blood clot next to the foetus. Bigger than the size of the foetus, it put this pregnancy at risk of miscarriage too. Thankfully, the blood clot disappeared in the second trimester. We gave our son the middle name Clark (after Clark Kent) to symbolise how strong he was to overcome this.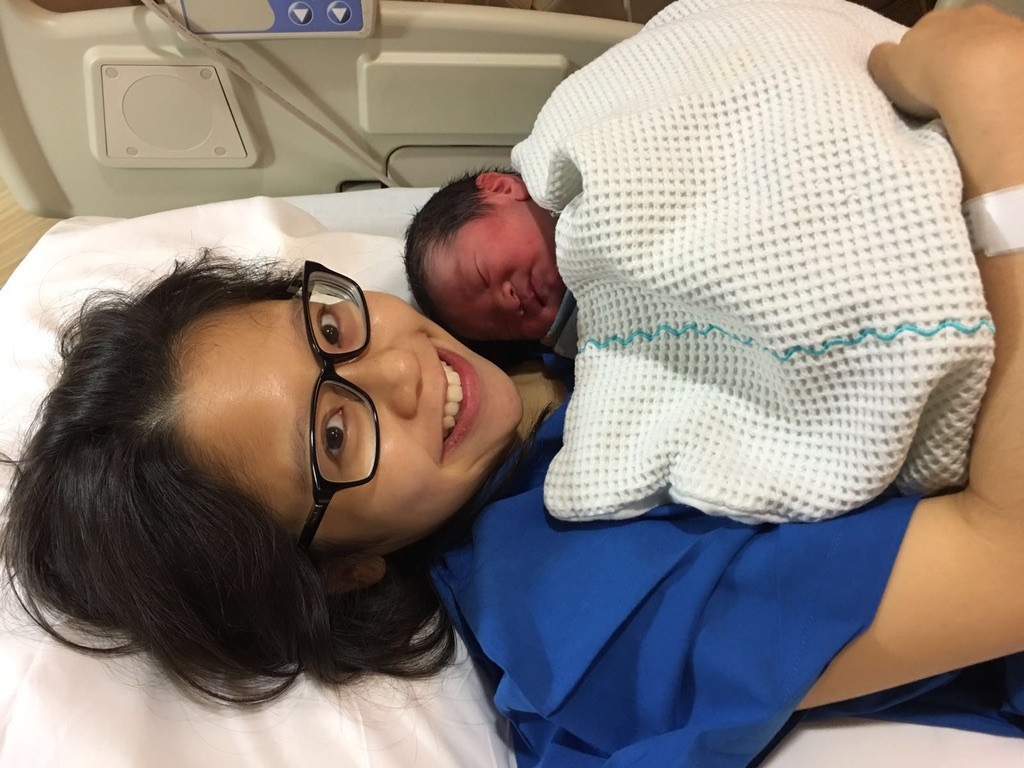 On the eve of CNY in 2016, I had labour contractions. I was still only 36 weeks pregnant, so I thought it was Braxton Hicks. I continued with CNY steamboat dinner! Later past midnight, I went to the labour ward as the contractions seemed to be regular and continued. They assessed that I wasn't in labour yet because my cervix was closed and sent me home.
The contractions continued for another three days — I even continued CNY visiting — and I went for my regular gynae appointment on the fourth day of CNY. My gynae said that I had been in labour and scheduled a C-section. Edison was a whopping 3.2 kg at birth even though he came early.
(See also: Caesarean Delivery – What Really Happens during Your C-section?)
The Turning Point
I took four months of maternity leave and an additional six months no-pay leave to spend time with my baby. I had such an enjoyable time bonding with my baby those 10 months. But then it was time to return to school.
It didn't help that my boy got hospitalised with febrile seizures on New Year's Day. We didn't know it was measles (lab results confirmed it after his discharge), but he had been having high fever for a few days, so our doctor made the call to admit him.
School was starting the next day. I was torn between applying for childcare leave and returning to school. In the end, knowing that my husband would be with our son as his work had more flexibility, I went back to school. I made this call because I was assigned to a Primary One class. P1 students are new to school and will inevitably feel lost and confused. As their form teacher, I had the responsibility of ensuring they were well-oriented. Having a relief teacher on the first day of school would make things even more difficult for them as they adapted to a new environment.
I think it was the right decision (my son recovered well and my husband was there for him), but it was one I struggled with immensely as a new mum. It also became the catalyst for another difficult decision — to leave my job.
(See also: Do You Know Your Maternity Leave and Paternity Leave Entitlements?)
My Second 'Baby'
The measles episode made me realise that I needed more flexibility so that I could spend more time with my husband and child. We were also considering having more kids. Then I had another miscarriage in the time before I left teaching, which felt like another sign.
Admittedly, I wanted my cake and to eat it too. I loved to teach. And the school environment was nurturing, supportive, and full of great colleagues and students. I thoroughly enjoyed my time there. It's just that my priorities had changed. Opening my own tuition centre was the answer.
I started off as a one-person operation, where I was the tutor, administrator, marketing, and operations team. When I first signed the lease for my centre premises, I had zero revenue and various costs to pay. After spending a few thousand dollars on a flyer distribution campaign, I got my first five or six students. Their parents shared the word and within a few months of establishing Genius Plus Academy, I was tutoring over 30 students. It wasn't a lot, but it was enough to pay the rent and various operating expenses. Later, the centre grew so I was able to get likeminded teachers on board, such as my co-principal Mr Wong.
Honestly, I don't feel that I'm cut out to run a business, but it allows me to nurture the next generation of students and still focus on my family.
(See also: Dr. Elaine Kim on Motherhood, Work, and Entrepreneurship Balance)
Mastering the Next Phase
Actually, I embarked on two new journeys at once. While struggling to get the tuition centre going, I also started my master's degree at NIE in Early Childhood Education. Having had the opportunity to teach all levels from P1 to P6 in school, I was keen to learn how the minds of young children work, so that I can better design Genius Plus Academy's curriculum and improve the learning experience.
My husband was my inspiration; he seemed to really have fun learning while juggling his business, tutoring, and parenthood too. I think if you do something that you are interested in, it doesn't feel really that tough at all.
Of course, the trade-off was that I had absolutely no time for myself. I was always rushing from one place to another, spending many late nights rushing assignments and project work. I'm grateful that my husband co-shares parenting responsibilities, and we have the support of my family and helper.
(See also: 47 Top Maternity, Newborn, Children & Family Photography Studios in Singapore)
Growing Our Family
During that period, we also went on to have two more children. My pregnancies have been really consistent in the sense that they are always eventful. I've never been able to keep food down in the first trimester, and I always have contractions early.
I was 34 weeks pregnant with number two when Eugene and I took Edison to the ArtZoo inflatable park. I kind of forgot I was pregnant, did a bit of bouncing, and ended up in the labour ward. They gave me medications to delay the contractions, which kept my heartrate at around 120+, while I returned to work. Still, Elon Alex couldn't wait to see the world and arrived at 36 weeks. He was every mother's dream baby — easy to care for and slept through the night. Now three years old, he is independent, focused, and polite, if a tad temperamental and stubborn at times.
(See also: 11 Baby Sleep Tips that can Help your Baby Sleep Through the Night)
Number three was also a premie; he came even earlier at 35 weeks. We were thankful that he was a good weight and didn't need NICU care. Elias Bill is two years old now, the most adorable but always the naughtiest too. He drives us crazy sometimes, probably because everyone gives in to him as he's the youngest. Whatever approaches that work for his elder brothers simply do not work on him!
Their big brother Edison Clark, now five, has always been a sweet boy, mild tempered, and polite. Those are his good points. He's very playful though and sometimes can get overly excited when playing — sound familiar? He's definitely a mama's boy, and a little bit of a night owl too.
Our family will be complete when we have four children!
Did being a teacher make me a better mother? I think it is the other way around. Becoming a mother influenced the way I teach. I got to see a different perspective to education. When I'm teaching my students, I always consider — if this was my child learning, how would I best teach this so that the child is engaged, interested, and motivated to learn?

Mrs Eileen Toh, founder and principal of Genius Plus Academy
All content from this article, including images, cannot be reproduced without credits or written permission from SingaporeMotherhood.
Follow us on Facebook, Instagram, and Telegram for the latest article and promotion updates.