SingaporeMotherhood | Parenting
May 2019
Ain't No Mountain High Enough for Hazleen Panayiotou, founder of the Amazing Trekkers Club (ATC)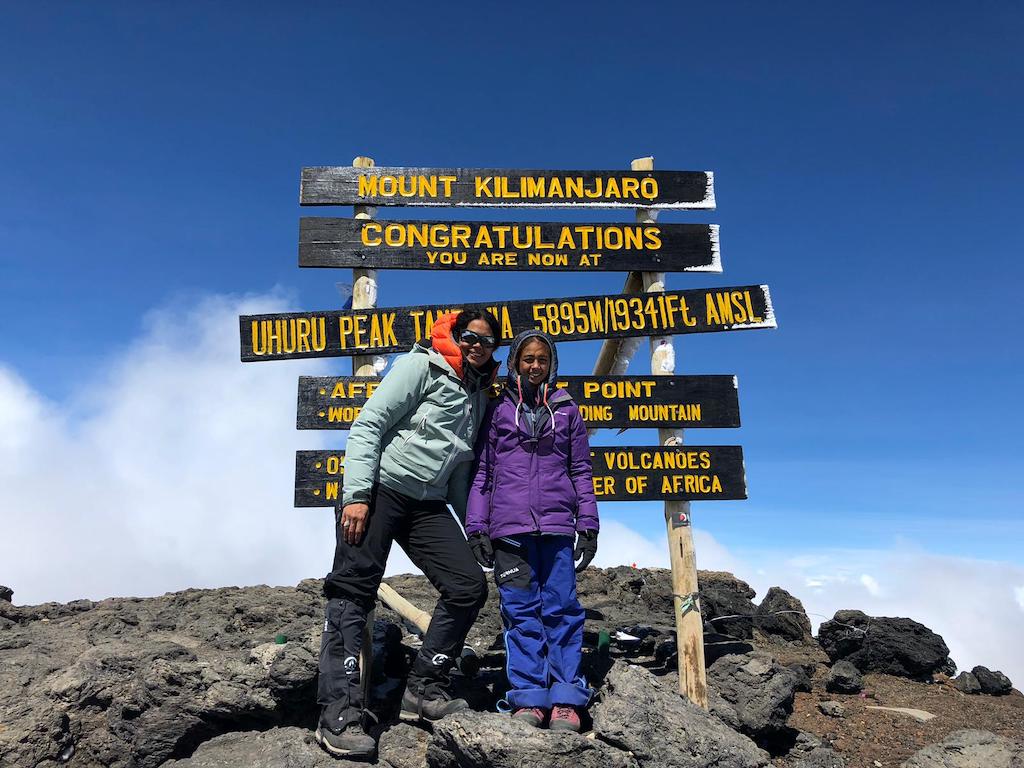 Two weeks after tearing a muscle in her knee, Hazleen Panayiotou defied her doctor's orders to rest and recuperate. Instead, the founder of the Amazing Trekkers Club (ATC) put on a knee brace with metal support, and led a climb up Kilimanjaro, the highest mountain in Africa.
The 47-year-old mother of three has now summited 50 peaks worldwide. They include: Mount Kinabalu (thrice), Kilimanjaro (twice), the Inca Trail in Peru, Monte Rosa Massif and Gran Paradiso in Italy, Everest Base Camp, Mount Fuji (twice), Mount Jade, Mount Rinjani, the Blue Mountains, Mount Popa in Myanmar, Mount Agung and Batur (which she climbed back-to-back over two consecutive days).
She has also conquered Lantau and Sunset Peaks, and Dragons Back in Hong Kong, Mount Merapi, Scafell Pike (England), Snowdonia (Wales), Smittenhoehe (Austria), Vinacunca (Peru), Mount Sermeru, Bromo, Belumut, Mount Pulag and Mount Ledang (eight times), and Lambak (countless times).

After retiring from a highly demanding career in real estate development and Investment banking to care for her children — now 20 (son), 11 and 8 (daughters) — Hazleen worked in communications for 16 years, mostly in the Middle East.
These days, when she's not outdoors, on a mountain somewhere in the world, or guiding other women to reach new summits, this true-blue Singaporean mama is busy planning her two daughters' schedules, and managing the ATC.
Seaching for Meaning in Life
"I have always been active since I was a child. I remember spending lots of time cycling with friends and participating in all kinds of sports. But when I was working I travelled a lot and there wasn't much time for exercise.
When my first daughter was born and my son was nine, I took a career break. Two and half years later we had another baby in the family. My life revolved around caring for the children at home. This shift in lifestyle led to me losing my identity. I craved the challenge and euphoria I was used to when I was working as an executive director of corporate communications.
"My children kept me busy and happy. But I was searching for purpose and it led to self-doubt and loss of confidence. Nothing I did felt like enough. I realised it was because I had lost that sense of value, of contributing to a larger purpose."
During this time we were living between London and Singapore, travelling with two babies. My son was in boarding school in England. One night, a freak accident with a broken jar of relish in the kitchen led to a severed tendon in my foot and I had to undergo mallet toe surgery.
Back from the Brink of Death
Following the surgery, I had to rest for two months. During this period of inactivity I got a terrible illness called quinsy which can be fatal if left untreated. I had fever, a terrible pain in my throat, trouble opening my mouth, and a sudden change in my voice.
I cannot imagine what would happen if I hadn't gone to see the doctor. He was a brilliant ENT specialist who performed an immediate incision and drainage literally the moment I walked into his practice.
He wasted no time explaining what was happening to me. All he said was that it was a life and death situation. I still cannot believe this actually happened.
After the surgery, I was determined to be back on my feet. I made a resolution to get out and get strong — physically, emotionally and mentally.
Getting Strong Again
I started running. I couldn't even last 10 minutes at first, but I persevered. I lost weight, got stronger and fitter, and completed many 5K running events, as well as three half marathons.
I was training for Urbanathlon Race — an 18 km run with nine obstacles — four years ago when a friend asked me if I could take over her place to climb Mount Kinabalu. But there were only two weeks left to the start of the climb, and I had no idea where or how to start preparing.
My husband stepped in and gave me courage. He used to climb mountains in his younger days. He took me to a sports store to buy everything I needed to get ready for Kinabalu. And the rest, as they say, is history.
The Zen of Hiking
I fell in love with the simplicity of hiking. And I wanted to create a supportive space for like-minded adventurous women. That is how the Amazing Trekkers Club (ATC) started.
While I was working in the corporate world, I noticed that many women existed in a work-home rut. When I left that world and returned to Singapore, I searched for a group to train and trek together, and to form a space where women could network, expand their horizons, and disconnect from the fast-paced, stressful, electronically-overloaded world.
I wanted to create a sanctuary; a therapeutic, peaceful environment that was not a spa. My idea was to go back to the jungle, to nature, to everything rustic.
We are a club for women only. This idea is rooted in women supporting each other, a kind of networking-with-a-purpose. Because when women believe and decide to 'take the stage', they shine. And the entire female community shines and celebrates together. Our club encourages women to connect with positive women who can lift you up as they rise.
This element is crucial. As women we tend to overly criticise ourselves, and to underplay our successes and achievements. In the friendly and nurturing environment of women, we can thrive, support our friends, and bring out the best in each other.
I want my daughters and other women to see how far they can push their comfort levels to reach their full potential. I want to pave the way for the next generation to become part of the conversation by sharing our stories –- of women who have been inspired by mountains.
Inspired by Mountains
When we are preparing for a climb, we train almost every day. Recently, my 11-year old daughter climbed Kilimanjaro, the highest mountain in Africa, with me and nine other women.
There were two sets of mother-daughter teams on this climb and we had so many adventures throughout the seven-day trek — in arctic weather. What we went through would fill a book!
Yes, we encourage members to bring their children along on treks. In Singapore, our most frequently covered trails are those at MacRitchie Reservoir and Bukit Timah Nature Reserve.
ATC goes on hiking trails for beginners, too, to train, and to prepare for a bigger challenges. Before a trek, we make sure our members are equipped with the right gear, have done the required training, and pack the right attitude.
For myself, my must-haves are a good backpack, great quality boots, a pair of reliable hiking poles, and a headtorch".
I get occasional emails from spouses querying about membership and trips on behalf of their wives and partners. It is also wonderful to witness the encouragement our members get from their family during their trek preparation. Many husbands and partners wish to join us on our treks, but we remain a women-only mountaineering community for the reasons I shared earlier.
Being a Trekking Parent
My husband Peter is my rock. He fully supports what I do. In fact, it was his idea to set up a trekking club for women when he witnessed how uplifted and ecstatic I was after climbing Mount Kinabalu. Furthermore, he strongly believes that I am a better wife and mother when I am happy, thriving, strong and confident.
My son keeps fit and maintains a healthy lifestyle – he does weight training and enjoys cooking healthy meals. He is serving his National Service at the moment, but will soon be starting his degree course in the University of Edinburgh, specialising in Mechanical Engineering.
I encourage my daughters (age 11 and eight) to choose the sports they enjoy and are passionate about. Both girls are active in athletics and football in and outside school. Both also enjoy mountain climbing.
We have climbed Mount Bintan, Snowdonia in Wales as a family. My 11-year old climbed Mount Fuji when she was eight, Mount Kinabalu when she was nine, and Mount Kilimanjaro when she was 10.
I believe that climbing mountains teaches my children hard work and perseverance. It also teaches them to show gratitude for the basic freedoms we are blessed with. It is good for the soul."
The Amazing Trekkers Club (ATC)has members from Singapore, Myanmar, Hong Kong, China, Thailand, Malaysia, Indonesia, Mongolia, Taiwan, India, Pakistan, Vietnam, America, Dubai, Bahrain, Africa, Poland, Seychelles, Trinidad & Tobago, New Zealand, Australia, and the United Kingdom.
#MothersOfSingapore

Header image: Source
All content from this article, including images, cannot be reproduced without credits or written permission from SingaporeMotherhood.
Follow us on Facebook, Instagram, and Telegram for the latest article and promotion updates.