SingaporeMotherhood | Family Fun
November 2016
Empower your Child for Success with just S$10.80/month
With its suite of tools, Microsoft Office 365 helps empower your child with skills and abilities for success — not just in school, but for life!
Microsoft Office 365 will change your mindset about your child's use of digital technology. As parents, we are often warned about the perils of too much screen time for kids. We are told that spending too many hours with devices and computers can be detrimental to our children's cognitive and intellectual progress. But as my young ones enter primary school, I realise that knowing how to use a computer – and computer software in particular – benefits them. These learning advantages are not limited to school either. The skills that kids pick up in the process will help them for life! It's no surprise that research has found that proficiency in Microsoft Office is a prerequisite for top jobs around the world (see image below). Wouldn't you want to give your child that edge?
With the right software, the computer can be a tool with which you can teach your kid to create, learn, and connect. Just download Microsoft Office 365, and you're good to go! Here's what you and your child can do with it:
[banner][/banner]
Create stunning project presentations with PowerPoint
In this educational era where Show-and-Tell assignments in both languages and other subjects make up a hefty percentage of academic scores, the ability to present ideas clearly and fluently can help your children to ace school, unleash their creativity, maybe even change the world one day!
With PowerPoint, your child's imagination can come to life. Automated design tools like PowerPoint Designer, an intelligent, built-in tool, make creating easy while giving professional-quality results. With this, everyone can create high-quality slides in seconds.
There's also a new Morph transition effect which creates cinematic motion and Sway (which lets you add multimedia) so all that content comes together beautifully. Best of all, no one has to worry about formatting (leave it to the experts). That leaves the kids more energy to focus on storytelling!
Pen creative compositions on Word
Your first introduction to text creation on a computer probably happened on Word. This familiar programme lets you create, edit, and share documents quickly and easily. Most people can open and work with a document in Word. No wonder it's the most popular word processing program in the world! In fact, your child will probably use this for homework and essays at upper primary levels.
What's new about the Word that your child will be using — compared to the one that you started out with? Word now comes with built-in research assistance so your child can work faster with smarter ways to find the information she needs. With the built-in Word Researcher, kids can research, find, and use content related to their topic without leaving Word. Just click and drag to pull in references, citations, and images to create that solid first draft.
There's also a Tell Me feature which basically acts like your Word concierge. Just type what you want to do in the "Tell me what you want to do" search box and get the answer you need! With these tools, it's easy for kids to get their work done without having to call mum and dad for help every two seconds. So yes, you will finally get some time for that java refuel, mum!
Conceptualise data with Excel…
Kids take in lots of data every day. With so much of it taking up space in your child's mental memory, wouldn't it be good to have a place where she can sort everything out? This is where Excel comes in. As your child organises her numeric or text data in spreadsheets or workbooks, she'll be viewing it in its proper context and seeing how it relates to other areas of the same subject. Your child can also use Excel to keep himself entertained. We like the ideas listed in this article: from an endless stream of Sudoku puzzles to a solar system and even a working flight simulator!
Jot down exam hints on OneNote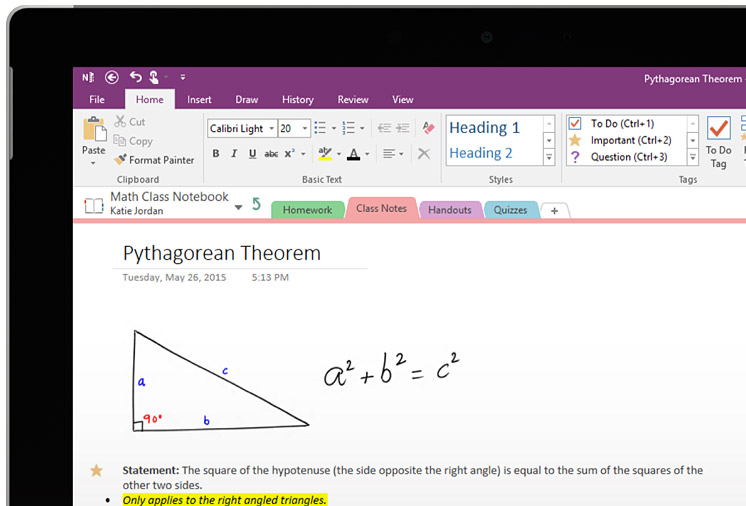 Note-taking is a skill that every student must master. It's an excellent way to learn to be structured and organised so that ideas and information can be easily absorbed. With OneNote, your child combines the best of tech with the best of good old-fashioned note-taking. How? By writing his notes down digitally, in the app!
Microsoft OneNote is a note-taking app that's like a real notebook, except that it's on a digital platform. As a parent, you can keep an eye on your child's notes because these can be synced across various platforms such as PCs and mobile devices. So yes, you can check Junior's mind map to make sure his thoughts on electricity are going in the right direction, or that his essay structure is sound.
Best of all, OneNote features offline multi-user editing, so you can add, delete, or correct what's written. If your child is a visual learner, make use of the drawing tools for a more hand-written approach with symbols and images. Create new notebooks for different subjects or add new pages to existing ones – it's as easy as ABC!
Store and share learnings on OneDrive
OneDrive is a free file hosting service. With this you can upload files to a cloud, and never lose them! Even better, you can upload or download files from any mobile device and any computer, PC or Mac, without the need for any cables. So Junior can get work done anywhere, any time, on any device. And there's no need to panic if the dog ate his homework. All you have to do is download it from OneDrive again!
Seamlessly access all information from multiple devices
It's not just happening on one computer; it's a conversation with multiple devices, they say. So the beauty of Office 365 is that it seamlessly connects you to whatever your child is doing. This means that even if you're at work, you can check how far Junior has progressed on that book report.
Just ensure that his files are saved to the cloud on OneDrive and that you have the link to the same file, along with viewing and editing permissions. You'll all have the latest version of the file as it is updated so you can see in real-time if the kid has been making progress on school work. You'll even be able to help him out if he gets stuck in a rut, as you can both converse, collaborate, and co-author the documents in real-time using Word.
Don't worry about losing earlier versions – the improved version history in Word 2016 allows you to view or go back to earlier drafts. You can also Track changes, and add or reply to comments right next to the text you're discussing. Anyone who has the same project link can follow the conversation and make changes to the text, layout and formatting. This will come in super handy when the kid has to work on group projects.
Now with so much digital help available for your child, there's really no excuse not to do homework is there?
Microsoft Office 365 can be purchased online here. 
This is a sponsored post.
All content from this article, including images, cannot be reproduced without credits or written permission from SingaporeMotherhood.
Follow us on Facebook, Instagram, and Telegram for the latest article and promotion updates.