This month, it's a selection for mums because March is a month for women, because mums are worth it, and mums are women too!
KEEP FRUIT & VEG FRESH
Did your mum use Tupperware to keep food fresh? Mine did, and Tupperware was such a catch-phrase when I was growing up because all my friends' mums were using it too! The newest Tupperware set that domestic goddesses are coveting is the cheery-looking Tupperware VentSmart™ for fruits and vegetables. This really clever set has a unique three-setting venting system (on a slider) that regulates the flow of oxygen and carbon dioxide passing in and out of the container. This can be adjusted according to the type of vegetables or fruits stored so produce is kept fresh for longer. There are even useful guidelines printed on the sides of the containers on how to adjust the vents for different fruits and vegetables, so you can ensure that your produce is kept fresh longer. In perfect Tupperware style, every little detail has been checked: containers have curved sides and a built-in grid to keep food away from moisture, there's a new virtually air- and liquid-tight seal, and yes, it's all modular to ensure easy stacking and storage when not in use. Available at Tupperware Singapore or from your authorised Tupperware distributor.
WIN! one Tupperware VentSmart™ set worth $126.60. Just let us know in the comments below which kinds of food Tupperware VentSmart™ is especially good for and stand a chance to win one. Closing date: 3 April 2014.
————————–

BREATHE BETTER
It's official: the haze is back. As I type this, the windows are closed, the air-conditioner is on, and the diffuser is wafting the cleansing, relaxing scent of lavender. The only thing missing? An air purifier. Yes, I'm paranoid like that. Most mums are, especially when the health of their children is being compromised. But finding the right air purifier isn't easy. That's why I'm thrilled to have discovered Rowenta's new Intense Pure Air Purifier PU2120, a triple filtered purifier that clears the air of 99.5 per cent of suspended dust in a 70m2 (almost the size of a three-room flat) space in just one hour. This sleek, compact, easy-to-use machine has a triple filtration High-Efficiency Particulate Air (HEPA) filter for optimal purified air, helping to protect the kids from haze, smoke, dust, pollen, and other fine particles in the air – the main causes of allergies, asthma and respiratory diseases. We also like the coloured sensors which monitor air pollution levels, as well as the timer function so you can dictate how long you want it to go on for. Note to self: get one for the house soon! The Rowenta Intense Pure Air is available at leading electrical and departmental stores for $499.
————————

CELEBRATE SPRING WITH PINK!
Crabtree & Evelyn's newest collection is the sweetest thing we've seen this year. Infused with a fruity and floral aroma, the Pear and Pink Magnolia collection smells like homecoming, the blossoming of spring. Harvested within this elixir are the delectably aromatic red pear, passionfruit, bergamot, creamy lemon, pink magnolia, plus jasmine, apricot-scented osmanthus, and orris – all combined to bring an invigorating, sensual, and refreshing tone to the daily bath and grooming ritual. We love the packaging too, simply gorgeous shades of pink that will look oh so pretty not just in the bathroom, but also on our bedside tables and vanity counters! The Pear and Pink Magnolia collection is available at Crabtree & Evelyn stores islandwide. For more information, visit www.crabtree-evelyn.com.sg or call 6735 1611.
————————–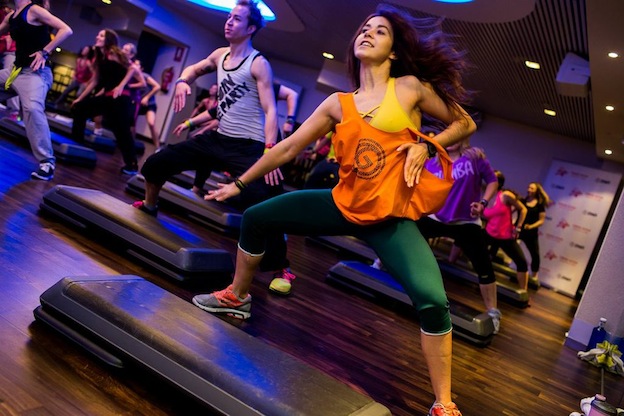 STEP INTO ZUMBA
A bit of exercise goes a long way, especially if you're a mum who needs to let off some steam after looking after the kids 24/7! If you've done the gym-bunny thing, the long-distance running, and too many wishy-washy exercise classes and are looking for something that can get you going again, why not try Zumba® Step? This brand new workout at Virgin Active has it all: traditional fitness (30 per cent), dance (40 per cent) and step aerobic moves (30 per cent) which make you move that booty against gravity. That means working the lower body even more, strengthening muscles, and boosting balance and coordination – all useful, especially when you need to carry Baby all day, right? And that party vibe and funky music? We're dialling it up to 11 because we're cool like that, aren't we mums? Zumba® Step classes are available at Virgin Active at One Raffles Place. For more information and class details, go to www.virginactive.com.sg