SingaporeMotherhood | Baby & Toddler
October 2013
Soaked & Lovin' It: Legoland Water Park, Malaysia
Legoland Water Park has a great mix of thrills and spills for all in the family, from the littlest ones to dare-devil preteens.
With over 20 water-based rides and 70 Lego models, the new Legoland Water Park at Nusajaya in Malaysia bills itself as the largest in the world, a liquid wonderland that deserves its own day of play instead of just being part of the Legoland experience. (You know, like a place to cool down and wash the sweat off after the thrills and spills of dry Legoland.)
Happily, Legoland Water Park does hold its own, as we discovered. The park, a Lego-lover's dream, is constructed specially for children between the ages of two and 12. So it's not so big that kids get weary walking from one ride to another, and not so small that they'll tire of it too easily. For those who reach the requisite height (42 inches or approximately 107 cm) to go on all the rides, the Fun. Never. Ends.
[banner][/banner]
Unless, of course, nature intervenes. My five- and eight-year-olds had a superb time – "it's super fun mummy!" – until a mid-afternoon thunderstorm put pot to their wet and wild adventures.
As a parent, it was reassuring to know that Park authorities were on the ball about weather abnormalities. Once the lightning warning came though, park management went on the ground to alert the lifeguards, who promptly sprung into action to get everyone out of the water.
Dark clouds hovered, looking as if they were about to wrap around our heads. But the day was not a total washout. We had four hours of good weather, and during this time, we tried:
Build-A-Raft River
This meandering stream of oversized Lego pieces that you can fish out and use to customise your raft, or build before you set off, is a relaxing ride and a good way to begin (and end) your park experience.
Red Rush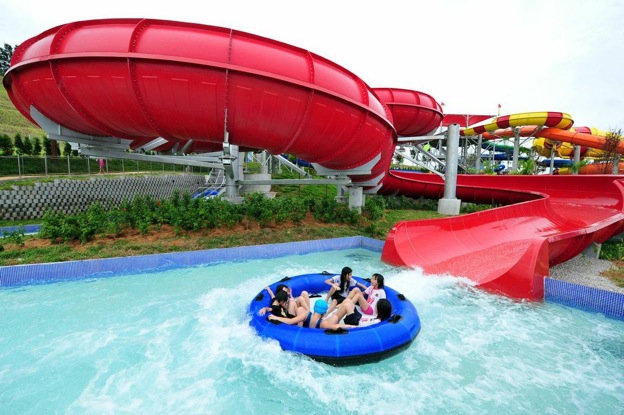 Here's where a group of four or six sitting in an inflatable wheel can ride down a 312-foot long half-pipe and gush out into a pool at the end. The height limit for this family-friendly ride is 102 cm, so younger ones can try it too. My five-year-old was hesitant at first, but loved it once he'd tried it. His first words after it ended? "I want to do this again!"
Slide Racers
These let you compete to see who gets down the tube and slide first. Six go at the same time. See who gets down first! The five-year-old was too short to take this, but the eight-year-old could, and he loved it.
The Wave Pool
The pool's mechanised and consistent ebb and flow ensured safe body surfing for the bigger ones and bobbing thrills for the littlies. We saw many toddlers enjoying the surf at this adorably artificial non-sand 'beach'. Located next to the Beach-n-Brick Grill, it has one of the few shaded rest areas in the water park.
Joker Soaker
A three-level water play structure with climbing mats, water cannons, and what looks to be the most massive tip-over bucket ever – it topples 350 gallons of water into the wade pool below. "Typhoon!" the small one yelled each time its load came crashing down.
There are slides galore for wannabe speedsters and thrill seekers and the next time we come, we'll definitely be on them. The Tidal Tube offers a 240-feet rush in a closed body slide. At 60 feet, the tallest point of the park, Splash Out lets daredevils get their adrenalin going. In Splash and Swirl, you spin right round, baby, until the slide spits you out. Brick Blaster (pictured below) shoots through two tunnels for a double whammy of watery fun.
What the kids really enjoyed as well were standalone hands-on water play areas called Imagination Stations (see main picture). One had a slide and sluice gates for build-your-own Lego vessels to glide through – another see-whose-can-go-faster opportunity. Another had water pressure towers and blasters. During the lightning time-out, when the other attractions were closed off, this was where the children gathered to continue their play.
Younger ones have their own space too. The Duplo Splash Safari has three gentle slides and a shallow wading pool with interactive, larger-than-life Duplo creatures. Just the perfect space for new water babies to get their feet wet in.
Good To Know:
Small and large lockers can be rented for the day. These are fingerprint-activated and are located next to the washrooms.
There are showers with soap/shampoo provided, and a roomy 'Family Shower' near the entrance of the washroom.
Bottle warmers, high chairs, rockers for nursing moms, baby change facilities and a microwave are all available at the baby care centre. All restrooms have diaper change tables and family restrooms.
If you're willing to shell out for it, the Cabana (RM300 full day; RM150 half-day) offers shaded rest with seating, a safe deposit box, a mini fridge with 10 bottles of mineral water, a table with Duplo bricks for the little one to play with, and a cabana host who will run your food errands for you.
Two F&B outlets ensure that no one plays on an empty stomach. Kiddy Sets (RM15 for fish fingers or sausages or chicken nuggets with fries and Ribena) and Adult Sets (RM25 for a main meal like nasi lemak with roast chicken or a burger or salmon fingers with a soft drink and a fruit cup) are available at the Beach-n-Brick Grill next to the Wave Pool. Brick Bay Café near the Build-A-Raft River offers snacks, sandwiches, mocktails, and ice-blended drinks. Seating is limited and the queues were snakingly long when we were there so keep an eye out and grab the opportunity to get your 'makan' while you can still see the counter!
Forgot something? You can buy whatever you need at BrickWater Beachwear.
Legoland Water Park: Water Thrills for all in the Family
All in, the Legoland Water Park is a safe and family-friendly environment even with little ones in tow. As mentioned earlier, we appreciate the quick-response time to inclement weather. There are numerous lifeguards who keep a keen eye out for potentially dangerous encounters – like children who get too close to the end wall of the wave pool. The lifeguards were also incredibly helpful at the Build-A-Raft River, helping floaters to push off and pulling them back in after their rounds. On top of that, three sizes of lifejackets are provided to fit every child: infant-sized, toddler, and (big) child-sized, so leave your floatation devices at home. What to bring? Pack your sunblock, your swimmers, and come with a huge capacity for fun!
For ticket prices and detailed information, click to Legoland Water Park's main site here. There's a 20% discount for one-day combined park ticket purchases made seven days in advance of your visit date so book early and save!
All content from this article, including images, cannot be reproduced without credits or written permission from SingaporeMotherhood.
Follow us on Facebook, Instagram, and Telegram for the latest article and promotion updates.