As a child, I spent many happy afternoons under my favourite rain tree in the neighbourhood park, looking at rays of sunlight streaking through its leaves. These days, my children prefer to spend their free afternoons staring at a device screen. They are not alone.

In his
book
Last Child in the Woods: Saving Our Children From Nature-Deficit Disorder
author Richard Louv links the lack of outdoor play in nature to the rising rates of obesity, attention disorders, and depression in children. The journalist and co-founder of the Children and Nature Network related in his blog how an excited six-year-old, returning to class after a hike in the woods, held his head and said: "There's so much nature and I only have two eyes and one brain and I think it's going to explode!"
Explosions aside (though they do happen in nature too – think seed dispersal in the Kapok tree), this child's sense of wonder emanating from his discovery of the natural world is what our urbanised, iPad-ised children are missing. Which is where Playeum's new exhibition comes in.
Bringing the Outdoors In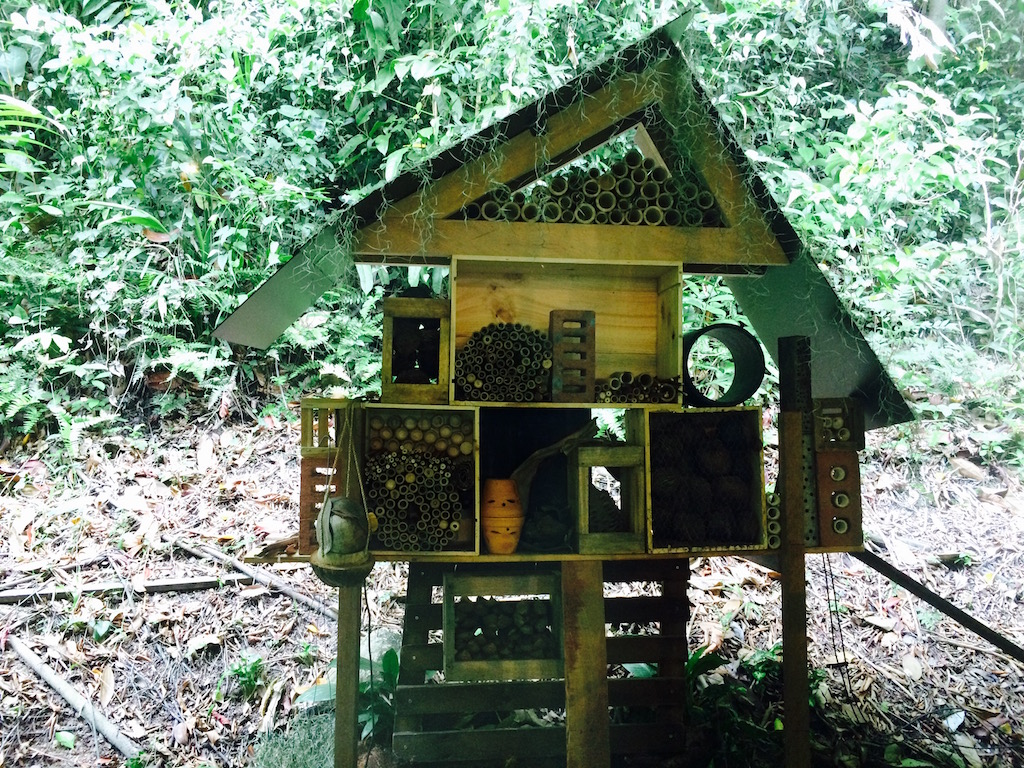 'Hideaways: Creating With Nature' is Playeum's second exhibition at its new home. It comes on the heels of the 'Art Of Speed' exhibition which saw 17,500 visitors tinkering and exploring things to do with movement over six and a half months. (see Ivan's Art Of Speed birthday party at Playeum)
There are sticks, stones, and lots of creepy crawlies. There's also wood, clay, hot glue guns, masking tape, coconut husks, rubber bands, bamboo sticks, colourful pebbles, leaves, twigs… things you'd find on a hike through a nature reserve, or even just outside your door, if you make the time to take a look. Hideaways takes aims to bring nature to children in a safe, weather-proof, creative way. "We're bringing the outdoors in," says executive director Anna Salaman.
The experience begins even before you step though the doors of Playeum. Look right, for a living, growing, tunnel of leaves, branches, and sticks put together by Shogun Creatives. Just beyond that is the Bird Hotel, and left of this, a Bug Hotel. There's more inside: here's a guide to the stations where kids can engage with nature at Playeum, rain or shine!
1. Creature Cave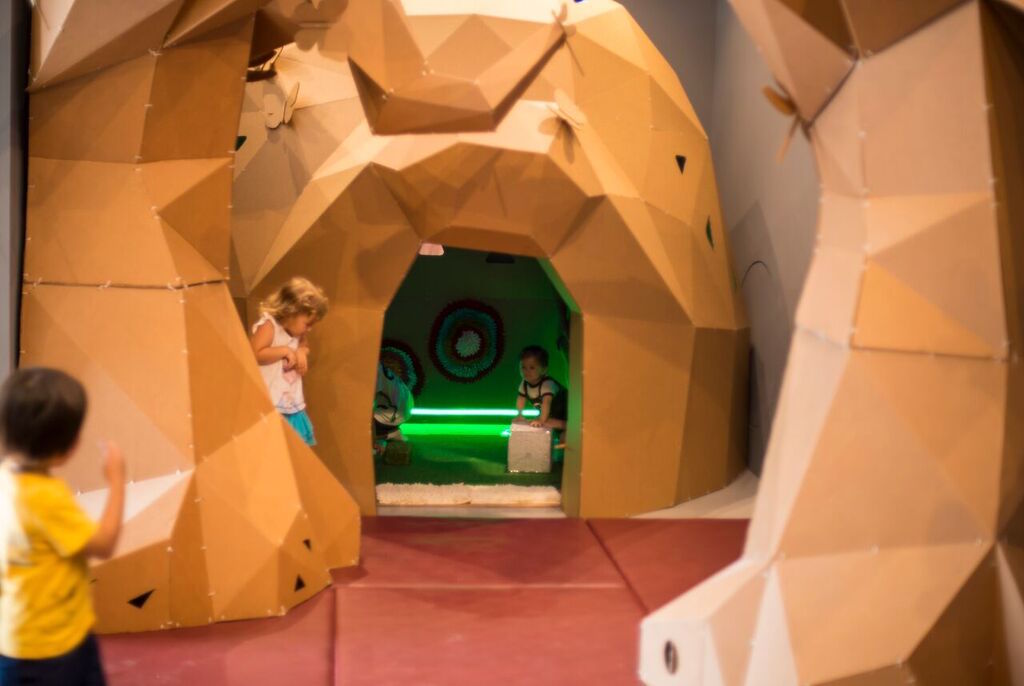 Image: Playeum. Photography by Richard Kearns
Behind the registration desk is a tan, cardboard, structure, rising like a mound of sand from the floor of the Centre. Created by Singapore's very own cardboard craft-moister Bartholomew Ting, this is where children (and toddlers in particular) will love crawling in to hide out. Inside, away from adult intervention, they can listen to animal sounds and experience different textures using their bodies, eyes, and ears.
2. The Dark Space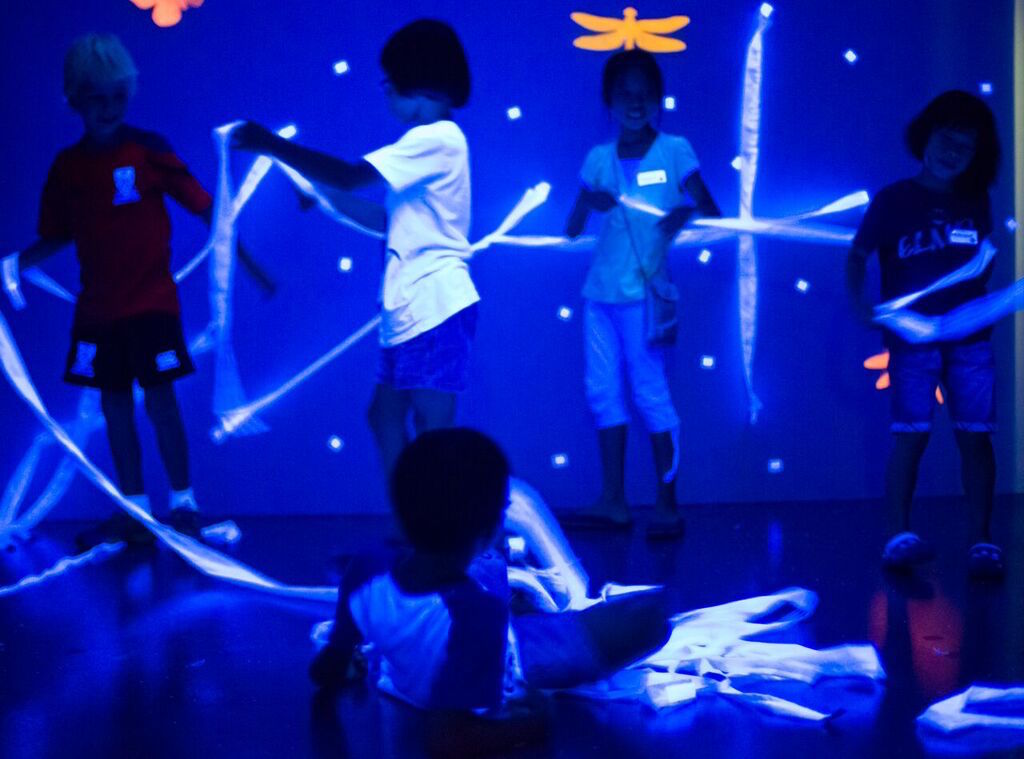 Image: Playeum. Photography by Richard Kearns
What's it like to walk through a jungle in the dark? This sensory 'dark room' gives you an idea in a very cool way. Step in and you are greeted by chirps, tweets, and singing of nocturnal insects. In this sound web installation by Richard Kearns, children can create their own 'web' by sticking and removing cloth strips and insect cut-outs on the walls. It's all done under UV light with insect sounds accompanying the process, making things even more mysterious and exciting!
3. Knock, Knock! Who lives there?
Created by Isabelle Desjeux, this installation lets kids get up close to view insects and other creatures through oversized magnifying panels and on special surveillance screens. Each window panel looks out to a specific creature: on the day we were there, we saw a giant spider at the first window, an insect hotel through the second window, and a working ant farm at the third window. At the table in the middle, kids can place insect specimens under a camera and see them magnified hundreds of times on a screen. Insects have never seemed so fascinating! See the red mailboxes? Kids can even send a letters to their favourite creepy crawlies here!
4. Sound of Earth — Nature's Ensemble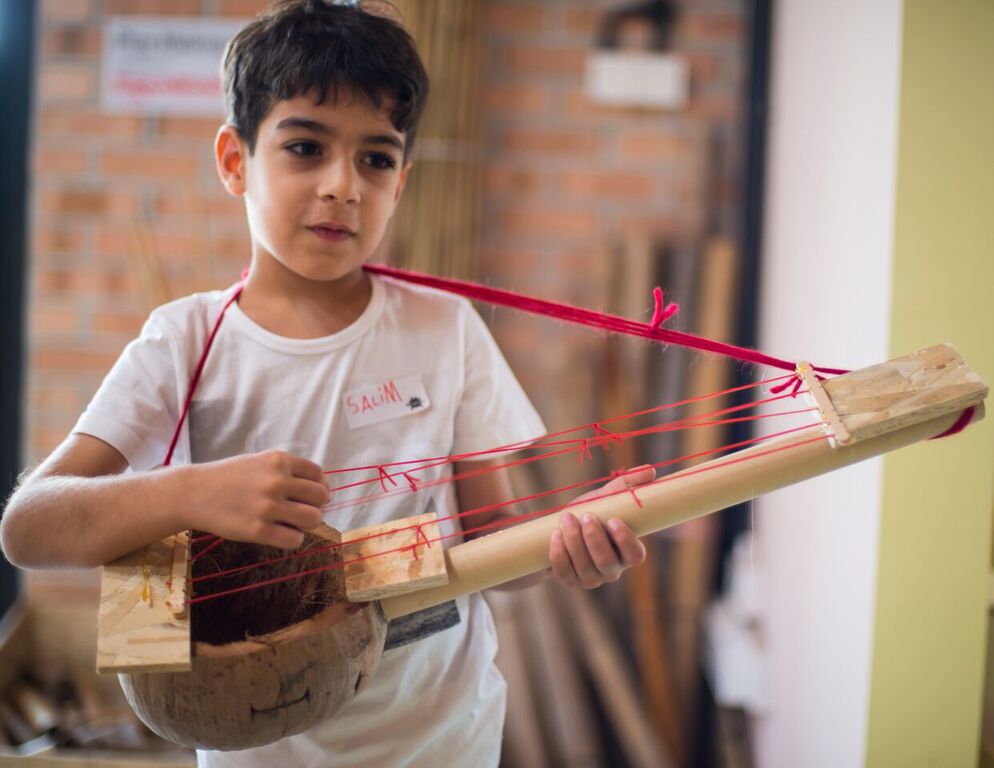 Image: Playeum. Photography by Richard Kearns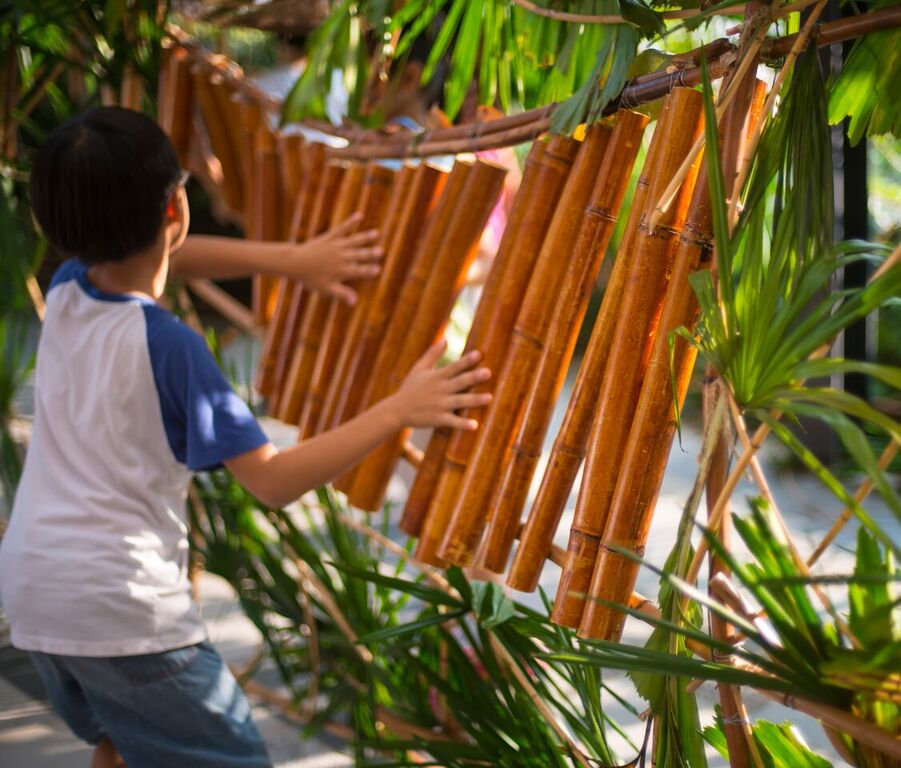 Image: Playeum. Photography by Richard Kearns
This is where the action gets hot and the sounds get loud! At Shogun Creatives' installation, budding music artists can build instruments and give voice to the music in their minds. This instrumental workshop holds all sorts of natural materials — leaves, twigs, husks, seeds — that kids can use to create their own sound makers. There were a group of little ones making rain sticks when we were there, and some older ones using hot glue guns to stick decorations onto their coconut husk drums. Bring your creations home or let them join the growing sonic tunnel outside, where kids can hide, play, and listen to the rhythms that they've created!
5. Make-believe Hideaway
Helmed by Madhvi Subrahmanyan, this is where kids can put their architectural ideas to use by using clay to create secret dens and build imaginary habitats for the little creatures of the world. They'll love it — which child doesn't love kneading, pressing, poking, squeezing and moulding? These miniature bug homes will become part of a bigger sculpture, allowing kids to collaborate in the making of a bigger installation.
6. Welcome To My World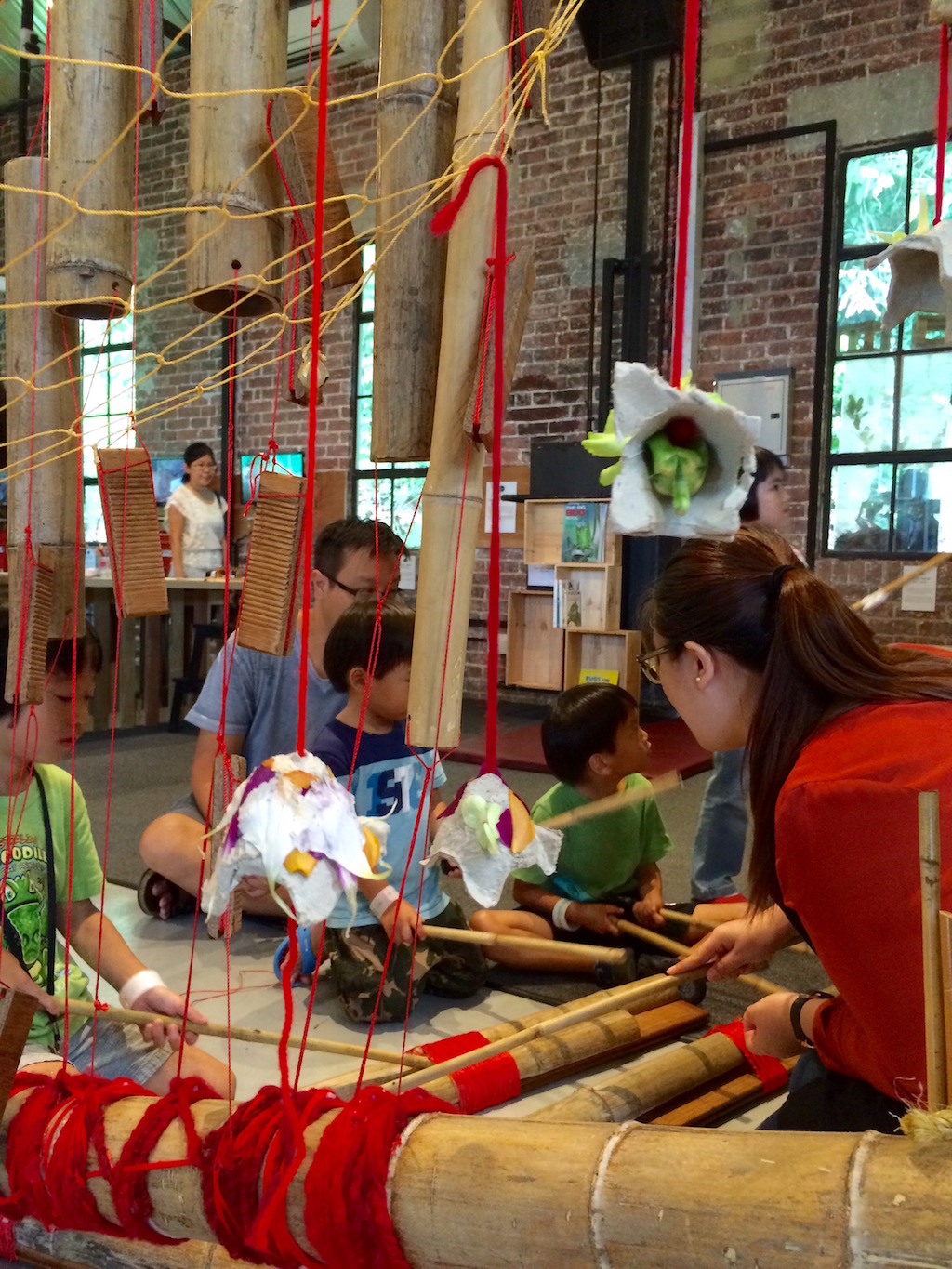 What's it like being one of the tiniest animals in a habitat? How does an insect feel when it looks out into the vast expanse of space? With netting, moss, string, wood, and more growing up and hanging down from above, this fascinating structure in the middle of the exhibition lets children imagine from the perspective of nature's smallest (but not necessarily the weakest) creatures. Kids can add to the installation by constructing shelters, or explore sounds using the materials available.
So don't let nature be a stranger to your kids. Bring them here and prepare to spend at least three hours exploring, making, playing, crafting, and learning (but do note that your visit may be kept to two hours during busy periods). The exhibition goes on till 30 October this year.
Need to Know
Where Blk 47, Malan Road, Gillman Barracks, #01-23, Singapore 109444
Tickets $20 (child: 1 – 12 years). Free for accompanying adult. $10 (additional adult)
Tip Your visit may be kept to two hours during busy periods. Schools or groups may be sharing the space with you during weekdays.
Opening hours 10 am – 6 pm (Tuesdays to Sundays). Closed on Mondays. On till 30 October 2016.
Website http://www.playeum.com