SingaporeMotherhood | Family Fun
June 2019
Genting Dream Cruise Review: Good Times for Families & Kids
True fact: cruises are for everyone, young and old. How do we know? Well the SingaporeMotherhood team was hosted on a 6D5N Genting Dream cruise (this is the first ship in the luxury Dream Cruises line) recently, during which we discovered why cruising is coming back in fashion, especially for families.
Living the Ocean Dream
According to our personalised cruise card (which acts as room key card, identity card and payment card throughout the cruise), our Balcony Stateroom was located on Deck 9. With much anticipation and a quick tap of the cruise card, we were in!
The first thing that beckoned was the sunny view off the balcony, which could be accessed via sliding glass doors. Frankly, we weren't too impressed by the size of the balcony – it was too small for the seats to face the sea; they had to be placed facing each other instead. We used it mainly to check out the view, take photos of sunsets and approaching ports. Oh, and to sun our laundry or air out our sweaty clothes after workout at the (rather impressive!) gym.
The rest of the room, however, was perfectly adequate. The queen-sized Dream Bed lived up to its name, and there was a sofa bed too. The bathroom was surprisingly spacious (read: enough space to bathe the kids in), complete with roomy shower cubicle and a full complement of toiletries. A sliding door next to the bed revealed a wardrobe with the usual amenities like a room safe, bath robes, and bedroom slippers.
Extra perks we liked included USB ports (and regular three-pin electrical sockets) on each side of the bed, a small electric kettle with coffee and tea making facilities, and a mini fridge which although empty, came in useful when we bought mango sticky rice in Bangkok, one of our ports of call! We were also pleasantly surprised to find a decent selection of free movies-on-demand (including kid-friendly ones!) on the wall-mounted flat-screen TV.
(See also: Genting Dream: the Newest Family-Friendly Cruise that Your Kids Will Love!)
The Palace a.k.a. Paradise at Sea
One thing that sets the Genting Dream cruise apart from others is The Palace. We got to tour this private onboard luxury resort-on-a-ship on the penultimate day of our cruise (which was probably a good thing, or we might've been tempted to cough up some serious dough for an upgrade!).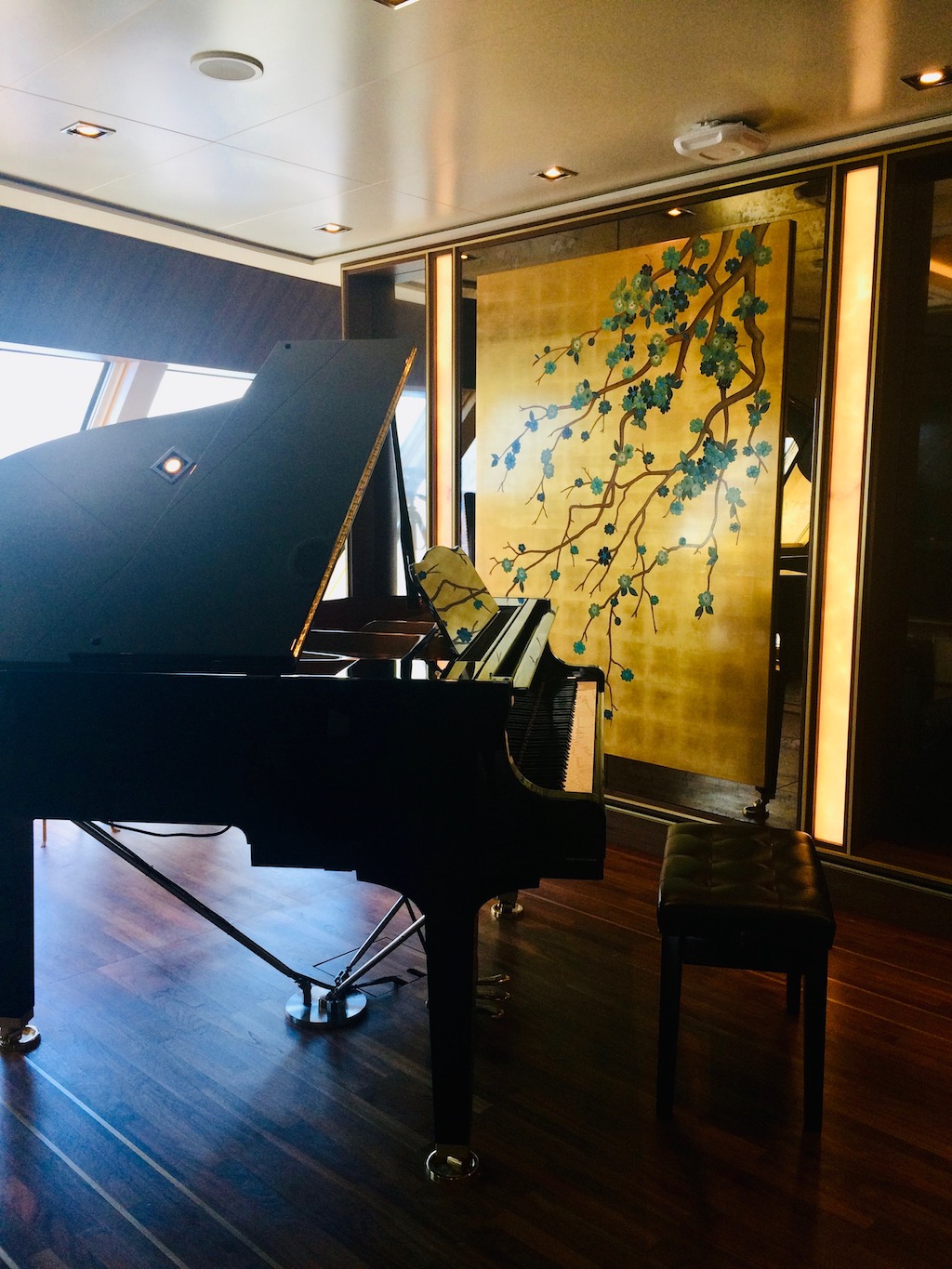 This enclave comprises over 140 suites, starting from Palace Suites which are like five-star hotel rooms. At the top end of the spectrum are the utterly opulent Palace Villas, boasting gold-plated cutlery, private sun deck with whirlpool, sauna, baby grand piano…!
But perhaps the true appeal of The Palace class is the all-encompassing benefit reel that comes with it, like dedicated Dream Butlers at your beck and call 24/7. In fact, the staff-to-guest ratio is one crew member for each Palace guest! Exclusive VIP facilities include a private pool (see above), spa, gym and dining venues. It also includes complimentary premium drinks package and meal entitlements at the ship's specialty restaurants.
Of course Palace guests can choose to dine, spa, and enjoy mass entertainment like everyone else, but they also enjoy priority access to all of it. Shore excursions are complimentary too, with regular and specially curated excursions to pick from. Cruising with kids? The dedicated Palace Kids programme runs creative workshops and fun activities for children aged two to 12 years.
24-hour Inclusive Dining for All
Sharing Deck 16 with the main pool deck and kids' waterpark is the free-for-all casual international buffet at The Lido. The spread is wide, complete with dedicated sections for Halal, Indian, and vegetarian cuisine. Highlights include made-to-order eggs at breakfast, pastas and roasts for lunch, and barbecue steak and seafood dinners. Plus desserts galore and soft-serve ice cream too.
One thing's for sure: you'll never go hungry on a Genting Dream cruise. The outdoor section of The Lido serves finger food like sandwiches and hot dogs between main mealtimes so you could technically be eating round the clock. Yep, some of us may also be guilty of sneaking out for a post-midnight snack of French fries and samosas! We blame it on the ocean breeze…
For a more refined sit-down family meal, head to the Dream Dining Rooms on Decks 7 and 8. The upper level typically serves Chinese sharing-style set meals. Breakfast usually consists of dim sum, congee and a few dishes, while an array of courses from soups to seafood are served at lunch and dinner. Menus are displayed outside the dining room, so you can decide which you prefer before joining the queue.
We enjoyed the semi-buffet dining at Dream Dining Room (Lower). That's where we get our choice of cooked-to-order eggs at breakfast, or a main course at lunch or dinner. This could be a Western steak platter or a vegetarian Korean meal, for instance. You can complement this with a buffet of everything from starters to desserts, a live noodles station and fresh rolls. Our favourite bit? A machine that churns out yummy pats of butter at the push of a button!
By the way, if it gets crowded, smaller groups may have to share tables at the Dream Dining Room. It may seem awkward at first, but chatting with perfect strangers over shared experiences on board can actually be quite fun!
Exclusive Dining for Special Occasions
Looking to treat the family to something extra special? You can always make a reservation at one of the onboard speciality restaurants. We got to try Umi Uma Teppanyaki on the first night, and had our farewell dinner at Seafood Grill/Prime Steakhouse by Mark Best. Both were excellent in terms of food quality and presentation. The Teppanyaki chefs, in particular, are so entertaining, the kids (and adults) in our group were tickled pink!
We also tried Hot Pot one evening, and the experience of dunking meats and veggies in herbal and spicy broths while enjoying the ocean breeze on an open-air deck has made all other hotpot places seem run-of-the-mill now.
Other food options on our Genting Dream cruise included the Silk Road Chinese Restaurant, Lobby Café and Blue Lagoon 'food court'. There is also a deli, gelateria – ice cream, anyone? – and various drinking holes for the grown-ups.
Even though none of these are included in the ticket price, we were tempted to make every day a special occasion!
Kids: Very Important Little Dreamers
From their very first day onboard, kids get VIP treatment. There's a high-energy, booty-jiggling, dance party for them at the Zouk Beach Club even before we've left the port! Over the next few days, we see little ones enjoying fun morning workouts, games, and relays by the poolside.
Older ones may make a beeline for the arcade, but the Little Pandas Club is where your younger ones will want to be. Bright and spacious, with a lovely view of the sea from the full-length windows, this dedicated play area has toys, movies, games, and role-play activities for kids.
Genting Dream also has its own Little Dreamers Activity Program, open to children from two to 12 years of age.
Throughout the cruise, they can take part in complimentary activities such as Arts and Crafts, STEAM Education, K-Pop dance, Kiddie Yoga, Face Painting, and more.
Paid activities such as Sushi Making and Pizza Making ($25 each, $40 for both) are available too. There are even KidZania-style Junior Butler or Junior Bridge Officer programs, where kids dress up and learn about the jobs at the actual worksites. (Parent alert: very cute!)
Everyday is Play Day on Genting Dream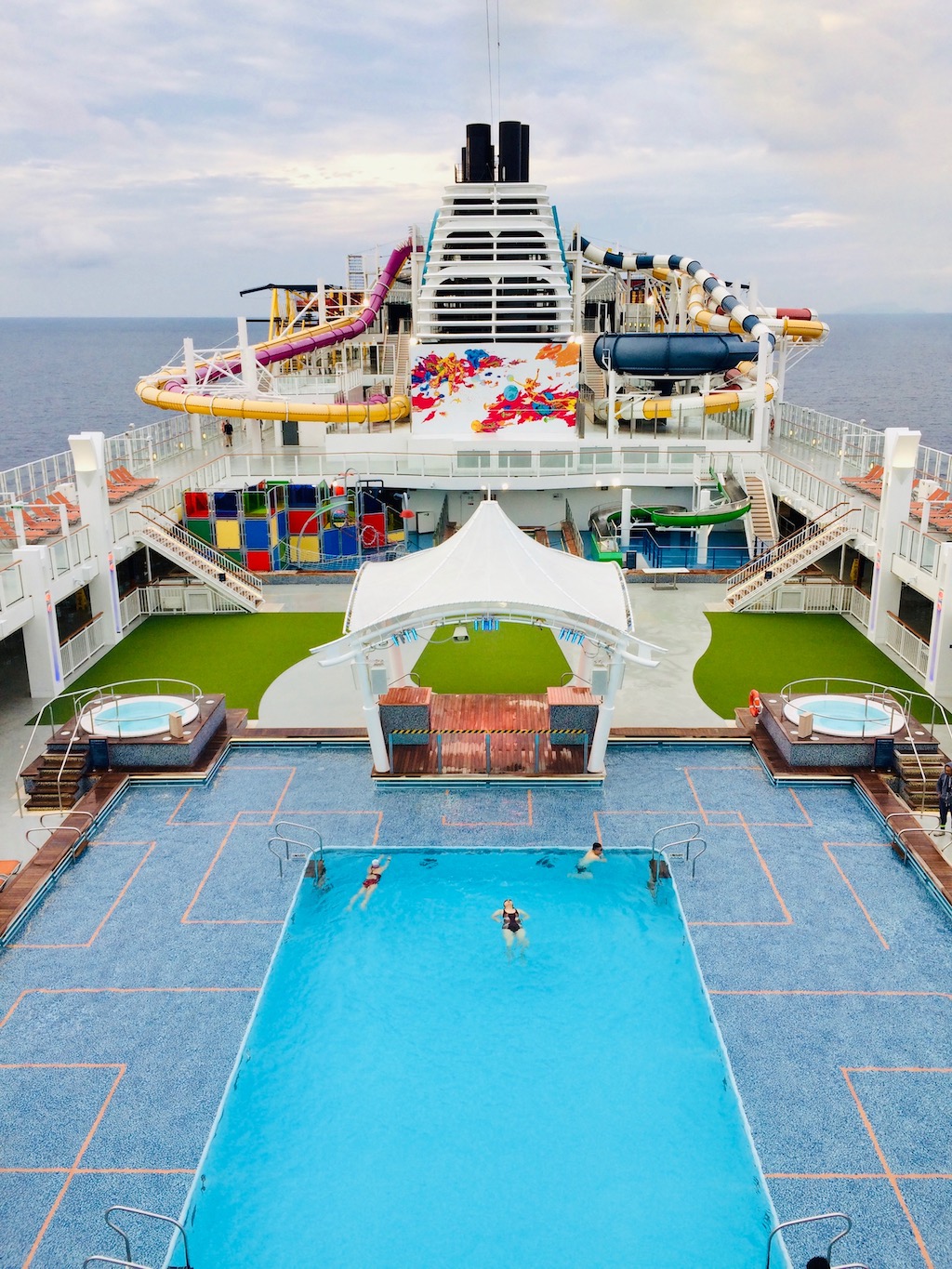 Decks 16 to 18 are where all the (outdoor) action is. The main pool is a good size, and there are jacuzzis on each side to soak in. There's a water playground with kiddy slides at one end. On the deck itself, kids can also play with over-sized Jenga blocks and Connect 4. There's also a mini rock-climbing wall, a multi-purpose court, giant chess, table tennis.
But it's impossible to resist the the long curving slides at the open-air waterpark, and if that's not enough of an adrenalin boost, how about zip-lining over the sea, outside of the ship?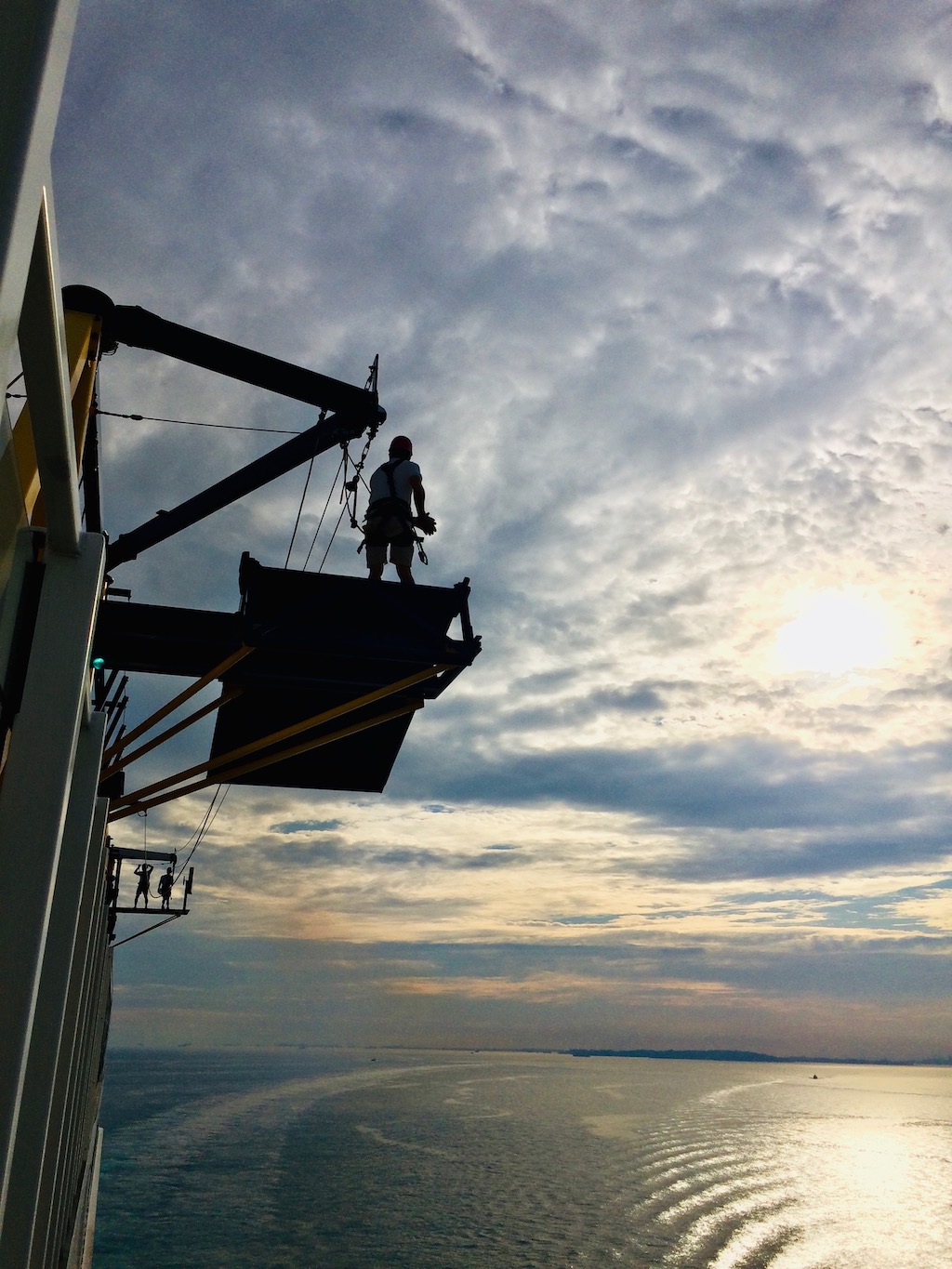 Genting Dream is the only cruise ship that offers this experience and it is definitely not to be missed. Did we mention that you'll have to go through an elevated ropes course to get to the zipline?
Oh and definitely do not miss the final night party on the pool deck. There are fireworks!
(See also: 7 Great Family Cruises to Board in 2019)
Off-shore Excursions from Genting Dream
We were warned that cruising could be claustrophobic. But at 335.33m long, with 19 decks, we felt nothing like that on the Genting Dream. In fact, just by walking to and from our cabin to various parts of the ship, we managed to clock at least 12,000 steps with ease each day!
But for those who are on a longer cruise and who need to just 'get out', the shore excursions do offer a breather from the ship. Our cruise had three ports of call: Pulau Redang in Malaysia, Sihanoukville in Cambodia, and Bangkok in Thailand.
Book a snorkelling excursion for the best experience on Pulau Redang. Second best? Relax on the beach, wade in the clear waters (and see the fish scatter as you walk towards them!), or re-visit the More More Tea Inn ("mo mo cha") popularised in the Jingle Ma movie Summer Holiday.
We were brought on a Highlights of Sihanoukville tour – including the Phsar Le market and the Tomb Rolork fishing village – which left us feeling downcast and dispirited. The city is in a state of dilapidation, with garbage and debris from the non-stop construction of casinos. We left with renewed appreciation for our home.
Bangkok was a hit-and-run stop. We only had a few hours here as it took two hours to get to the city from the port, and another two hours back. Still, we managed to feast and shop to our heart's content.
(See also: Cruises with Awesome Kids' Programmes and Activities)
Make a Genting Dream Date soon
On the fifth day of the cruise we are ship-bound as we head across the sea back towards Singapore. This is when – if you haven't already done so – you should enjoy the facilities and activities onboard.
Some tips to make that onboard experience sweeter:
Can't find your cabin? Just follow the flowers on the carpet in the passageway. The petals point towards the front (fore) of the ship, the stems to the back (aft).
Don't miss the nightly shows at the Zodiac Theatre. They're family-friendly!
Glow bowling at Zouk Club is fun!
Book your massage once you've boarded. There are great deals and two-for-one offers for the early birds.
Go on a Bridge Tour, where you can meet the captain, see the inner workings of this 'limousine of the seas', and visit the helicopter pad on the ship!
FInally, there's no need to rush on the last day. Every deck has its own disembarkation slot and we don't have to wait too long for our turn. In fact, there's enough time to have a leisurely breakfast, for the kids to have a final session of pool play, and for us to enjoy another coffee as we watch the Singapore skyline slowly approach along the horizon.
All content from this article, including images, cannot be reproduced without credits or written permission from SingaporeMotherhood.
Follow us on Facebook, Instagram, and Telegram for the latest article and promotion updates.