SingaporeMotherhood | Family Fun
July 2022
5 Family Inkmergencies and the Smart Way to Prevent Them
Have you ever found yourself in an inkmergency? You know, discovering that your printer has run out of ink just when you need something printed urgently? Your heart sinks and your mind enters panic mode. And you mentally chide yourself — or whoever last used the printer — for not stocking up on ink cartridges. If you've been there, you'll appreciate the stress the following inkmergencies can cause.
Yet Another School Project
Six-year-old Conor is super excited for his first show-and-tell. The theme is "My Family", and you promised to print a bunch of photos for his presentation. His 11-year-old sister Cara is creating a diorama on Singapore's early settlers and needs to print out its background.
The projects are due the next morning so after dinner, you fire up the printer. Of course, you failed to notice until now the flashing lights indicating it's low on ink. Is there enough to get the job done? The kids begin to freak out…
(See also: 8 Ways for Kids to Ace the Show & Tell)
Family Vacation Time!
You've booked the flights, made hotel reservations, and downloaded COVID-19 vaccination records from notarise.gov.sg. As the classic song goes, the bags are packed, and you're ready to go. Just then, your travel agent buddy calls with this helpful reminder: "You have a hard copy of the documents, right? Just in case?"
That's when you recall that the printer needs new ink cartridges and there's no time to do anything about it. You'll just have to hope that the electronic copies of all the documents will be enough…
Back-to-School Blues
You're busy ironing uniforms while nagging at the kids to pack their bags. 13-year-old Gianna rushes to print out her essay, entitled "What I Did during the School Holidays". That's when nine-year-old Gabriel, with a guilty expression on his face, goes, "Mum…." He'd forgotten that he even had holiday homework to print and complete!
You begin to mutter the "How many times did I tell you" spiel, when you're interrupted by a horrified Gianna. "Mum," she shouts, "it ran out of ink halfway!" Your heart sinks as you remember that you meant to purchase new cartridges…
(See also: How to Iron School Uniforms Perfectly. Don't worry, it's not rocket science!)
Working from Home
You're glad to be working from home most days. Until your boss tells you at the last minute to meet him at the client's office for an important presentation. You just need to bring along the presentation notes. Or when you get home after a long Friday at the office only to realise that you left without the audit reports you need to work on over the weekend.
In both cases, you might be able to print out what you need at home. Except that the printer cartridges you ordered online have yet to be delivered…
Party Poopers
You plan to send e-cards to invite relatives and close friends to Junior's birthday party. But you'll need printed invitations for his kindergarten classmates. Running out of printer ink at that point would be a pain. But not as much as if it happens when you leave the Mister in charge of printing out decorations and name tags.
Because when you return from picking up the cake, you might learn that the lack of printer ink has once again let you down. Worse still, it throws a damper on the party the birthday boy is so looking forward to…
(See also: Best Party Venues (that You never thought of) to Celebrate Baby's Full Month)
How to Prevent Family Inkmergencies
You'll be glad to know that you need never suffer from such family inkmergencies ever again. Because we've found a stress-free solution for all those (st)inky problems! It's called HP Instant Ink, a convenient subscription service which ensures you never run out of ink for your printer, and the superhero in all your inkmergencies. In fact, HP Instant Ink will prevent inkmergencies from even happening in the first place.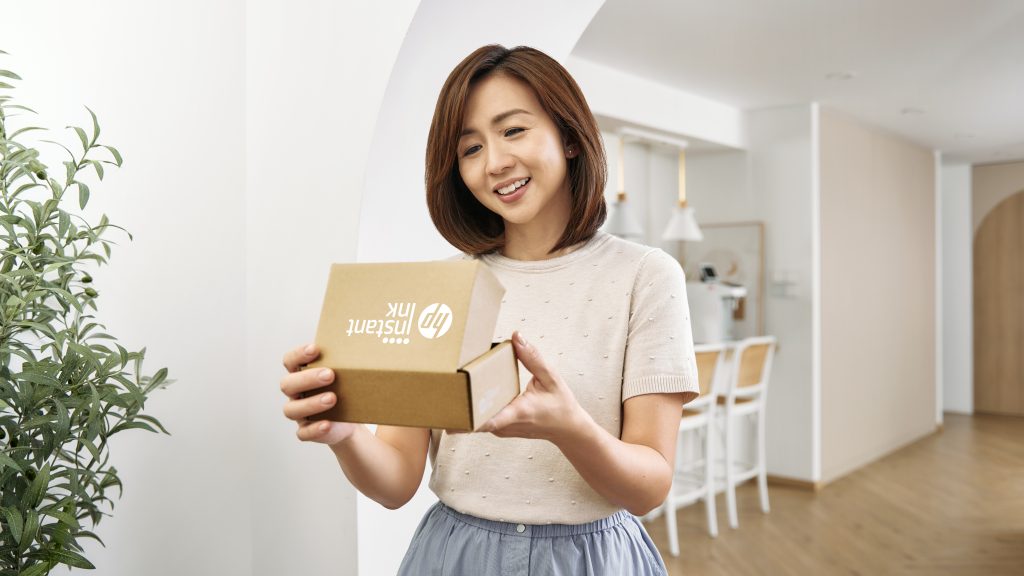 How HP Instant Ink works
HP Instant Ink remotely monitors your printer's ink usage level. When it starts running low, it automatically sends ink right to your doorstep before you even run out. This means you don't need to keep track of your usage or stock extra ink cartridges at home. How convenient is that! Save your empty cartridges and return them using the postage-paid recycling envelopes they came with. HP Planet Partners will recycle them for zero landfill waste.
Enjoy cost savings
You'll get to take advantage of up to 50% savings on ink. Choose from five flexible plans ranging from 10 to 700 pages per month. There is no difference in cost between black and colour, so you don't have to skimp on coloured prints. Plans start from just $1.90 a month and that covers the ink, shipping, and prepaid recycling. There is no annual fee, and leftover pages rollover to the next month. If you print more in a particular month, you can purchase extra pages, or simply switch plans at any time to accommodate changing needs.
Get free months
HP is currently offering a three-month trial of Instant Ink worth $218 — FREE! If you already own an Instant Ink eligible printer, you have nothing to lose and up to 4500 pages to gain*. And if you're in the market for a new printer, head to HP's online store and get your Instant Ink ready printer now, starting at just $69! Furthermore, HP Instant Ink customers stand to enjoy one free month with its refer-a-friend programme. Share your unique referral code or link when you tell fellow mummies about your favourite new subscription. You and your friends each get one free month of Instant Ink service when they sign up.
Sure, you may decide during your initial Instant Ink trial period that it's not for you. No worries, just cancel your subscription before the three months are over and pay nothing. But chances are you'll be addicted to the freedom and peace of mind that comes with life with zero inkmergencies.
Don't wait. Whether you've already got an HP Instant Ink ready printer or are planning to purchase one, your free three-month trial of HP Instant Ink awaits*!
* Total value inclusive of HP Original Inks provided in the printer box with every printer purchase, subject to a monthly page limit of 1,500. Terms and conditions apply.
This is a sponsored post.
All content from this article, including images, cannot be reproduced without credits or written permission from SingaporeMotherhood.
Follow us on Facebook, Instagram, and Telegram for the latest article and promotion updates.