Got to Move (GTM) 2018
Fri Oct 12 @ 8:00 am

-

Sun Oct 28 @ 5:00 pm
Love to dance? We do too! And that's why we're looking forward to Got to Move (GTM), Singapore's nationwide dance movement which celebrates the diverse dance forms in Singapore. An initiative by the National Arts Council (NAC) to grow appreciation for dance in Singapore, this fourth edition brings Singaporeans from all walks of life together through an exciting line-up of dance programmes and activities. There're lots of activities for families and kids – check them out below!
GTM 2018's anchor festival opens with Got to Move ISLANDWIDE, a two-week festival which runs daily from 12 to 28 October, featuring a wide range of ground-up dance programmes happening around Singapore, including the heartlands and non-traditional dance spaces such as the roof garden of Lot One Shopper's Mall, and even a coffee shop in Lengkok Bahru!
Don't miss these new highlights this year:
• Singapore's first social dance-cum-street dance party
• A special co-choreographed piece between a hearing and a hearing-impaired choreographer
• Activities that allow participants of all ages to learn different dance styles and groove along Orchard Road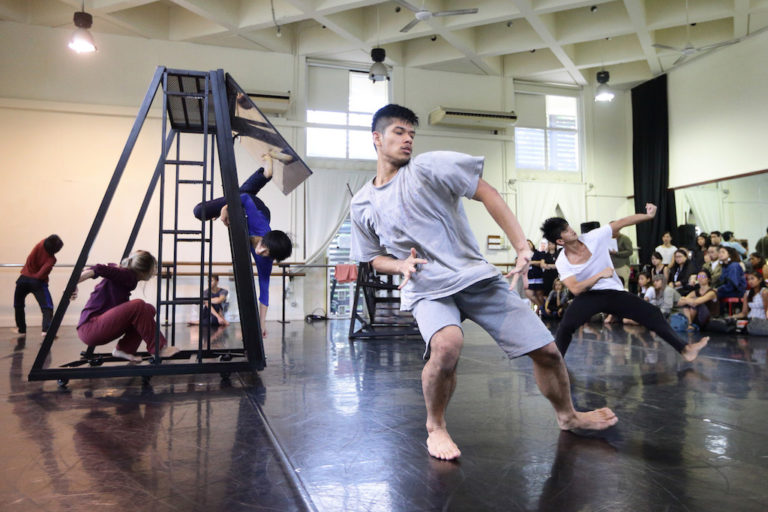 BEST FOR FAMILIES & YOUNG ONES
• Got to Move SPOTLIGHT: This immersive and interactive one-day dance carnival held at the Civic District on 28 October from 8.30am to 12pm (in conjunction with Car-Free Sunday SG in October). Here, you can get your groove on and work up a sweat with fun-filled activities incorporating different dance genres at the Got to Move Dance-Walk, a playful mashup between a danceathon and walkathon.
The event starts with a fun warm-up routine before participants are flagged off from the National Gallery Singapore City Hall Steps and make their way through stops along the route where they get to learn different dance moves. This dynamic dance and fitness experience was conceptualised by Creative Producer Ryan Tan, in collaboration with SportSG, and is back by popular demand with a longer route for extra grooving fun!
Tired? Enjoy the visuals at the dance photography exhibition. Local dance partners will also capture the imaginative mind of the audiences as they experience dance outside of the conventional performance space. Find out more: https://www.nac.gov.sg/gtm-events/gtm/GTM-SPOTLIGHT.html
• Back to the 70s – A Cross- Generation Journey: Combine arts and crafts with dancing in an evening of fun at The DanceSport Academy. Build your own costume and learn to dance in a Disco themed workshop. The whole family can participate together! Call 6440 3303 to find out more.
• Family Dance Day 2018: Family Dance Day @ Converge offers four workshops –Mummy/Daddy and Baby, Mummy/Daddy and Toddler, Kids' Hip Hop (Aged 4 to 6), Kids' Hip Hop (aged 7 to 12) for parents and guardians to enjoy with their young ones. Get more information and register at www.convergestudios.sg
• Parent & Child Ballet Pax De Deux: Come for an afternoon of fun-filled Mummy, Daddy & child Dance-Partnering cum Art-Making bonding session. You'll get to learn some classical ballet partnering (pas de duex) and redesign T-shirts into costumes to call your own. Grandpas and Grandmas are welcomed too!Get details at www.singaporeballetacademy.com.sg
• I can dance to Keith Haring: This arts integrated programme for parents and children explores the use of art and craft with dance by combining the elements of pop art (by American pop art artist Keith Haring) and Hip Hop. Note: participation may be in a combination of siblings (at least 1 above 10 years old) or related family members. Participants have to attend both art and dance sessions.
• You've Got To Move – Ballroom Edition: Learn more about ballroom dancing through showcases, workshops and sharing sessions. Whether you're a competitive dancer, just curious to learnabout ballroom dance or looking to move with your mini-me, there's something for you. No experience required. Get more info at http://dancesport.sg/2018/08/17/ygtm2018/
• Rolypoly Neighbourhood Grooves: Inspired by parties and urban dance formats, Rolypoly Neighbourhood Party opens a dance floor and invite neighbours from different blocks to come rock and roll, groove and break, wiggle and shake. An exciting experience for young and old alike, we celebrate dance as a diverse, democratic practice for all people and all bodies to join in! Find out more at www.rolypolyfamily.com
• Healing with Rhythm and Blues: Harnessing the power of music and dance from the Blues and Swing era, this reaches out to children and youths from less privileged backgrounds and/or from special needs communities to encourage them to better express their feelings, regulate integration between body and mind, and discover an alternative medium of communication through dance. More info: https://www.facebook.com/events/1948416951885722/
To join in the conversation, follow Got to Move on Facebook or Instagram @GotToMoveSG
Tag #GotToMoveSG
Images: National Arts Council