SingaporeMotherhood | Pregnancy
August 2020
12 Confinement Food Delivery Caterers in Singapore (2020 update)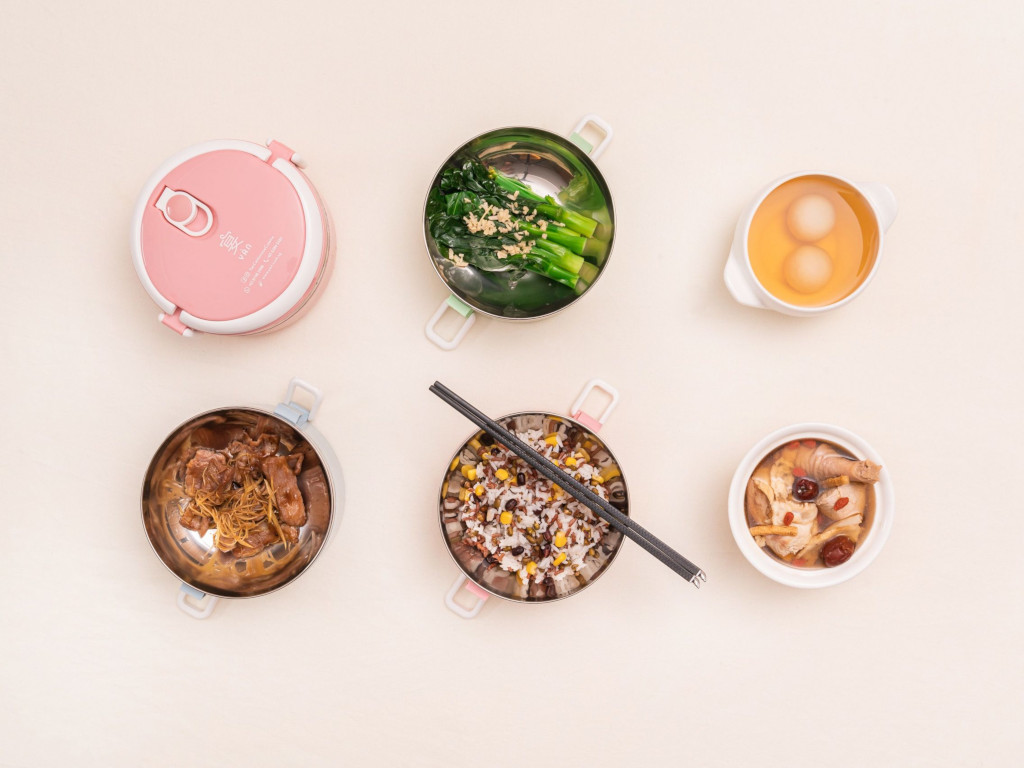 Congrats! You've made it through pregnancy, and the birth of your little one. Now, it's time for you to rest, relax, and recover. Traditionally, after giving birth, new mums spend 30 days at home in confinement. During this time, they bond with their little ones, and nourish their bodies with special confinement meals loving prepared by their family.
But what if you do not have family, relatives, or a confinement nanny to prepare them for you? There's no need to worry; you can still enjoy postnatal nourishment by opting for confinement food to be delivered to you. Confinement food delivery caterers generally provide confinement meals (either for a single meal, or for both lunch and dinner) for between seven and 28 days.
Most allow you to order a trial meal for a taste-test before committing. Cost-wise, they're definitely heftier than the usual tingkat delivery. Bear in mind, though, that you are paying for specialised meals that help nurture your postnatal body.
For ease of comparison between confinement food caterers, here's a quick breakdown of their services, and prices (including GST), followed by more detailed information on each confinement food delivery caterer.
(See also: How to Hire a Confinement Nanny)
Angel Confinement Meals
Angel Confinement Meals recognises how important it is for the body to recuperate after childbirth. Every meal is specially curated by an award-winning World Gourmet Chef and perfected with advice from an expert nutritionist and a TCM doctor — ensuring that new mums get a well balanced diet. Only Grade A TCM-approved herbs are used for optimal efficacy to replenish, reverse, and restore your body from the process of delivery. Similarly only the freshest ingredients and organic vegetables are used. All dishes are prepared without MSG, using natural flavors from food to elevate healthier and nourishing meals.
What we love The generous portions, artful use of condiments, and how every ingredient complemented each other to create heart- and tummy-warming dishes that look as good as they taste.
Order https://angelconfinementmeals.com.sg/
Chilli Padi
Chilli Padi has a solid rep as one of the biggest names in catering. We hear that their confinement meals are just as good. These are specially crafted to promote lactation, and include milk-boosting ingredients such as salmon, papaya, spinach, and tumeric. Chilli Padi also offers lactation cookies, which come free when you order 14-day dual meal packages and above.
What we love Chilli Padi's confinement meals contain less salt, less fat, and no MSG. In addition, they use Sakura Chicken. Reared through an organic farming process, this is said to be a healthier choice for cooking.
Order www.chillipadiconfinement.com.sg
Happy Mummy
Three generations and more of mums and grandmas are part of Happy Mummy's confinement menu design team. Needless to say, you know you're getting mum-recommended meals from the heart. Choose from three options: Standard, Classic, or Premium. Find yourself too busy enjoying Baby to organise the Full Month party? Happy Mummy also provides Full Moon party services. Just let them do it for you!
What we love The traditional recipes which bring in the best of TCM and Chinese herbs. Meals from Happy Mummy are also healthy: with low salt, low oil, and no MSG included.
Order www.happy-mummy.com
(See also: 10 Maternity Wear Brands to Help You Get Your Style On)
Madam Kim
A part of Kim Paradise tingkat catering, Madam Kim delivers confinement food that will remind you of home-cooked food. Firstly, recipes are based on traditional confinement recipes. They're also are packed with nutrients to help nourish the body and speed up recovery after birth. For a healthier carb intake, Madam Kim uses mixed brown rice (70% white and 30% brown).
What we love The menu reads like one from a restaurant, with mouthwatering sounding dishes such as steam cod fish with chicken essence, traditional Foo Chow red glutinous wine pork, and Black Chicken with Chinese Yam and White Fungus Soup.
Order www.madamkim.com.sg
NannySOS
NannySOS is a confinement nanny agency that also provides confinement food delivery. They offer traditional recipes using Chinese herbs, sesame oil and other essential confinement food ingredients — all meant to help balance new mums' postnatal bodies. All meals come with complimentary 500ml of longan red date tea, and no MSG and salt is used, as they can cause water retention and bloating.
What we love Fragrant Fried Rice with Sesame Oil and Ginger is served for dinner every Thursday. Something to look forward to!
Order www.nannysos.com.sg/
NouRiche by RichFood
NouRiche has been serving confinement food for over a decade, offering nutritious meals to help new mums recuperate well. We also like that NouRiche offers a vegetarian confinement menu for mums who prefer to go meat-free. All meals are MSG-free, and can be customised to exclude chicken or eggs (for mums who have had a C-section). Each meal comes with longan red date tea as well.
What we love NouRiche is one of the first confinement caterers to include Sheng Hua Soup in their menu. This Chinese herbal soup, which is traditionally consumed after delivery of a child, is believed to "aid in the expulsion of toxins, the discharge of lochia, and the revitalisation of Qi and blood".
Order https://nouriche.sg
Sizzling Dyyana
Started in 2014, Sizzling Dyyana is a thriving business that serves up to 30 mums per week. Founder Mardyyanah Awang, a mum of 10, has even cooked for personalities such as influencer Diah Mastura, and Mediacorp celeb Nurul Aini. What they love? The mix of Malay, Chinese and Western meals comprising rice, a meat, a vegetable, one lactation item, and a healthy drink like red dates and longan on alternate days. Lunch and dinner come packaged together and are delivered between 11am and 1pm. Finally, each day's menu depends on what Mardyyanah finds when she does her marketing each morning, so every meal is definitely fresh!
What we love Milk-boosting, jaundice-free food (less use of ginger, sesame oil and Ginseng) made with mostly organic ingredients. In addition, only delicate oils such as Macadamia, Canola, Olive and Grapeseed and Coconut Oil are used.
Order Whatsapp 8222 3105
Spark and Flame Catering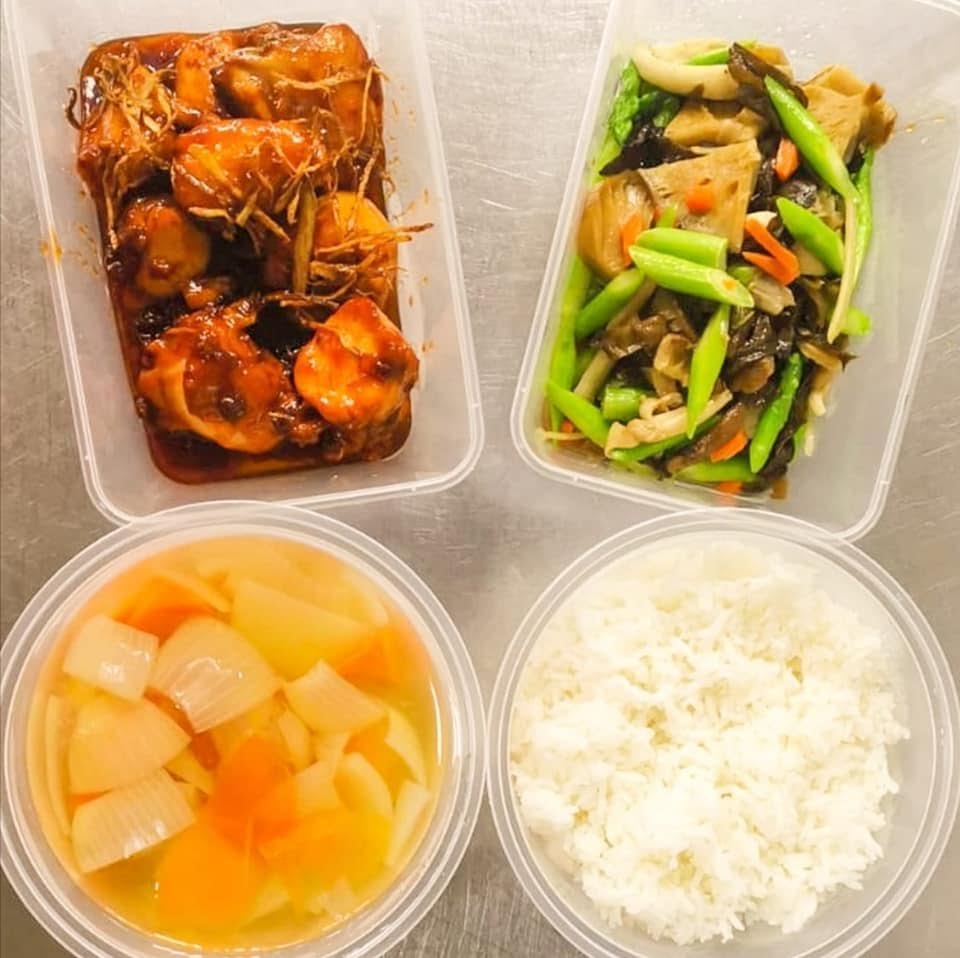 This MUIS halal-certified catering company offers a wide variety of services, from buffets and bentos, to baby showers and wedding receptions. The halal confinement menu caters to customers who do not consume pork, and wine. "I see there is a growth opportunity for Halal confinement as there are quite a number of customers ordering from us, from local to china customers," says catering sales manager Skylar Chng.
What we love Dishes are kept natural, and flavours come from herbs. For instance, the Revitalise Confinement Menu offers turmeric fried fish and chicken. There are even non-traditional dishes such as Marmite chicken and grilled Teriyaki chicken chop!
Order [email protected]
Tian Wei Signature
With over 16 years in the food industry, Head Chef Eugene has ample experience to create these tasty yet healthy meals that suit the needs of new mums in Singapore. Incorporating Japanese and Mediterranean twists with traditional Chinese cuisine, Tian Wei Signature's confinement meals are both satisfying and yummy. Choose from Traditional, Fusion, or simply Herbal Soups options. Meals are delivered hot, with hearty portions, and include one litre of red date tea.
What we love The inclusion of lactation-friendly ingredients; definitely a plus point for breastfeeding mums. We also like that hubbies (and other family members) can enjoy the food as well, for just an additional $10 per meal.
Order www.tianweisignature.com
(See also: Full Moon: Celebrating one of Baby's First Milestones)
Thomson Baby
Thomson Medical Centre is the first private maternity hospital in Singapore to provide confinement food delivery. Each meal comes prepared with fresh, carefully selected ingredients and herbs, low salt and fat. We love (and have ordered for ourselves) their lactation-boosting fish and papaya soup, which really helped give our breastfeeding efforts a boost in the early days. We also like that they've recently started a new Resepi Ibunda non-pork menu that caters to Muslim customers. Thomson Baby offers a free food-tasting session, so you can give it a try before you decide.
What we love Thomson Baby has all the "key" confinement dishes in their menu, such as Fish and Papaya Soup, Braised Pig's Trotters, and Home Made Chicken Essence with Wine to ensure that new mums get the best of tradition while enjoy modern comforts and ease of food delivery.
Order https://thomsonbaby.com
Ummu Fazwill SG
Created by a team of passionate cooks (who are also mums), this 100% Muslim–owned company aims to provide the best for mothers in confinement so that they do not miss out on the essential nutrition they need to speed up recovery after childbirth. The fusion confinement menu blends Malay and Western cuisine, including 350ml of red date tea for lunch, and a daily brew for dinner. You can get meals on weekends and public holidays too (except on the eve, first, and second day of Aidilfitri and Aidiladha).
What we love The use of superfoods which help strengthen postnatal health, boost collagen and milk production, and promote blood circulation. Ummu Fazwill SG accepts requests (eg: no beef) and customisations as long as they are notified in advance, and also provide lactation desserts to boost milk production.
Order https://ummufazwill.com
Yàn
You know this restaurant at the National Gallery Singapore for its luxe versions of traditional Cantonese delicacies. Now Yàn also offers confinement meal plans so you can enjoy its gourmet offerings at home while recuperating after giving birth. Each "consciously-crafted" meal — with dishes such as Sautéed Black Pork with Ginger and Essence of Chicken, Double-boiled Dang Gui and Tian Qi soup with Chicken, Steamed Cod Fish with Red Dates and Black Fungus, to name a few — helps new mums improve digestion and lactation, while restoring the body's core energy. Confirm your order at least one month before your EDD, and receive complimentary Bird's Nest as well.
What we love Every meal starts with nourishing double-boiled soup, and ends with a refreshing dessert. You can add bento meals from the restaurant for hubby or the family too. Just ordered a day before for the next meal delivery.
Order www.yan.com.sg
(See also: Pregnancy Week-by-Week Guide: Everything You Need to Know as Your Baby Bump Grows)
Yue Zi Le
What's unique about Yue Zi Le Confinement Catering is that new mums can choose the meat dish that they prefer for every meal. In the first week though, all packages start with the mandatory "7 days speedy recovery meal selection" which enhances the recovery process for postnatal mums. They also serve Sheng Hua soup — either at the beginning or at the end of your package — depending on whether the delivery is natural birth or cesarean delivery. Each meal also includes one litre of premium red dates dang shen tea.
What we love Meals are crafted by Chef Daniel, who has over 10 years in the F&B industry. He's also taken his own experiences as a new daddy into consideration while crafting the menu, using specially selected ingredients and fusion cooking methods. This means less traditional mums can enjoy dishes like miso-marinated pork steak in white wine sauce, and truffle Chinese mushroom with chicken!
Order www.yuezileconfinement.com
Ready to order your Confinement Food Delivery?
With these confinement food delivery options in Singapore, it's easy to ensure that you, and every new mum, has adequate post-delivery nutrition. Do order a trial meal to find out which suits you best before making your choice. Confinement is a time for you to recuperate, rest, and regain energy to start your journey as a new mum. Confinement food delivery services take the hassle out of meal planning, so you can concentrate on healing, resting, and bonding with Baby over these precious first weeks.
Prices and details accurate at time of writing.
Header and Featured images: Yàn
All content from this article, including images, cannot be reproduced without credits or written permission from SingaporeMotherhood.
Follow us on Facebook, Instagram, and Telegram for the latest article and promotion updates.