SingaporeMotherhood | Family Fun
January 2021
23 Fab-'Niu'-Lous CNY 2021 activities to welcome the Year of the Ox
It's a "Niu" year and we at SingaporeMotherhood are all about putting the past behind and "moo-ving" on in this Year of the Ox. And with Lunar New Year-themed LEGO® sets to build, Asia's first drive-though exhibition to experience, the traditional Chinatown light up to gawk at, and even a pineapple rolling contest(!), there's certainly lots to look forward to this Chinese New Year (CNY). Here's a list of things to do and places to go this festive season, at home, and out. We'll keep adding to the list so do come back to check out the latest.
:: NEW! :: Get Wild about the Niu year at the Zoo, the River Safari, and the Bir Park
Meet the Ankole cattle at the Singapore Zoo and go on a CNY trail to put together a festive treat for these creatures. At the River Safari, say hello to the sea cows, better known as manatees. If you're looking to do something special this Lunar New Year, why not have reunion lunch set with the giant pandas? This unique curated experience includes a five-course Lunar New Year meal, a guided Giant Panda Forest tour, reserved VIP seating at the Once Upon A River Show and an Amazon River Quest boat ride. Over at Jurong Bird Park, keep a lookout for the cattle egrets, which feed off flies and bugs that bother cows in the wild. Finally, lay your eyes on the magnificent Indian gaur, also known as the Indian bison or seladang at Night Safari. Yes, it's an ox-themed festive season at the WRS parks this year! Could you tell?
When 12 to 26 February
Where Jurong Bird Park, Night Safari, River Safari, and the Singapore Zoo
Web www.wildcny.sg
1. Do a Family CNY Photoshoot
Festive photoshoots at pop-up studios have become really popular in the recent years. Make CNY memories this year at Hoppity Studio's mamak shop (above), The Studio Loft's home reunion scene, in a Peranakan setting at Oh Dear Studio, or even in a zen Chinese courtyard at The Love Co. Studio. At only 30 to 45 minutes long each, these mini shoots are the perfect length for little ones who can't keep still for long.
(See also: How to Take the Best Family and Kids Photos)
2. Build a Festive LEGO® Scene
We know that children learn best through play. So what better way to introduce lunar new year stories than by talking about them while building a CNY-themed LEGO® set? Master builders, check out Story of Nian (80106, $109.90), which is inspired by the Chinese legend of the mythical beast Nian.
Spring Lantern Festival (80107, $159.90) is set in a Chinese garden and has modern updates like bubble tea, mobile phone and even a selfie stick! Finally, the DUPLO Town Happy Childhood Moments (10943, $149.90) will keep little ones occupied while mum feasts. It offers two building designs — Chinese New Year celebrations, and the first day at kindergarten — great for role-play! Available at LEGO-certified stores now
:: GIVEAWAY! :: Bilingual Chinese New Year 'Advent' Calendar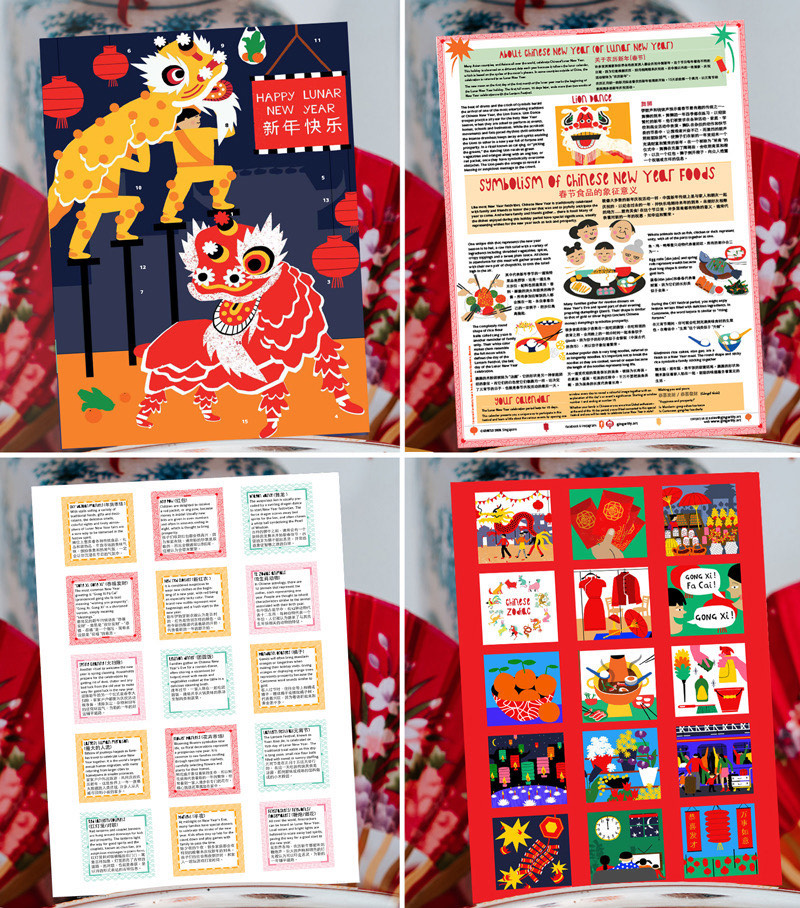 We're all familiar with the Christmas Advent calendar. But a Chinese New Year 'Advent' calendar? Designed locally by Gingerlily Arts, this novel creation works in a similar way. The difference? It starts on the first day of the Lunar New Year — 12 February 2021 — and you open a door a day till the 15th (and the last) day of CNY. Each panel reveals a beautiful illustration and a description related to CNY, such as the symbolism behind certain dishes, or the exhilarating lion dance, in English, and Chinese. What a lovely way to introduce the festival to young ones, and to teach them about the meaning behind its traditions!
We have three of these bilingual Chinese New Year 'Advent' calendars to give away, and all you have to do to win one is:
Like and Share this article's Facebook post.
Tell us your favourite CNY tradition in the FB post comments.
Sit back and relax. We'll be in touch if you've won 🙂
Closing date: 12pm, 28 January 2021.
3. Deck the walls with IKEA's SOLGLIMTAR
IKEA's SOLGLIMTAR range is back for the festive season, with new CNY products to decorate from door to dining table. Bring in joy and prosperity with door decorations, lanterns, and matching CNY tins. Want a uniform look on the dining table? Serve up reunion dinner with the SOLGLIMTAR 12-piece service. Did you know that you can also buy live pussy willow plants (and vases to put them in) at IKEA?
When From 11 January while stocks last
Where IKEA stores
Web www.ikea.com/sg/
4. Share your Abundance with our Migrant Workers
As you spring clean and clear out your home, take stock of the excesses. Can be donated? It's Raining Raincoats is collecting new, or pre-loved items for pour migrant worker brothers this CNY. If you have items such as clothes, shoes, backpacks, power banks, wallets, and more to share, do offer them up. Unopened, unexpired CNY goodies and treats are also welcome. These will be passed on to migrant workers at worksites, construction areas, and dormitories.
When Till 14 February
Web https://sites.google.com/view/irrcny-2021/home
(See also: 10 Places to Volunteer with Kids in Singapore)
5. Refresh yourself at Dahlia Dreams
Ring in the year of the Metal Ox and bask in prosperity and good fortune at Dahlia Dreams! Featuring auspicious elements and symbols, this ever popular floral display ushers in new beginnings filled with good luck and positivity. Stroll through a field of 1,400 dahlias, all grown in-house for the very first time by our own horticulturists. There'll also be a host of Lunar New Year florals such as azaleas, chrysanthemums and cymbidiums to admire.
When Till 21 February, 9am — 9pm
Where Flower Dome, Gardens by the Bay
Tickets Admission charge to Flower Dome applies
Web www.gardensbythebay.com.sg
6. Glow up at the Light to Night Festival 2021
The Light to Night festival is back to illuminate the Civic District, with experiences for everyone to enjoy — even at home. Think online art workshops, livestream talks, and more. But we'd recommend that you mask up and venture out to explore the installations, watch the dazzling light shows, and immerse yourself in the interactive light installations. They're worth it!
When Till 31 January, various timings
Where National Gallery Singapore, Asian Civilisations Museum, The Arts House, Victoria Theatre and Concert Hall, and Esplanade – Theatres on the Bay
Web https://www.facebook.com/LTN2021/
7. Do the VIO Pineapple Challenge 2.0
Did you know that pineapples symbolise prosperity, and that rolling one into your house means you're inviting good fortune in? Get a free pineapple to do this when you register for VIO's Pineapple Challenge. You'll receive a pineapple to roll into your home. Take a video, post it on Instagram (your account must be public), tag @vio_singapore and pin it to your Highlights. Participants stand a chance to win $30 NTUC vouchers, as well as one of VIO's smart lighting solutions.
When Till 8 February (sign up by 1 February)
Web http://bit.ly/VIOPineapple
(See also: Where to Buy Qipao, Cheongsam, and other CNY Clothes for Everyone in the Family)
8. Sail into prosperity on the Royal Albatross
Toss for luck on the Asia's luckiest ship at sea '8888A', the Royal Albatross. The special Chinese New Year Reunion Dinner takes place on one night only. Book either a three- ($245 adult/$145 child) or a six-course ($295/$195) dinner. Both come with a welcome mocktail, free flow of soft drinks, and individual portions of Prosperity Abalone Yu Sheng.
When 12 February, 5 — 7.30pm
Where Royal Albatross
Web www.tallship.com.sg/
9. Collect Red Packets from the Museums
We've made it though a rather unusual year, why not give out equally unique red packets this lunar new year? We're eyeing the specially-designed red packets from museums in Singapore, which are part of the NHB's Lunar Hongbao collection. You can pick up a set from any of the 32 participating institutions from 22 January 2021 (while stocks last). Remember to scan the QR code inside as well. It'll reveal if you've won a limited edition box set of all 32 hongbao designs!
When 22 January to 19 February
Where Participating museums and galleries in Singapore
Web https://www.facebook.com/ILoveMuseums
10. Join in in Singapore's 1st Digital Chingay
It's Singapore's first ever digital Chingay! Watch over 2,000 performers and 150 organisations create a brand new style for the 49th edition of this multicultural showcase. Thanks to the use of CGI (computer-generated imagery) there'll even be a 100-lion dance performance. Don't miss this; it includes local and overseas groups from over 10 different countries and cities, even as far away as San Francisco.
Even better, 'Jalan Jalan with Chingay' to be a part of the festival, and win prizes. Just enter your submission in one of the categories — video-making, singing, sewing a virtual Chingay costume, or building a virtual Chingay float! And if you're on TikTok, join in the Hawker Culture Jingle Challenge from 5-14 February, and you could win $100 Lazada vouchers!
When Saturday 20 February, 8-9 pm
Web www.chingay.gov.sg
11. Get a "Talking" Red Packet at SCCC
Kickstart the Year of the Ox with an auspicious greeting in Mandarin, and the five major Chinese dialects in Singapore. The recordings, done by seven to 11 year old students of the Singapore Hokkien Huay Kuan Cultural Academy, can be heard when you scan the QR code on the back of these limited-edition "talking" red packets. Get them by visiting SCCC exhibitions, or by taking part in a giveaway contest on the SCCC's social media.
When Till 28 February
Where Online, and at Singapore Chinese Cultural Centre Level 6 Carpark. 1 Straits Boulevard, Singapore 018906
Web https://singaporeccc.org.sg/
(See also: 5 Easy Ways to Spring Clean for CNY)
12. Usher in Year of the Ox Fun at Universal Studios Singapore
Start the new lunar year with spills and thrills. See your favourite characters clad in their CNY best at Universal Studios Singapore and take a photo with them. Meet the Majestic Dragon, Po from Kung Fu Panda, the Minions, Sesame Street friends. Hear Optimus Prime and Megatron make Mandarin greetings, and grab a picture with Woody and Winnie Woodpecker!
When Till 28 February, 2pm — 9pm
Where Universal Studios Singapore, Resorts World Sentosa
Web https://www.rwsentosa.com/
13. Get Double Prosperity at the SYSNMH
These two 2.5-metre tall "Foo Dou' Guardian Lions are part of the Wan Qing Festival of Spring at the SYSNMH. Traditionally installed in front of imperial palaces for protection, the lions were created in collaboration with artists in Chengdu, China. SYSNMH will also be ushering in the Lunar New Year with a family friendly programmes. Kids can look forward to children's lion dance and drums workshops, and zodiac animal coaster and clay painting sessions. Check these out via the memorial hall's Facebook page (@sysnmh).
When Till 28 February, 10am — 7pm
Where Sun Yat Sen Nanyang Memorial Hall (SYSNMH)
Web https://www.sysnmh.org.sg/
14. Celebrate Spring at the S.E.A. Aquarium
Follow the Trail of Fortune, and receive bountiful blessings from marine life that symbolise happiness, wealth, and luck. Along the way, tell the kids to keep their eyes peeled for hidden gold ingots. Don't forget to grab photos with the mythical sea dragon installations and the auspicious scarlet-hued shoulderbar soldierfish. Little ones can also help to stick scales onto a sea dragon mural to help complete this auspicious art piece!
When Till 2 March, 10am — 5pm (off-peak days); 9am — 5pm (peak days)
Where S.E.A. Aquarium, Resorts World Sentosa
Web https://www.rwsentosa.com/en/
15. Visit Moo-Moo PARK, Asia's first drive-through exhibition
Try something new this "niu" year — a drive-through exhibition! The first in Asia, Moo Moo PARK blends visual arts and augmented reality (AR) technology into an immersive art experience. Sit back in one of the Hyundai IONIQ Electric cars and enjoy the audio-guided drive-through experience! You'll get to see how the works of eight local artists are transformed from digital drawings to 3D installation art, selfie filters and AR murals in this one of a kind experience. P/S: Stand a chance to win a staycation at PARKROYAL COLLECTION Pickering by completing the visitor survey!
When 22 January to 28 March, 12pm — 10pm
Where Singapore Chinese Cultural Centre Level 6 Carpark. 1 Straits Boulevard, Singapore 018906
Tickets $10 (drive-through), and $5 (walk-through)
Web https://mmpark.singaporeccc.org.sg/
16. Photograph the Chinatown Year of the Ox Light-Up
Chinatown lights up with sculptured lanterns of the Ox, gold coins, golden ingots, flowers and greetings this year. Bring your cameras and snap away from 7pm to 12 midnight daily, till 12 March. Apart from this, all other Chinatown events will be going online. These include the light-up ceremony on 23 January, short films featuring Chinatown merchants, family-friendly activities and the Chinatown 360 Virtual Tour.
When 23 January to 12 March
Where Onsite, and online
Web https://chinatownfestivals.sg/
(See also: CNY 2021 Reunion Dinners: Dine-in and Takeaway Highlights)
:: NEW! :: Do the AIA Vitality Ang Bao Run
The second edition of AIA iRun for Vitality comes with a festive twist to celebrate the Lunar New Year. This virtual run is free and open to everyone so grab family, friends, and colleagues and get ready to hit the road. There are three categories (Individual, Team, or Corporate) to choose from, and participants stand a chance to win prizes by unlocking milestones along the way. Follow AIA Singapore's Facebook (@Singapore.AIA) and Instagram (@AIASingapore) to for updates.
When 8 to 28 February
Register 14 January to 7 February online
Web https://web.42race.com/race-bundle/aiairunforvitality2021
:: NEW! :: Have a Joyous Family Staycation at Marina Bay Sands
It's an auspicious time at Marina Bay Sands as the integrated resort celebrates CNY with staycation, dining, and shopping deals. Get your shots with the five modern oxen installations around the resort, rejuvenate with a Banyan Tree Spa session, and just for something different, why not try the oriental-inspired set menu at Bread Street Kitchen by Gordon Ramsay?
What has us most excited though (since travel is out of the picture at the moment) are the staycation offers. Have a festive getaway with the limited time (till 22 February 2021) Auspicious Staycation package, or load up the kids for the Joyous Family Staycation deal. If you are a Sands Rewards LifeStyle (SRL) member, you get extra perks like a guaranteed room upgrade (SRL members only) and entry to ArtScience Museum's Planet or Plastic? and Margins: drawing pictures of home exhibitions as well. Book till 5 April 2021.
IN THE SHOPPING MALLS
:: NEW! :: Feast and be Rewarded at Palais Renaissance and Quayside Isle
Prosperity abounds at Palais Renaissance, where shoppers stand to redeem exclusive red packets as well as a dining set (above, minimum spend required, terms and conditions apply). Clear your complexion for the new year with a Picosure laser treatment at Privé Clinic, book the man a facial at Sultans of Shave, and get a sweet finish with P.S. Cafe's decadent Chocolate Orange Caramel Pie. Specially created just for the festive season, this is only available from 29 January to 26 February 2021. You'll need to pre-order whole cakes — $48 (1.2kg / 23cm) or $80 (2.2kg / 29cm) — two days in advance. Or why not pop by to try your luck at getting a slice ($16++)?
Over at Quayside Isle, find the most lavish Yu Sheng platters at Greenwood Fish Market. We're talking lobster, Alaskan King crab, or 200g of salmon sashimi! They're only available for takeaways from 1 to 28 February 2021, so get your orders in soon!
When Till 28 February
Where Palais Renaissance 390 Orchard Road, and Quayside Isle @ Sentosa Cove
Web www.facebook.com/PalaisSG and www.facebook.com/quaysideisle
17. Ring in the Sounds of Spring at One Raffles Place
If you are working in the area, grab your CNY treats and goodies at the Festive Bazaar here. Spend a minimum of $68 to redeem a $10 e-Voucher as well as a set of exclusive red packets. Curious about what the Year of the Metal Ox has in store for you? Keep a look out for the zodiac forecasts on levels 3, 4, and 5.
When Till 10 February
Where One Raffles Place
Web https://www.onerafflesplace.com.sg/
18. Embrace Springtime Togetherness at VivoCity
Looking for a bountiful backdrop for your CNY #OOTD ? Roam through the immersive spring garden (14 Jan – 26 Feb), pose for IG-worthy photos, and find out what the zodiac has in store for you. In addition, meet Fu Lu Shou, the God of Fortune, and redeem a golden pineapple tray, or a limited-edition 3-tier Tiffin Tin (terms and conditions apply).
When Till 11 February
Where VivoCity, Central Court Level 1
Web https://www.facebook.com/vivocity.sg/
19. Celebrate the Year of the Ox At City Square Mall
It's all about fun and festivities at City Square Mall this CNY. Grab the fam and soak in the festive vibes here. Pose with the illuminating lights at City Green on Level 1 (till 25 February, 6 — 11pm), get your hands on the pop art red packets, and redeem Lucky Bowls, Chopsticks Sets and mall vouchers. It's truly a season of celebration here!
When Till 25 February
Where City Square Mall
Web https://www.facebook.com/citysquaremall
(See also: Check out how much Luck and Prosperity you'll have in the Year of the Ox)
20. See the Digital Tree at Swing By @ Thomson Plaza
ICYMI Thomson Plaza has undergone a renovation, and now has over 40 new stores! These include Hajime Tonkatsu & Ramen, Tingkat PeraMakan, Aston Specialities, Daiso, Cow Play Cow Moo, and more. The mall also has a new 'resident', a seven-metre tall interactive digital tree with 2,685 LED panels. This CNY, scan QR codes on the tree to play games and win e-vouchers. You can also take part in bi-weekly Huat Draws to win shopping vouchers, make your own terrarium, and meet some Roving Garden Fairies!
When Till 28 February
Where Thomson Plaza
Web https://www.facebook.com/SwingByAtTP
21. Get Abundant Blessings at Jurong Point
One thing to shop this CNY at JP: the $28 Prosperity Bag with merchandise up to 3x its retail value. The catch? You'll have to spend $88 (maximum 3 same-day receipts) to purchase one. But with at least $50 worth of vouchers included, and a chance to win prizes from Dyson, Tefal, Nintendo, and Harvey Norman, we'd call this a 'huat!' deal. You?
When Till 11 February (red packets and prosperity bag), 28 February (lucky draw)
Where Jurong Point
Web https://www.jurongpoint.com.sg/
22. Bloom in Abundance at AMK Hub
Ring in the year of the Ox and double the season's blessings with AMK Hub. Redeem Huat prosperity packs (members only), and stand a chance to receive a red packet containing a S$10 AMK Hub e-voucher when you catch the God of Fortune within the mall. P/S: He will be making his rounds from 6 to 7 February 2021, and 20 to 21 February 2021 between 11am and 6pm.
When Till 28 February
Where AMK Hub
Web https://www.facebook.com/AMKHubSingapore/
(See also: New Launches for CNY 2021 at SM Shop)
23. Get Festive with LEGO at CapitaLand Malls
If you liked the LEGO® Christmas installations at CapitaLand malls last year, you'll love how they've been transformed into CNY versions now. Another round of photo-taking beckons, we reckon. Over at LEGO® Certified Stores, enjoy promotions (till 28 February 2021) and gifts such as limited-edition LEGO® Lantern, Pagoda, or Year of the Ox builds, while stocks last.
:: NEW :: "Rise in Valour" at ION Orchard
Decked in vibrant colours of the season, ION celebrates the lunar new year with a brand new sky high Seasonal Light Show, in-mall promotions and treats for members, as well as online offerings such as its Red Packet Lucky Dip, and Ang Ku Kueh GirlTM and FriendsTM sticker packs (available on WhatsApp and Telegram). Don't miss tales of valour and good fortune at ION Sky, which are showing from now till 26 February. Redeem your tickets to this immersive multimedia experience with every $20 spend in a single receipt (T&Cs apply). Check https://www.ionorchard.com/ion-sky for more details.
When Till 26 February
Where ION Orchard
Web www.ionorchard.com/
:: NEW! :: Usher in New Beginnings at Frasers Malls
Get everything you want or need for CNY at a Frasers Mall, without even leaving home. Just do it on the new Frasers eStore on the Frasers Experience app, which curates collections and rewards every fortnight for digital shoppers. Prefer to shop in real life? Expect shopping rewards, workshops, contests and lucky draws, and holiday treats from participating malls. There are red packets and festive carrier bags to collect, discount vouchers at Capri by Fraser, and even $888 worth of Digital Gift Cards!
When Till 11 February
Where Anchorpoint, Bedok Point, Causeway Point, Century Square, Changi City Point, Hougang Mall, Northpoint City, Robertson Walk, Tampines 1, The Centrepoint, Tiong Bahru Plaza, Waterway Point, White Sands and YewTee Point
Web www.FrasersExperience.com
'Huat!' On towards the Year of the Ox!
Whether you plan to stay in, or head out, there's lots to get all in the family in the mood to welcome the Year of the Ox. Here's wishing everyone a happy, healthy, and safe 2021, Huat ah!
Featured image: VivoCity
All content from this article, including images, cannot be reproduced without credits or written permission from SingaporeMotherhood.
Follow us on Facebook, Instagram, and Telegram for the latest article and promotion updates.