Imagine bringing your child to a school in the woods, or one rising from the sands. How about a learning 'village' above a carpark, or over a canal, or even one with a farm?
These are just some of the 10 ideas for preschools of the future that Singapore-based Lekker Architects have conceived.
The ideas are part of a Lien Foundation project — A Different Class, Preschool Spaces Redefined — which offers new perspectives on underused or overlooked areas in Singapore where preschools could be located.

"We're looking for the magic in preschool spaces," said Lien Foundation CEO Lee Poh Wah at a press conference held on Friday.
Here's a first look at the 10 Preschool Spaces Redefined. Which is your favourite, and why? Tell us!
AMONG THE TREES

A enchanted building in the woods which retains existing trees within its design, with treehouses that can be used for small class activities like singing or birdwatching. Tree trunks serve as a setting for storytelling, with the natural canopy for shade in this evocative setting.
Possible sites: Road reserves near expressways.
WITHIN THE CAMPUS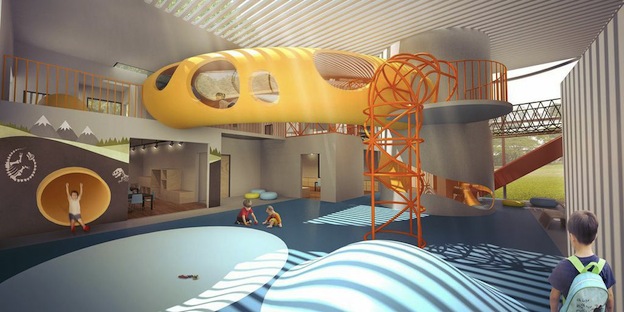 These flexible spaces are made of modular systems with an emphasis on physical activity and exercise, merging play and learning with the use of play frames, ladders, slides, and bridges.
Possible sites: At tertiary institutions like NUS, NTU, and ITE College East.
ALONG THE BEACH

Buildings are constructed to look like tents with a partial sand bed floor that integrates indoor and outdoor environments. There is an emphasis on tactile learning with sand and water play. Children could learn about preserving marine life and coastal environments.
Possible sites: East Coast Park, Pasir Ris Town Park, Changi Beach Park.
OVER THE CANAL

Classrooms with a column-free interior allow natural light to filter through. Features such as water wheels can be built, and children can learn about water conservation, drain reclamation, and hydro-power.
Possible sites: Rochor Canal, Alexandra Canal, Ulu Pandan Canal.
ABOVE THE CARPARK

A learning village consisting of small houses with features like tepees, a hidden playground, and curved steps. In one corner is a wind-farming facility with windmills where children can discover wind processes.
Possible sites: Rooftops of multi-storey carparks in HDB estates.
ACROSS THE LAWN

With meandering paths, benches, and stepping stones to engage children at different levels, and micro gardens where children can interact with and learn about nature right at their doorstep.
Possible sites: Public parks.
AT THE FARM

Here children can benefit from a plant-based curriculum focused on plant cultivation and natural processes. There can be a farm-themed playground made of objects that can be found at an actual farm — a tyre swing, a rope bridge, and a 'fort' made of wooden posts.
Possible sites: Neo Tiew Road, Sungei Tengah Road, Rosewood Drive.
ON THE WATER

Classrooms on a floating platform create a floating 'city', providing a safe space for children to observe riverine life and learn about river processes. A partially-submerged platform offers water-play opportunities.
Possible sites: Sengkang River, Lower Seletar Reservoir, Woodlands Waterfront Park.
BY THE TRACKS

Freestanding classrooms under an overarching sheltering roof allows for free flow of air, light, and space. Other features include a running track and climbing walls.
Possible site: The Green Corridor.
BEYOND THE BLOCK

This is a flexible system that can adapt to different HDB block configurations. Outdoor learning and play areas create a sense of openness, and the amenities can be shared with the rest of the community when school is not in session.
Possible sites: Void decks where classrooms can be extended to the adjacent field.
You can see detailed plans of these 10 preschool spaces ideas at www.adifferentclass.sg, vote for a concept, and suggest ideas for locations. A PDF copy of the book can also be downloaded.
Which is your favourite? And if you have ideas on how these can be developed further, or ideas and spaces where preschools of the future can be imagined and created, do tell!
All images: Lien Foundation and Lekker Architects
(Visited 76 times, 1 visits today)
Follow us on Facebook, Instagram, and Telegram for the latest article and promotion updates!