Good things in stores and out there for mums, kids, dads, and all who are young at heart!
TREATS TO CHEER
Did you know that seven days without laughter weakens you? They say that laughter is the best medicine, and to help bring smiles and fun to the wards of some local hospitals, Clown Doctors Singapore is looking for actors and performing artistes who are experienced in improvisational theatre, music, dance, singing, and puppetry to join their cast of volunteer cheerer-uppers. Successful participants will undergo sponsored training based on a specialised academic education programme provided by world renowned lecturers from the International Institute for Medical Clowning, a social enterprise at Steinbeis University Berlin, Germany. Interested or know someone who can help turn tears to laughter this way? Do spread the word!
Full-day auditions are on 12 July 2014. Send CVs to [email protected] by 30 June 2014.
TREATS FOR DADS
For the month of June, Au Chocolat has created an exclusive palm-sized Father's Day Macarons ($8 each) flavoured in fragrant Lavender Blueberry Chocolate in cotton candy blue. We're not sure who'll enjoy these more, dads or kids, but they sure are pretty, aren't they? Au Chocolat's also celebrating burgers this month with four new burger creations including the Singapore Chilli Crabcake Burger ($30). This east-meets-west fusion has a luscious crab patty layered between fresh Roma tomatoes and lettuce and topped with chilli crab mayonnaise — all between lightly toasted sesame buns. Sounds intriguing, doesn't it?
10am-11pm, Bay Level L1-03, The Shoppes at Marina Bay Sands, call 6688 7227 for reservations.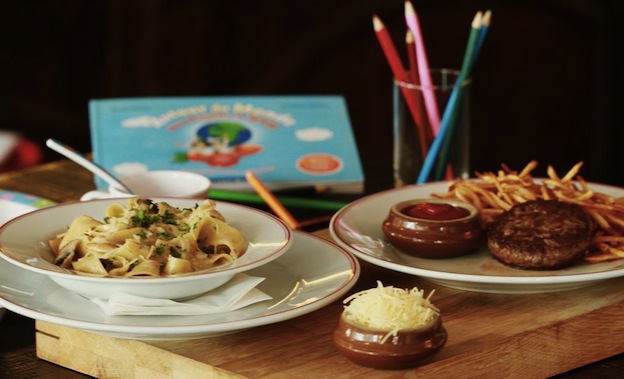 TREATS FOR KIDS
Bring the kids to France for the holidays. Balzac Brasserie now has a Children's Menu for diners aged below eight years. At $18++ for two courses, it's not what I'd call cheap. But look at the options! Main course choices include Juicy Pan Seared Wagyu Beef Patty served with French Fries and a Creamy Pasta with Sautéed White Button Mushroom and Cheese. Mmmmm! After eating, bring the Parisian experience home with Chef Jean-Charles Dubois's cookbook Around the World with Sophie & Remy ($15), in which two children travel around the world, learn to cook 25 recipes from 12 different countries, and celebrate major festivals along the way. Sales proceeds will be donated to Open Book, a non-governmental organisation behind a library in Phnom Penh that provides a safe place for all to read, including children who live on the city's streets.
11am-11pm, Balzac Brasserie, Rendezvous Hotel, 9 Bras Basah Road. Call 6336 0797 for reservations.
TREATS FOR CRAFTERS
Children love to touch. Giving them opportunities to get tactile can help develop your child's ability to remember what he or she is learning, especially if the child is a kinesthetic learner. Activities like water play, sand play, clay art and finger painting are excellent ways to start. Here's a new one: tape art! The new generation of sticky tapes are a crafty child's (and mum's) dream come true: they stick well, hold on tight, can be written upon, yet come off easily without leaving any sticky, black residue on surfaces. The best we've tried are 3M Scotch Expressions Tapes, which come in three versions – Magic Tapes, Washi Tapes, and Masking Tapes. We've used them to decorate books, files, furniture, to make tracks and roads for toy vehicles, and even as a modified pull handle for a drawer! The possibilities are endless! Need some creative help? Just log on to My Activity Room and be inspired. We certainly were!
From $3.90 per roll for Magic Tapes to $6.90 for Masking Tapes and larger Washi Tapes, available at Popular Bookstores and selected retailers.
(Visited 3 times, 1 visits today)