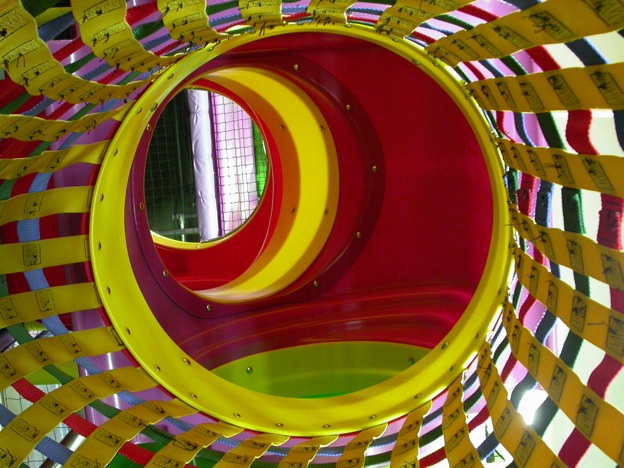 It's a great time to be a kid in Singapore, especially when it rains. Yes, even when the weather is bleak, there's megaloads of fun to be had. Caught on yet? Yep, we're talking about indoor playgrounds, those dizzying multi-hued kiddy frat-pads that children can safely go wild in – and oh yes they do. Go wild, that is.
There's a playscape out there for every child and every budget, from basic no-frills play structures to whopping jungle gyms and even high-tech 3D glow in the dark mini-golf. Prices vary, up to $30 for two hours at Amazonia.
Do visit the individual playground websites or give the playground a call before you head out, as the place could be closed for a party. If not, what're you waiting for? Pull up your socks and play on! (Please note that the prices and timings indicated are accurate at time of writing).

This 14,000 sq ft play area is the first Cool de Sac outlet in Asia, just open on 15 March 2014. The Miami, USA-originated "entertainment play centre" for children is not just for kids; there's also a bistro where parents can hang out in while children are absorbed at activity stations — all comfortably within parents' view so you don't have to worry about what your little one is up to! We like the variety offered here: Cool De Sac allows kids to "play smart" in a variety of creative play stations which include: Play Area, Arts & Craft, Blocks, Backstage, Tree house, Tweens & Tods, so kids can play on, and on, and on.
Where: 3 Temasek Boulevard, Suntec City Mall #02-379/80
Tel: 6337 0205 Email: hello@cooldesac.com.sg
Opening hours: 10am to 10pm (Weekdays); 8.30am to 10pm (Weekends and Public Holidays)
Cost: $10 (under 3 years) & $20 (3-12 years) on weekdays; $13 (under 3) & $26 (3-12 years) on weekends and public holidays. Two accompanying adults are allowed in free with every child, with each subsequent adult charged $5.

Just open and already a hit, this enchanting space was created with children from nine months to nine years old in mind. Girls will love the whimsical art on its walls, where fairies and elves roam the Play Garden. Boys are not left out. There's a mysterious tunnel slide that exits them into a huge pool of balls, a flying fox, a giant ball, a rock-climbing wall, and space to run and roam. When kids need a time out to recharge, they can cosy up to a tome or two at the Book Burrow, or create a masterpiece in the art and craft room. Parents, enjoy a little piece of heaven as you chill out over gourmet cakes and coffee from the café while watching over your little ones.
Where: Fusionopolis, #B1-06, 1 Fusionopolis Way
Tel: 6466 6300 Email: play@happywillow.com.sg
Opening hours: 10am to 7.30pm (Sun – Thurs), 10am to 8pm (Fri, Sat, & public holidays)
Cost: $18 (2 years and above), $10 (nine months to 23 months) per three-hour block from Mondays to Fridays; the same price per two hour block on Saturdays, Sundays and public holidays, with $3 per subsequent 30-minute block.
They call themselves "Singapore's latest and "fun-nest" family entertainment centre!" Hide in tree houses and enjoy watching the world go by! This indoor playground encourages children to get moving! They can go on a treasure hunt, walk the plank on a 'shake-shake' bridge, overcome the obstacles in the play forest, and even go on a car race in the magical forest's hidden race track! Parents can enjoy pastries and drinks at the cafe.
Where: 154 West Coast Road, West Coast Plaza, #02-02/03/04
Tel: 61000-353  Email: administrator@playful-elves.com
Opening hours: 10am – 9pm
Cost: $20 for 2 hours (Off peak), $20 for 1 hour (Peak)
One of the newest kids on the block is housed in downtown's fancy digs, smack among the luxe and glitz of The Shoppes at Marina Bay Sands. What's different: apart from the standard play structures, Jumperzillas also has dedicated arts and crafts instructors to help kids unleash their creative instincts. Bring the older kids as well: they'll can entertain themselves with XBOX 360, Playstation PS3 consoles and Kinect games, while you, the deserving parent, enjoys complimentary brewed coffee, free Wifi, and iPad access at the café.
Where B1-57, The Shoppes at Marina Bay Sands.
Tel: 6688 7406. Email: info@jumperzillas.com
Opening hours: 10am to 10pm.
Cost: $19 (first 2 hours, $8 per additional hour, weekdays); $22 for (first 2 hours, $9 per additional hour, weekends & public holidays). Four-hour package (includes craftwork): $35 (first 4 hours, $8 per additional hour, weekdays); $38 (first 4 hours, $9 per additional hour, weekends & public holidays). Prices do not include GST.
Kids can truly go wild here, with 9,000 square feet of space of play space devoted to jungle themed fun. Tiny ones (up to age three) can toddle and crawl about in a dedicated baby and toddler play area, while bigger kids play Tarzan and Jane in the massive play gym. There's also Southeast Asia's first 3D glow in the dark Mini Golf course, and a space-themed shooting gallery. Tired already, parents? Rejoice, there's a bistro where you can catch your breath, while the kids catch a wave – on the giant, four-tier wave slide, of course.
Where 03-08 Great World City.
Tel: 6235 4522. Email: info@amazoniafun.com
Opening hours: 10am to 10pm.
Cost: $20 for two hours (child below 3 years); $30 for two hours (child aged 3 to 12 years).
Conveniently located in Kallang Leisure Park next to Stadium MRT station, Peek-A-Boo's play structure rises up four fun-filled levels. Yes it has a ball pit, a trampoline, a spiral slide, and all the other usual suspects. What we like are the extra touches: a café with free Wifi, crayons, colouring materials, rubber or baked paint art, and guided activities on their "Every Wednesday is Activity Day!" sessions. Drop-Off service for children four years old and upwards are at $15 for the first two hours, with an additional $5 per hour thereafter.
Where: Leisure Park Kallang (next to Indoor Stadium), 5 Stadium Walk, #02-12/13.
Tel: 6440 8355. Email: play@peekaboo.com.sg
Opening hours:10am to 8.30pm (Sun – Fri), 10am – 9.30 pm (Sat)
Cost: $12 (12 to 23 months), $15 (24 months and above), free for babies up to nine months old. Second accompanying adult at $3 per entry.
The biggest of them, all the better for kids to deplete their amazing energy levels in. It even comes with play areas specially designated for babies and toddlers. Fidgets was designed and manufactured in Australia and has a ball washing machine that is said to reduce over 99 per cent of germs. So it's safe to leave the kids there the entire afternoon. Parents, relax. There's a café. A boon for drivers: there's lots of parking space available.
Where: 200 Turf Club Road, #04-05 Turf City.
Tel: 6469 5069. Email: info@fidgets.com.sg
Opening hours: 9am to 6pm.
Cost: Unlimited play for $8 (under two years), $15 (2 to 10 years), free for babies under one year.
Set along the beach at East Coast Parkway, this gets our vote for the most scenic indoor playground. The ball volcano and ball shooting area is a big hit, as is the colourful ball pit. There's a gigantic outdoor bouncy called the Polliwobbly, a café that overlooks the play area, and an outdoor seating area to enjoy sea breezes at. Free storytelling, art and craft sessions take place every Tuesday, Wednesday and Thursday at 4pm (usual admission charges apply). Had enough of the indoors? Take 20 steps to hit the sun, sea, surf and sand for extended playtime. Closer to town, there's a new Polliwogs outlet at Robertson Walk. Here, children can literally climb the walls or jiggle on the water bed, aside from traversing the bigger play arena.

Where: 1020E East Coast Parkway; and 11 Unity Street, #02-18/19 Robertson Walk.
Tel: 6442 2805 (ECP); 6737 0982 (Robertson Walk). Email: contactus@thepolliwogs.com
Opening hours: 10am to 7pm (weekdays), 10am to 8pm (weekends & public holidays).
Cost: $16 (above two years old), $8 (under two years old) for unlimited playtime on weekdays, $18 (above two years old) on weekends and public holidays, same charge for the under-twos.
One of the first on the scene, this four-level Dempsey playscape has a slide (they say it's the tallest in Singapore), a flying fox, ballpits, tunnels, two climbing walls, a ball blower, and more. The café has free Wifi plus two computers for parents to use, and boasts an extensive menu for both big and little folk. This includes gourmet burgers and organic coffee, kid's meals and baby food.
Where: Blk 8 Dempsey Road #01-15, Dempsey Hill
Tel: 6474 4176. Email: info@gogobambini.com
Opening hours: 10am to 6pm (Monday to Thursday), 10am to 8pm (Friday & Saturday), 10am to 6pm (Sunday).
Cost: Unlimited play for $17 (two to 11 years), $6 (12 to 23 months), free for babies under 11 months old. Public holiday and member rates differ, check website for details.
These two heartland playgrounds, situated at Delta Sports Complex and Hougang Sports Hall, are owned by parents who were inspired to create a fun environment to nurture learning through play. Apart from the usual play structures, there are toys galore for children aged between one and 12 to enjoy. They also provide rental of bouncy castles for parties and events.
Where: Delta Sports Complex, 900 Tiong Bahru Road, #01-01 and Hougang Sports Hall, 93 Hougang Ave 4, #01-04, Singapore 538832 (near Hougang Swimming Complex).
Tel: 6472 4770. Email: info@tickletickle.sg
Opening hours: 10am to 7.30pm daily.
Cost: $14 for unlimited play (Monday to Friday), $14 for two hours (Sat, Sun and public holidays), $7 per additional hour.