SingaporeMotherhood | Family Fun
May 2021
A-May-zing May: What's In, Out, and About for Families in Singapore
There's always something fresh and fun to see, do, and eat on on our little red dot. From the newest playgrounds and pop-ups to world-class productions and family-friendly menus, there's plenty to keep you and the kids engaged. We've even included some exciting ideas for #stayhome days. This May, we've bought our Mother's Day gifts, and booked makan treats for the First Lady of the Home, as well as our Ramadan and Hari Raya feasts. And of course, the kids are gearing up for Star Wars Day on May the fourth. But there's more in store so read on for some cool ideas on how to have an a-May-zing month this May.
GET MOVING
KidsSTOP™ Mother's Day Special: Let's Get Bee-zy
Find our where honey comes from, how honey can be used, as well as its benefits at this parent-child workshop. Furthermore you'll also get to concoct a fizzy dry-iced honey lemon drink, and make beeswax candles. Finally, preserve your fun memories with a Pebble bee photo stand!
8 or 9 May 2021; register here
SuperPark
SuperPark is back, and everyone in the family can look forward to action-packed fun at this all-inclusive indoor sports activity park. What's new? The Kids' Gym now has a soft play obstacle course plus a climbing wall. If your little ones missed out on the Pedal Car Track before, they can now join in as tricycles have been added. Finally, sharpshooters in the family will welcome the brand new archery section, where they can target, lock, and aim — safely!
From $23.90 (<100cm in height); more details here
Museum of Ice Cream (MOIC) pop-up
The world-famous attraction opens only in August, but you can get a sneak peek of its exclusive MOIC-themed products now. Browse and buy good designed by homegrown brands like Kydra Activewear, The Ice Cream & Cookie Co, Artisan of Sense, and Brewlander. If you're up for it, any not try a rooftop yoga sessions, surrounded by pink palm trees?
Till 27 May; more details here
GO & SEE
Madame Tussauds Singapore 4D Marvel movie experience
Madame Tussauds Singapore has a NEW thrilling 4D Marvel movie experience where you can literally 'feel' the power from your favourite super heroes though wind, water, and other special effects. Join Captain Marvel, Thor, Black Panther, Rocket, Spider-Man, Ant-Man and the Wasp as they battle Loki in a bid to save you from his invasion!
From $30 (adult), $18 (child, 3-12 years); more details here
European Film Festival
The European Film Festival (EUFF) returns to the big screen, bringing the best of contemporary European cinema in 23 films. Recommended for families: The Bears Famous Invasion of Sicily which tells the story of a great bear king who leads his clan down from the mountains and into the world of men, to find his long lost son, and Funan, which chronicles a mother's search for her son under the Khmer Rouge regime, and their family's attempts to survive during the war.
6-23 May. Tickets and more details here
EAT
Hari Raya Indulgence Arabic Set
Indulge in authentic Arabic cuisine prepared by Shangri-La's Lebanese Specialty Chef Ara. The four-course set menu features various traditional cold and hot mezze, main dishes such as Lamb Biryani, and mouth-watering Baklava dessert.
15 and 16 May 2021, 7pm; more details here
(See also: A Guide to Ramadan in Singapore)
Giant and Cold Storage deliveries in 32 minutes
Deliveroo's new collab with the Dairy Farm group means you can now get groceries from Giant and Cold Storage delivered to your home — in as little as 32 minutes, they say! Which is perfect when you're angling to try that new recipe and need a few more ingredients, but can't go out 'cos the kids are napping, yes? What's more, from 1-31 May 2021, use promo code "FRESH&FAST" to enjoy $10 off your first order from Cold Storage or Giant with a minimum spend of $20, and free delivery for all grocery orders. Sweet!
SHOP
Cult beauty treats with Phytopecia and I Woke Up Like This
We love these quick and easy beauty fixes which are perfect for busy mums, and can be done in those precious moments when the baby is sleeping. Beat postpartum hair loss and give your scalp a treat with cult K-beauty brand Phytoepcia, whose Hair Boosting Shampoo, and Hair Tonic receive rave reviews from mums who have combated post-delivery shedding with these. After that, for a dewy, "chok cook" skin, prep the skin with the I Woke Up Like This Hydrating Treatment Toner, then get an instant face lift with the Boosting Face Up & Eye Patch. All are safe for pregnancy and breastfeeding, and are on (super) promo pricing till 9 May (Phytoepcia) and from 6-16 May (I Woke Up Like This).
From $45 (shampoo); more details here
Disney x Mayer Mickey Heritage Collection
When we were young, Mickey and Minnie brightened up our celluloid dreams, lending joy and laughter to our childhood days. Now you can bring these classic Disney icons right home! Exclusive to Singapore and Malaysia, the Disney x Mayer Mickey Heritage Collection comes in limited editions for the air fryer, the high velocity fan, and the USB rechargeable fan. Whether you're a Disney lover, or just looking to add some fun, nostalgia, and colour to your #WFH meal prep set-up, these will definitely do the trick!
Pre-order at the Mayer E-store and Mayer showrooms, or buy from Mayer Official Stores on Marketplace Platforms from 9 May 2021.
KayithJ Book Bags & Book Sleeves
Created by a mum, KayithJ — pronounced "Kay-ith-Jay" — is where book lovers can fill their hearts (and their carts). We love the padded pouch-like book sleeves protect can tomes (electronic and otherwise) from damage, as well as the strongly constructed tote bags which can surely withstand the onslaught of 'double up your borrowing' season library books.
From $22; more details here
REST & RELAX
Staycation in Style with Elly Store's Disney Tsum Tsum pyjamas
Slay your family staycation style with a matchy-matchy #staycay at Fairmont Singapore or Fullerton Hotel Singapore — with Elly Store's Disney Tsum Tsum pyjamas for the whole family! There are two luxuriously relaxing packages to choose from: a Fairmont Room with iconic Peranakan accents at the Fairmont Singapore, or in a beautiful heritage room at the Fullerton Hotel.
From $370++; more details here and here
Family Fun Glampcation at Sofitel Sentosa
With its lush greenery and panoramic views of the South China Sea, being in Sofitel Sentosa Resort and Spa makes us feel as if we are truly on an overseas holiday. No wonder then, that its Family Fun Glampcation package is our dream weekend getaway right now. This comes with a tent set-up for kids, Universal Studios Singapore tickets, breakfast, and $60 nett F&B credit per night. Choose from three tent themes for your little one: Le Petit Guardian of the Galaxy, Little Explorers' Jungle Expedition, or Kids Just Wanna Have Fun — perfect for a fab birthday (or anytime) celebration!
From $1,096++ for two nights; more details here
#STAYHOME
Singapore HeritageFest
The Singapore HeritageFest (SHF) returns for its 18th edition with a hybrid version so you can explore from the comfort of home. Listen to lesser-known stories of Singapore's healthcare history and food heritage through virtual tours, participate in workshops on Traditional Chinese Medicine and Ayurveda, and find out more about the food of the different communities. There's something cool for everyone to discover!
3 to 30 May; more details here
FRISO x Maison Q 'Good Sleep, Good Poop' Twinning Sleepwear
Did you know that sleep can affect your child's digestive health? Good sleep can encourage more of the "good" bacteria that regulate digestive, metabolic and immune functions, all of which help little ones sleep better. Indeed, a good sleep-good poop cycle is essential for your child's optimum development. The question is: how do you get them to understand it? Enter FRISO x Maison Q, which have created sleepwear that can help you kickstart the convo on this. The limited edition jammies feature three adorable champions of good poop — Super Pooper, Gutsy Gal and Poopoo Power — to help emphasise how #GoodPoopMattersBaby in the cutest way! Get a twinning set (worth $308) with a minimum $350 spend on valid (excluding all infant formula and follow-on formula products for 0-12 months) FRISO Gold products in store or online, as well as supermarkets, and retailers such as motherswork.
Available 1-31 May; more details here
(See also: Does your Child have Good Poop?)
Mum Space Mother's Day Specials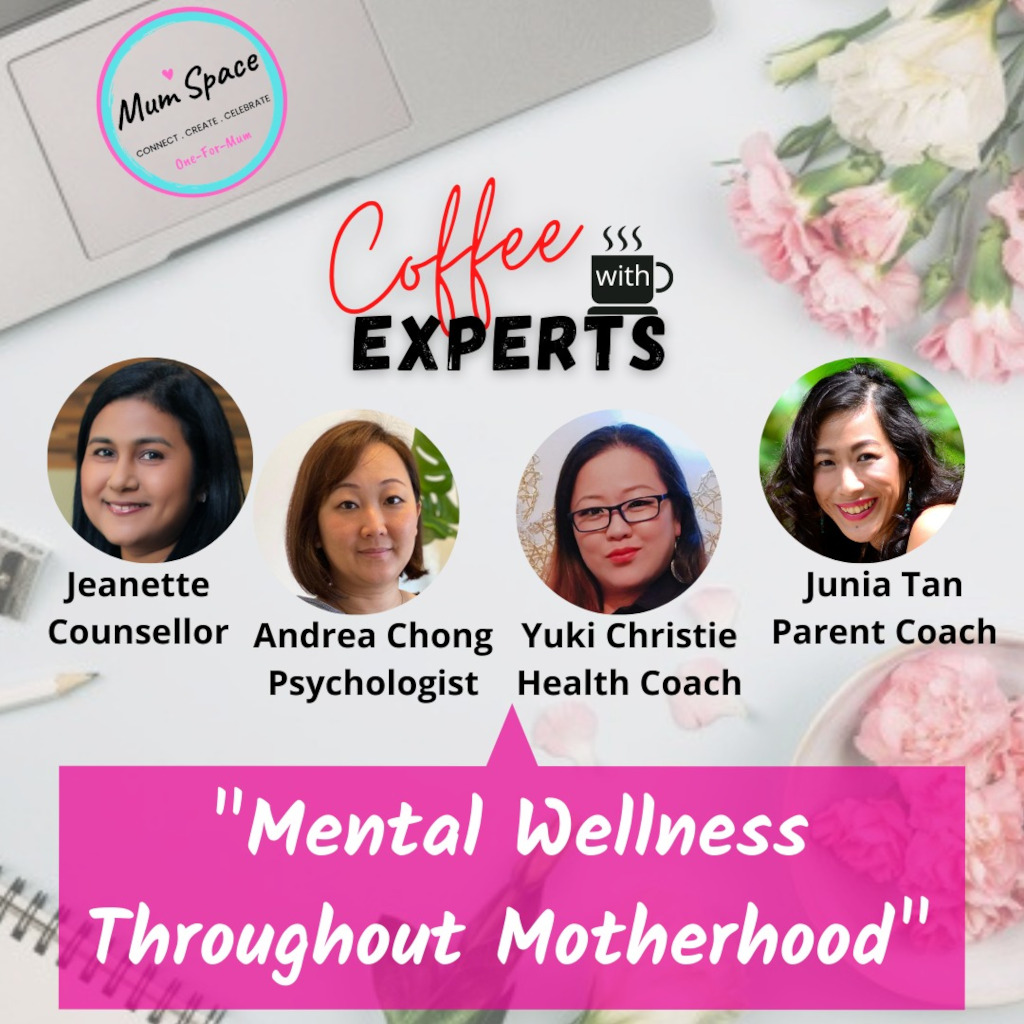 Mum Space is having a 'One-For-Mum' initiative to support mums in the month of May, with 1-4-1 food and beverage treats islandwide. In addition, you can also connect with other like-minded mums during the online Mother's Day Special on 9 May — of course!
Free, more details here
Featured image: Museum of Ice Cream Singapore
All content from this article, including images, cannot be reproduced without credits or written permission from SingaporeMotherhood.
Follow us on Facebook, Instagram, and Telegram for the latest article and promotion updates.